Best AngularJS Development Services

UI/UX
Development
The user interface and experience have a direct influence on your sales conversions and the SEO rankings of your business. Your audience needs to trust you and their shopping journey is paramount. Our skilled team of UI designers & Angular developers create intuitive and engaging designs while keeping usability at the heart of the build.

Angular JS Web
Development
Google likes a web application to have browser consistency, error handling capabilities and a minimum loading time. Knowing how important search engine optimisation is for your online business, our AngularJS development team write stable code with bundling & compression techniques to decrease the loading time & deliver you a super-fast and optimal web application.

eCommerce App
Development
80% of online UK shoppers prefer the 'Tap to Pay' method, highlighted by Statista in a report that global mobile commerce could reach £2.56 trillion by 2024. To prepare you for this growth in demand, our AngularJS developers combine Angular with other back-end technologies to develop a robust eCommerce AngularJS app for any device your customers prefer.

Real-Time Solutions & Data Streaming Apps
Building real-time solutions and data streaming applications requires an interplay between several complex database and networking technologies. For a scalable mobile or web app that performs with minimal latency, you can trust our AngularJS developers to employ flexible yet powerful frameworks and build responsive real-time and custom solutions that keep visitors engaged.

Customised AngularJS Applications
According to CDW, businesses today incline towards custom web apps to boost their efficiency, but delivery and performance is hindered by lack of knowledge or choosing the wrong software. Our Angular JS developers with years of experience research and plan web app development projects and then build an app that aligns with your services to deliver extraordinary return on investment.

AngularJS Maintenance & Support
Site downtimes & improvements delays hit businesses hard and mean customers don't return and, worse, tell others of their poor experience. Our certified business managers and AngularJS development team know how important it is to keep your online business running and so offer quick fixes and maintenance solutions as well as post-delivery Angular JS project support.
Got an eCommerce
project you'd like to discuss?
Why choose chilliapple as your preferred AngularJS Developers
Certified developers and the UK's experts.

Founded in 2008 with a team of over 70 specialists.

From £55 per hour. Higher prices are simply unfair.
Hassle free development process.

30 days free support post launch.

A no-nonsense approach with a focus on delivering on time and budget.
Why Develop using AngularJS
The only framework supported by Google itself

Saves development time with real-time testing

Simpler to understand & faster to code
Extreme protection from unauthorised access & outer attacks

Promotes code re-usability for developers

Creates excellent single page applications
Choose a Hiring Plan that suits you
We know each business has its unique challenges, objectives and aspirations. That's why we have designed three hiring models to suit your budget and needs. Full-time, part-time, or on demand.

Project
As an experienced AngularJS development company, we can be trusted to deliver both simple or complex Angular JS applications. We bring on board an Account and Project manager alongside our Angular JS development team and get under the bonnet of your brief to build the web and mobile app that your business needs.

Dedicated
Whether you need to fill an urgent AngularJS skill gap or would like to hire a number of Angular development experts on a full time loan basis, each chilliapple developer is ready to be dedicated to your business. And our specialists are only available through us.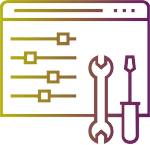 Maintenance
Our Angular JS maintenance packages are designed to suit all online business budgets. We offer ongoing support to ensure your web and app are kept safe from hackers, free from bugs and install the latest versions and upgrades to keep your users happy and loyal.
Frequently asked questions
How are you different from other AngularJS development agencies in the UK?
chilliapple brings together the best of India with the best of the UK. Bespoke design and focused project management in the UK alongside high end developers in India. There's no waffle or time wasting. No unnecessary cost. Simply a focus to deliver a client's mobile app development brief on time and on budget.
What's the process to hire a dedicated AngularJS developer or full web development team?
A dedicated developer business model is an agreement between the client and service provider where the latter provides software development professionals to the client on a long-term basis. Our specialists are chosen according to the demands of the client for their experience and skill sets whether the need is for AngularJS development services or another.
What are the benefits of hiring dedicated development with chilliapple?
Our dedicated model means you pay a UK registered business with agreements between us covered by UK law. Alongside our certified developers, you have the option to access our UK based account managers. For annual contracts, your dedicated developers can come and work in your offices for one week.
What support will I receive during the development process?
You will be assigned an Account Manager and Project Manager to ensure your AngularJS web project's specifications are accurate and comprehensive and they will communicate with you throughout the development process to ensure quality, budget and timescales are met.
What does it cost to develop using AngularJS?
chilliapple is an AngularJS development company that charges from just £55 per hour. Higher prices are simply unfair.