Best Vue.js Development Services
Got an Vue JS
project you'd like to discuss?
Why choose chilliapple as your preferred Vue.js developers?
Experienced Vue.js developers and UK's JavaScript experts.

Founded in 2008 with a team of over 70 specialists.

From £55 per hour. Higher prices are simply unfair.
Hassle free development process.

30 days free development support post launch.

A no-nonsense approach with a focus on delivering on time and budget.
Choose a Hiring Plan that suits you
We know each business has its unique challenges, objectives and aspirations. That's why we have designed three hiring models to suit your budget and needs. Full-time, part-time, or on demand.

Project
As an established Vue.js development company, we can be trusted to deliver both simple or complex web application development projects. We bring on board an Account and Project manager alongside our highly skilled Vuejs developers and get under the bonnet of your brief to build the web applications that your company needs.

Dedicated
Whether you need to fill an urgent Vue JS skill gap or would like to hire a number of our developers on a full time loan basis, each chilliapple developer is ready to be dedicated to your business. And our experts are only available through us.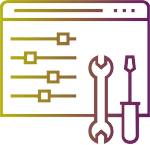 Maintenance
Our Vue.js maintenance packages are designed to suit all digital business budgets. We offer ongoing support to ensure your web apps are kept safe from hackers, free from bugs and offers the latest versions and upgrades to keep your users happy and loyal.
Why Develop using Vue.js?
Vue JS powers over 2.6m businesses worldwide.

Easily compatible with React.js and Angular.js for high performing web applications with superior functionality.

Used by global giants such as Netflix, Google, Apple and Zoom.

Vue.js is efficient and resources-lite.
Produces lightweight websites and apps for agile performance and faster load-times.

Its reusable components mean a quicker and cheaper web and app development process.

It has frequent updates for a superior high performance.

Scalable to accommodate changing market demands and business challenges.
Frequently asked questions
What is the difference between Vue.js and Vue Native?
Vue.js is for building Single Page Applications. Vue Native is for building native mobile apps.
How are you different from other VueJS development agencies in the UK?
chilliapple brings together the best of India with the best of the UK. Bespoke design and focused project management in the UK alongside high end VueJS developers in India. There's no waffle or time wasting. No unnecessary cost. Simply a focus to deliver a client's Vue.js development brief on time and on budget.
What's the process to hire a dedicated VueJS developer or full development team?
A dedicated developer business model is an agreement between the client and service provider where the latter provides software development professionals to the client on a long-term basis. Our specialists are chosen according to the demands of the client for their experience and skill sets whether the need is for Vue.js expertise or another.
What support will I receive during the development process?
You will be assigned an Account Manager and Project Manager to ensure the Vue.js development project specifications are accurate and comprehensive and they will communicate with you throughout the development process to ensure quality, budget and timescales are met.
What does it cost to develop using VueJS?
chilliapple is a VueJS development company that charges from just £55 per hour. Higher prices are simply unfair.