Best Node.js Development Services

API Development & Integration
Our experienced Node JS team develop and integrate RESTful APIs to ensure your online company is talking effectively to third party solutions.

Plug-in NodeJS
Development
Why not push your NodeJS web app further with extra plug-ins to enhance your site's front end functionalities and UI/UX experience?

Real Time App
Development
We employ the latest NodeJS technology to build fast, scalable real time web applications for immediate customer communication to boost your business performance and customer loyalty.

Web Application
Development
Our Node.JS development services help you build your next web application and mobile apps efficiently and smoothly.

Node.JS Version
Migration
We understand the value of your data and the importance of keeping it safe and so our Node.JS developers follow the best practices when it comes to migrating to the latest versions of Node JS.

Node.JS
Development
Support
We aren't just limited to project deployment. We take pride in providing support and maintenance on an ongoing basis if you need it.

Custom Node.JS
Development
We listen carefully so that our skilled Node JS developers deliver a solution customised for your web and mobile business.

Full-Stack
Development
Our full-stack Node.JS developers understand front end and back end so there is complete consistency across your web app development.

CRM
Development
Node.JS client & server-side coupling helps us deliver Customer Relationship Management solutions that get you actionable data for enhanced business productivity.
Got an eCommerce
project you'd like to discuss?
Why choose chilliapple as your preferred Node.JS developers?
Certified developers and the UK's experts.

Founded in 2008 with a team of over 70 specialists.

From £55 per hour. Higher prices are simply unfair.
Hassle free development process.

30 days free support post launch.

A no-nonsense approach with a focus on delivering on time and budget.
Why Develop using Node JS
Node.js powers big brands like Pay Pal, Mircosoft, LinkedIn and IBM. Its cutting edge technology can deliver future proof web and mobile applications for both start-ups and well-established organisations.
Node.JS delivers chat apps that welcome your visitors & keep them engaged.

Big data manipulation can be carried out quickly to analyse data for informed decision-making.

Easy, joined-up social networking is built in for broad networking & free marketing.

Node.JS apps can smartly allocate resources & boost overall productivity.
Client portals improve customer service & strengthen brand loyalty.

Image processing capability for a sharper visual experience.

Data storage to keep excessive data safe & remotely available.

Back-end dashboards to acquire better insights & improve Node.JS development processes.
Choose a Hiring Plan that suits you
We know that each business and each industry has its own unique challenges, aspirations and vision. That's why we have designed three hiring models to suit your budget and needs. Full-time, part-time, or on demand.

Project
As an established Node.js development company, we can be trusted to deliver both simple or complex website application development projects. We bring on board an Account and Project manager alongside our highly skilled Node JS developers and get into the finer details of your brief to build the web applications that your company requires to thrive.

Dedicated
Whether you need to fill an urgent Node JS skill gap or would like to hire a number of our developers on a full time loan basis, each chilliapple developer is ready to be dedicated to your business. And our experts are only available through us.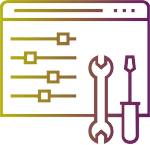 Maintenance
Our Node.js maintenance packages are designed to suit all digital business budgets. We offer ongoing support to ensure your web and mobile apps are kept secure from hackers, free from glitches and offers the latest software versions and upgrades to keep your customers coming back.
Frequently asked questions
How are you different from other NodeJS development agencies in the UK?
chilliapple brings together the best of India with the best of the UK. Bespoke design and focused project management in the UK alongside high end Node.JS developers in India. There's no waffle or time wasting. No unnecessary cost. Simply a focus to deliver a client's Node JS development brief on time and on budget. 
What's the process to hire a dedicated NodeJS developer or full web development team?
A dedicated developer business model is an agreement between the client and service provider where the latter provides software development professionals to the client on a long-term basis. Our development team specialists are chosen according to the demands of the client for their experience and skill sets whether the need is for Node.js expertise or another.
What support will I receive during the software development process?
You will be assigned an Account Manager and Project Manager to ensure the Node.js development project specifications are accurate and comprehensive and they will communicate with you throughout the development project to ensure quality, budget and timescales are met.
What does it cost to develop using NodeJS?
chilliapple is a Node.JS development company that charges from just £55 per hour. Higher prices are simply unfair.
Are apps built on Node.js frameworks faster than apps built on other frameworks?
Big brands use Node.js for software development to deliver measurably higher UI/UX performance. As an example, LinkedIn moved from Ruby to Node.js to handle their mobile traffic, and reduced the number of servers from 30 to 3 and the new system was up to 20 times faster.