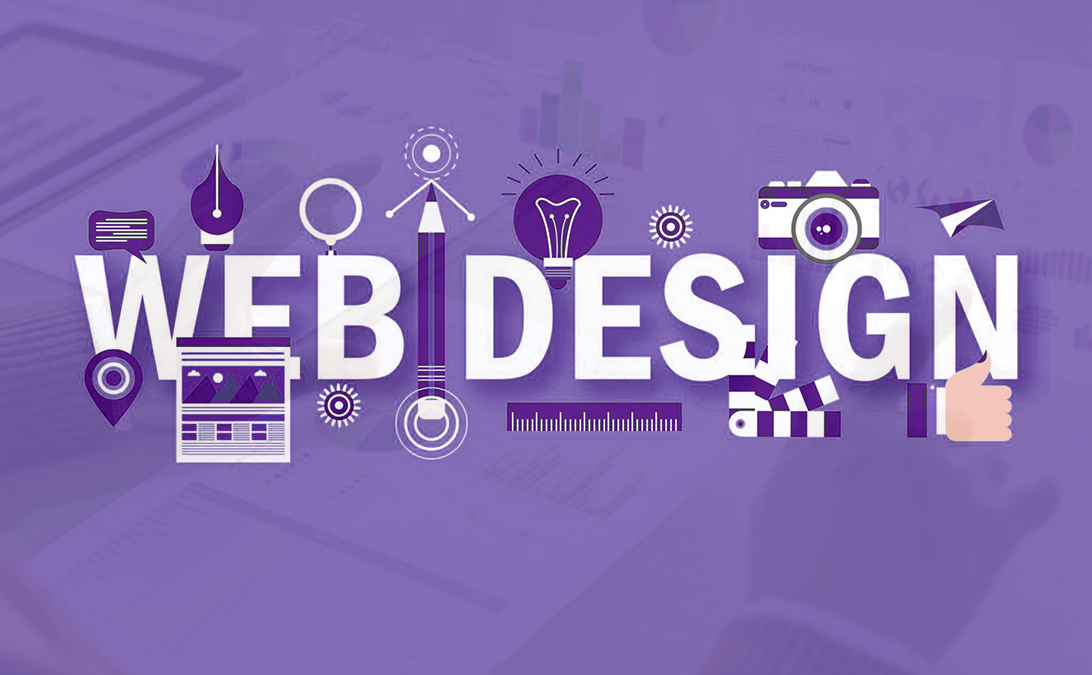 Poorly designed websites fail to woo visitors and suffer from low performance. Design plays a pivotal role in building brand values for the business. Immersive visual designs with optimum functional features from a web design company help build credibility and drive the business's conversion rate.
Implementing a well designed website can help you quickly build a business and drive ROI; various stats prove its worth. As the new year beckons, we have handpicked data on web design statistics to offer insights on how they can help you with future business growth.
Understanding the Impact of Web Design
75% Users Trust a Website Based on Designs
Appealing and easy-to-use web designs help to build credibility among web visitors. When a user lands on the site, they start inspecting various design elements to perform specific functions or learn more about what you are offering.
The ease with which any user can perform several actions plays a vital role in building trust. A poorly designed website is largely viewed as a scam. Moreover, as much as 90% of users abandon sites due to poor web designs (Finances Online).
94% of First Impressions are Based on Website Design
The first impression is among the most important perceptions for web visitors. Users take just 0.05 seconds to develop opinions about a site. Also, most users agree with their gut feelings and simply switch to another site when they fail to find the site impressive. Web developers and designers must take care of first impressions and can use AB testing to find the most potent website design.
Good UI Designs Can Notch Up Conversion Rates by up to 200%
Intuitive user interfaces can help you upscale your business efficiently and easily improve conversion rates. As confirmed by analytics, designs based on assisting users to perform actions can further boost conversion rates; UX can help you double conversion rates by up to 400%. Web designers must focus on target audience research to implement innovative elements naturally in the user interface.
Significance of Mobile Website Optimisation & User Experience in Web Design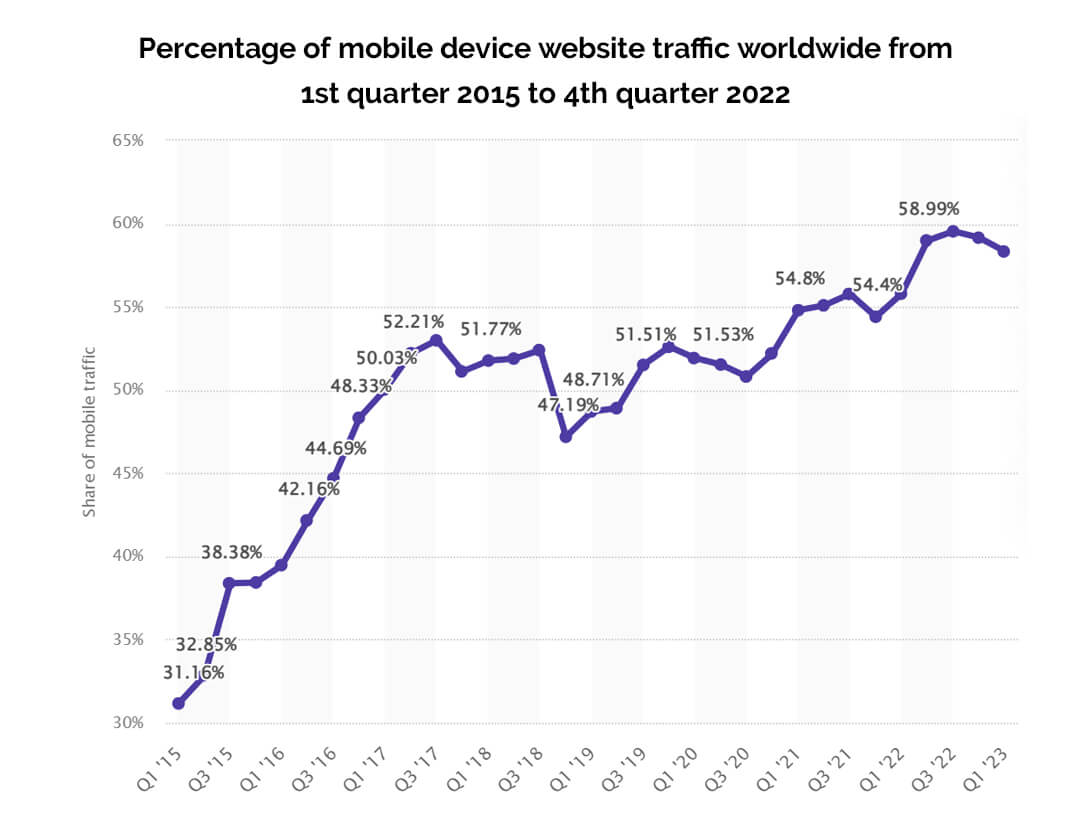 Statista says mobile devices have been a driving force behind internet traffic. In the first quarter of this year, mobile devices were responsible for 58.33% of the total internet traffic. In short, your website must appear attractive on various screen sizes for mobile users. As a customer-focused web design company, we build screen-responsive sites that are auto-adjustable according to the user's device size. Here are more important web design statistics for you to consider.
74% of Users Return to Mobile-Optimised Sites
People spend up to 70% of their time on smartphones over the internet. As such, mobile-friendly or responsive design garners greater chances of users returning to the website. As more people are hooked on their smartphones and tablets, ensuring your website looks beautiful on mobile devices and has optimised elements for higher engagement is vital.
Poor UX Turns 90% of Visitors to Your Competitors
According to Intechnic, enhancing the customer experience can help you improve KPIs by up to 80%. Most people simply go to other sites offering similar products & services due to poor user experience on their current site. Good UX designs focus on understanding the user's pain points, creating user personas, and mapping the entire journey via wireframing tools. 
Images, Colours & Videos are the Most Essential Visual Elements for Website Visitors
Images, colours, and videos are largely considered among consumers' most valuable visual elements. According to a survey conducted by the Top Design Firms, 40% of people voted for images, 39% voted for colours, and another 21% agreed on videos as the most viable visual aspects for web design. Other elements in company websites, like contrast, texture, and white space, can also be manipulated to retain high web traffic.
This shows the significance of prioritising images, colours, and video integrations into web design. Integrating neat typography, animation, infographics, etc., can help you increase engagement with website visitors.
The Impact of Speed Performance
48% of People in UK Expect Websites to Load Within 3 Seconds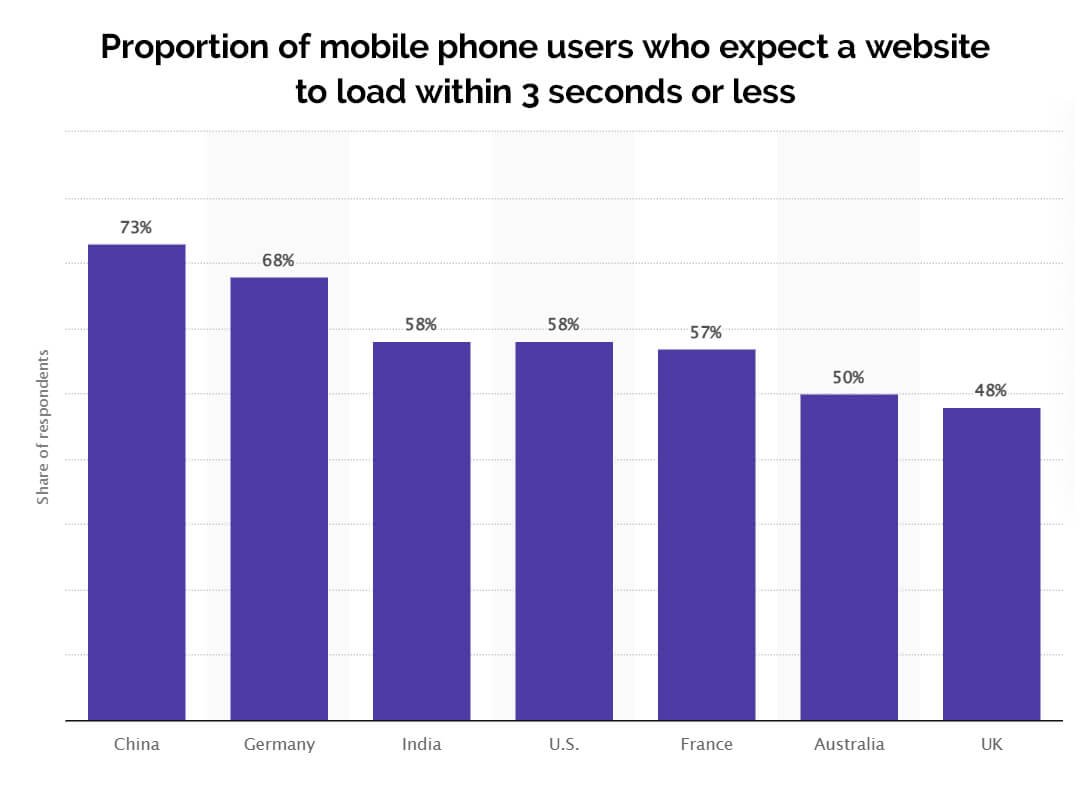 Poor loading speed can aggravate your first impressions and engagements and severely impact UX. In fact, a slow-loading website is one of the most common web design mistakes to avoid. Users simply switch to competitors when they encounter sites that load slowly. Web design industry statistics show that 68% of people in Germany and 57% in France expect sites to load within three seconds.
One-Second Page Response Delay Can Reduce Conversions by 7%
As research by Kissmetrics suggests, a delay of just a second can drive down the conversion rate by 7%. Depending upon the business size, this could lead to a loss of a few hundred to several thousand. You need to optimise website designs with quick loading speeds to boost the conversion rate.
What are the Benefits of Optimised Web Designs?
So, it is important to be aware of web design statistics and understand how they can help your online business to thrive. Let's look at the key takeaways or the major benefits of having an optimised web design. Beautiful web design can benefit any business in the following ways:
Provides the first impression of the business, which is crucial for creating a positive impact.
It helps you build trust among the targeted audience.
A well designed website is free from clutter and can help you drive the conversion rate of the business.
Fast-loading websites are also SEO-friendly, and search engines rank them higher on the SERPs.
With mobile-friendly website design, you can ensure that business customers return to your site.
Your site's web design will remain competitive and future-proof.
Wrapping Up
So it's essential that businesses prioritise their website designs for the coming years. There are plenty of web design statistics to back up the importance of ensuring your web developers work closely with web designers to continuously optimise each web page. Ease-of-use, optimum functionalities, intuitive UIs, and high-speed performance with mobile-ready features are the most important aspects for online retailer growth and are backed up by the latest eCommerce web design statistics.
When it comes to developing a custom website, whether you fall into the small businesses category, SME or the enterprise level, it's advisory to focus on the most important web design industry statistics that are appropriate for you. You can leverage site audits by investing in website maintenance packages to identify and eliminate faults and errors in your website performance. Many company websites benefit from regular maintenance for continuous performance enhancement, security patches, and other vital elements of a website's design.