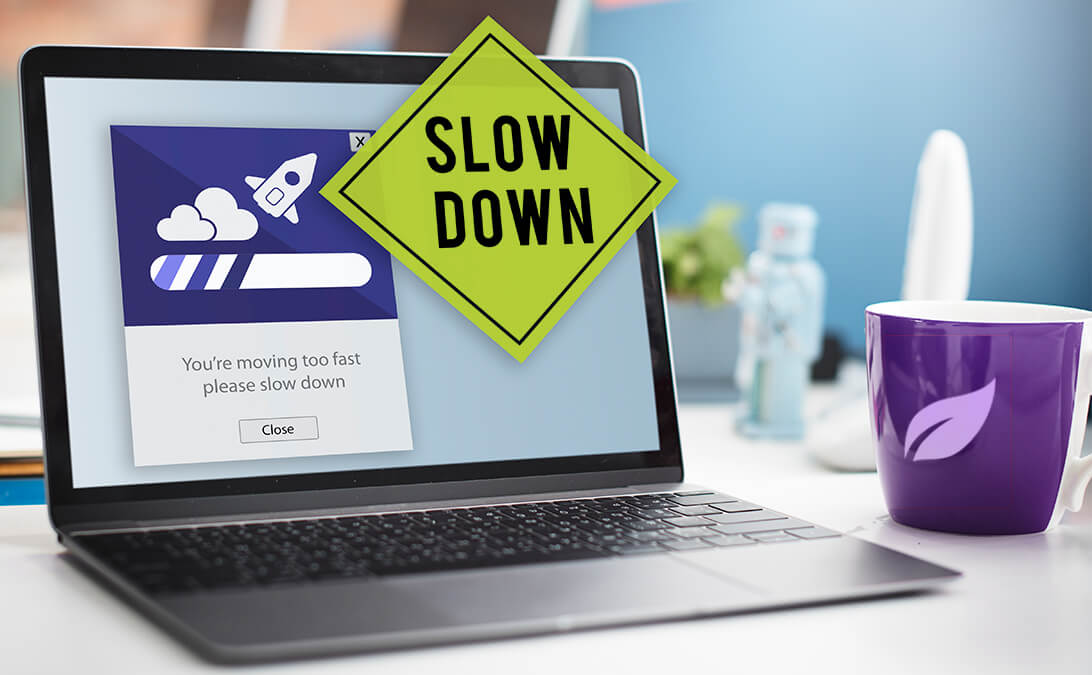 As a thriving business, it is imperative to offer a visually pleasing and professionally designed website that ensures an exceptional user experience. A poorly designed website can lead to the loss of potential customers and significant monetary loss.
If you've noticed a decline in traffic or lost revenue online, you may have fallen foul to one or more of the most common design pitfalls. We have therefore compiled a list of ten prevalent web design mistakes that could hinder your website's potential. It is crucial that you address these mistakes as soon as possible to improve your website's performance. An established web design agency can rectify your web design mistakes quickly and help your online presence to flourish.
So what are the most common web design mistakes you should look out for?

If your website takes ages to load, it may be time to reconsider certain design elements. A faster loading speed is essential for providing a website visitor with the best possible and seamless user experience. While there are countless tips and tricks available for speeding up your website, we will focus on the key website elements that can help you get started.
To begin, you should prioritise optimising your website images, especially your home page, and remove low quality images. Furthermore, plugins, themes, and modules can also contribute to slow loading times. Updating these elements to newer versions can help speed things up. However, testing your site thoroughly before implementing any changes is crucial to avoid potential disruptions or broken functionality.
Overall, a fast-loading website is crucial to provide positive user journeys.
Website Isn't Mobile Friendly
Nowadays, people are constantly connected, with over 50% of web traffic coming from mobile browsing. Statista data reveals that mobile devices (excluding tablets) generated 58.33 percent of global website traffic in the first quarter of 2023. Therefore, having a responsive website that responds well to smaller screens is vital, as mobile device users are unlikely to stay on a page they can't accurately view or read. Since over half of your website visitors are mobile users, it's crucial to ensure that you can deliver a visually appealing and quality experience to keep them engaged with your content. One of the common web design mistakes is to assume shoppers behave in the same way irrespective of the multiple devices they use.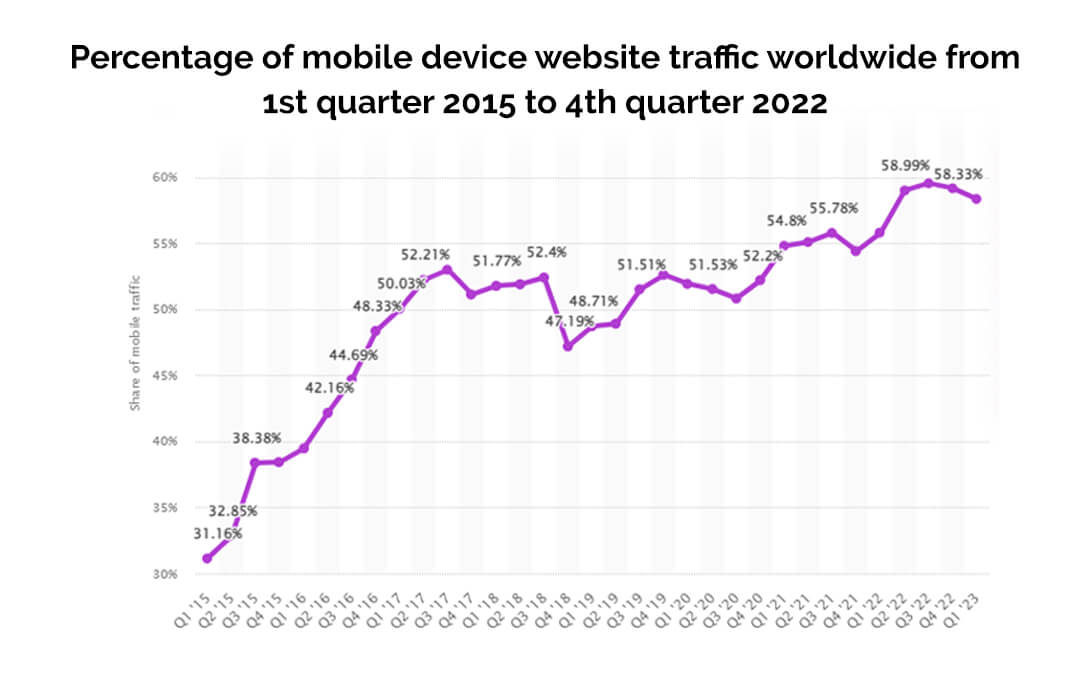 In order to achieve success with your website, your design and layout must not deliver a poor user experience, particularly if you have specific objectives for your visitors, such as making a purchase. If you notice a decline in user engagement or retention, it may be wise to ask your web designers to evaluate your current website's navigation as well as its design and layout to identify any potential confusion or frustration caused by menu layouts or unclear navigation.
Remember that digital savvy consumers have considerable options to choose from. If your website fails to provide all the necessary elements that make shopping quick and easy, they are likely to go elsewhere. A well designed website will keep consumers onsite and loyal.
Poor or No Call to Action
The failure to include a compelling CTA on the website is another of our top ten most common web design mistakes. Your website's call to action is essential because it urges your visitors to move to the next stage of the buying journey. CTAs can include Click Here, Learn More, Make a Purchase, and more and a pop up call to action can sometimes also work wonders.
To ensure that your website has a powerful CTA, keep to a simple writing style and a concise message as visitors should have enough information on the page to understand what they stand to gain and what they need to do. Furthermore, limiting the amount of form-filling required and giving users time to explore the page before the CTA is displayed is wise.
Web design heavily relies on using imagery as it helps present complex ideas quickly. However, the use of imagery should be executed appropriately. Incorporating low-quality or irrelevant images in a website indicates poor web design. It causes confusion among readers and hinders the message you are trying to convey, leading to user frustration, effectively communicating counter to your website's intention and business purpose. Moreover, low-quality imagery fails to provide a professional and slick feel to your website, thereby raising questions about your expertise and authenticity and fails to build credibility.
Website Lacks the Right Information
Your website's lack of relevant information can result in a loss of valuable traffic. Visitors are keen on discovering business details and interests, and if you fail to include them in your website's content, particularly on the landing page, it can negatively impact your online presence.
Having incomplete or incorrect content can hinder the growth of your business from your website. You need to guarantee all your contact information is up to date and that any email address listed is monitored for prompt replies to user enquiries.
Neglecting your correspondence with visitors will waste both your time and theirs. It's imperative to prioritise answering users' messages as often and quickly as possible to enhance your online credibility.
Keep Your Content Fresh and Updated
A website or blog that is not updated with fresh content appears uninviting to users who seek relevant and informative material. Such mistakes lose credibility, prompting visitors to seek content elsewhere. People generally avoid interacting with sites that fail to provide the latest information. This also applies to blogs, which often begin with regular updates but eventually taper off, causing readers to lose interest. To keep your audience engaged, it is crucial to provide fresh and up-to-date content regularly. Adhering to a consistent delivery schedule can attract new users and keep your existing audience returning for more.
You Have No SEO or Analytics
To properly address any issues with your website, it is necessary to have the right tools for diagnosis. SEO and digital marketing analytics are invaluable in understanding your website's popularity, ranking, and positioning. With a focus on a website's SEO ranking, you can ensure that your website appears higher in search engines, as anything past the first page is far less likely to be seen. 
Additionally, analytics can reveal the average visit duration and user behaviour on your site, allowing you to gauge the effectiveness of new elements and identify any issues causing visitors to leave. By analysing common user actions before they leave your web page, you can uncover potential problems and take steps to correct them.
A website lacking a valid HTTPS certificate is considered unsafe and vulnerable to cyber-attacks. HTTPS certificates are necessary for shoppers to be reassured that the site is secure. Without it, users may receive warnings in their browsers, informing them of the site's unsafe nature. Incorporating HTTPS encrypts valuable information shared between your website and users, making it inaccessible to hackers and private.
Failing to implement these basic website security measures can cause website owners to lose potential customers and affect their business. If you recognise any of these issues, hire dedicated developers to implement the necessary changes to ensure the safety of your site and keep your ultimate development cost under control. Designing websites is not for the faint-hearted.
Lack of Contact Information
It may come as a surprise, but failing to provide contact information is a common web design mistake. Ensuring your website includes contact details is essential for potential customers to engage with your business and take advantage of your services. A prominently displayed 'Contact Us' page that can be easily accessed with a single click should be a top priority for any website. At a minimum, website design should include the contact information at the bottom of every page so that it is easily accessible.
Conclusion
Have you come across any of these common website design mistakes when reviewing your site? If so, these web design tips can kickstart your efforts to enhance your online presence. Remember your target audience and brand identity during the design process, from planning until post-launch assessment. If you're unsure of where to start, consider seeking the assistance of a web designer. By doing so, you'll guarantee an optimal user experience that could lead to increased sales.
Our UK web design agency can help you build a website from scratch or redesign your existing one. Don't hesitate to reach out to us for a free consultation on web design mistakes to avoid and how to maximise your site performance.