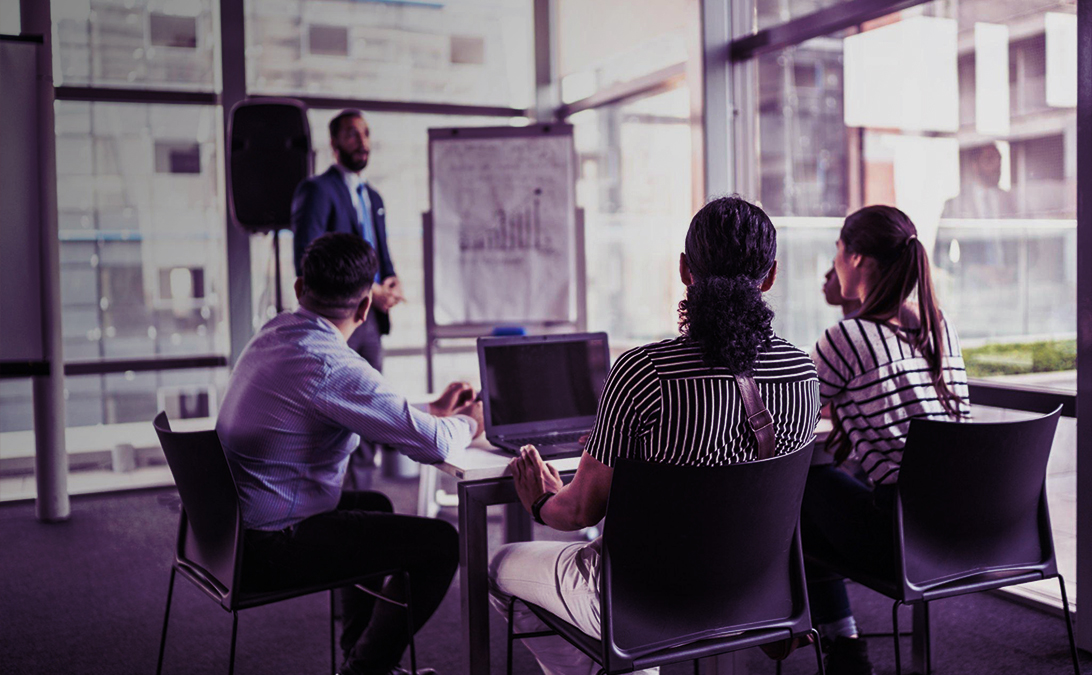 A software development consulting firm can help you identify your core IT needs, the feasibility of a project, and the planning involved digitally transforming your business. Software consultants are industry experts and can identify and suggest the best technology solutions to meet your needs, both now and in the future. 
From planning and strategising to choosing the best technology stack, project management tools, and building the roadmap for deliverables, an experienced software consultant has seen and done it all. With the right partners for software consulting services, a business can save time and money and eliminate the threat of rework.
According to research, the IT Consulting and implementation market will land at US$67.82b in 2023. The best software consultants can ensure optimum software quality and improve the return on investment while efficiently achieving business objectives. 
7 Major Advantages of Hiring a Software Consulting Firm
Gain on Relevant Experience
Software consultants are industry veterans with several years of experience up their sleeves. Our software professionals have worked with diverse business industries, including retail, healthcare, beauty, land and property, and more. They are well-versed with specific industry needs and challenges and can quickly analyse the business requirements of your software projects. 
Natural Flow of Ideas & Objectives
Software development with chilliapple provides you with smooth communication channels. Having worked with B2B, B2C, and various other business categories, each software consultant can easily grasp your objectives and plan a detailed roadmap of deliverables. Based on specific requirements, we implement industry-specific compliances. For example, we deploy HIPAA, FHIR, CCD, etc., compliances for developing healthcare apps.  
Trims Development Cost
Consulting with a software development company helps you save on costs incurred on in-house hiring. For example, businesses save money on recruiting, training, medical benefits, leave, etc.
Moreover, when hiring in-house IT professionals, you need to invest in infrastructure development and expensive software systems for the project whereas an outsourced software consulting services can provide well established and highly functioning resources for a fraction of the cost.  
Tailored Solutions
Each business organisation has specific workflows, requirements, and challenges. A software consulting company can create personalised solutions that match your workflows and can seamlessly adapt to the organisation. This boosts user experiences and greater adaptability of the digital solution in the workplace. 
The major benefit of software consulting here is you get business-oriented solutions. Your employees don't have to adapt to the software as the software adapts to the business workflows. We tap into our previous experiences in software engineering to detail the solution for an immersive user experience for the application. 
Process Evaluation & Proper Optimisation
You can leverage excellence in evaluating business operations and processes with a keen focus for bottlenecks. At chilliapple, our software consultants can identify obscure gaps and implement standard IT strategies to resolve them. We use third-party solutions to offer quick assistance or customise them to create personalised experiences.  
Often, companies fail to choose the right tools for the development project or depend on multiple applications for completing tasks. As a software consulting company, we can simplify digital technology with custom RESTful APIs that help smooth data sharing between different applications and automate critical processes. 
Detailed Risk Assessments
A chilliapple software consultant can carry out a 360 degree analysis of a project for a detailed risk assessment. Having delivered several successful projects, they know the feasibility of success and anomalies associated with a specific development project. You can count on them for an all-encompassing view and study of the project. 
As part of our day-to-day analysis, we can easily predict and eliminate defects or inconsistencies in the software application. We leverage industry-standard tools in the development project and deploy best practices to eliminate risk. For example, with an agile approach, we ensure parallel testing cycles that eliminate bugs before they enter the production phase of the software product.
Access to Expert Developers with Specialised Skills
Last but not least, hiring a software consultant can be the key to specialised skills in no time. There's peace of mind when you know skilled dedicated developers are working on the project. Adept engineers with collective knowledge and experiences enhance the chances of the success of the project significantly. 
Tips for Choosing the Right Software Consulting Companies
When choosing from different consulting companies, look for the following: 
Proven record of successful software solutions

Feedback from their earlier clients

Proficiency in understanding business processes

Availability of the standard pricing models
Ensure that the company or their technology software consultants are willing to align processes to your goals and offer seamless communication channels. 
Why Choose Chilliapple as Your Software Consulting Agency?
With a team of industry veterans, we can drive any project to success. We offer the highest level of transparency and have zero hidden costs. As a leading software consultancy agency in the UK, the following separates us from others: 
Build custom software to match your brand values

Focus on delivering software projects on time & budget

Transparent & clear communication 

A team of over 70 specialists

30 days of free support post-launch

15+ years of rich industry experience
Our Strategy for Software Development Consulting 

Discovery or Study Phase
At this phase, we engage with our clients to determine their project goals, basic and additional requirements, and challenges they are facing.
We consult face to face, over calls, and meetings to gather a complete view of the project. 

The main goal here is to define and enlist a comprehensive view of the project and develop a roadmap with trackable deliverables. 
Designing Phase
Here, we decide on the software architecture, suitable technology tools, database models, and more.
The team creates a blueprint of the design using wireframing tools with screen transitions.

Once our clients approve the design, we proceed with the code development of the project.
Development or Coding Phase
We begin with server-side coding, integrating functionalities into the software application.  
We keep track of time and deliverables with project management tools and ensure on-time solutions. 

Clients can view live updates using tracking tools or connect with the project/account manager over calls and meetings.
Delivery or Project Launch
We launch the application on the staging server and process it for final launch. Further, we hand over the code once the clients are assured and happy with the project.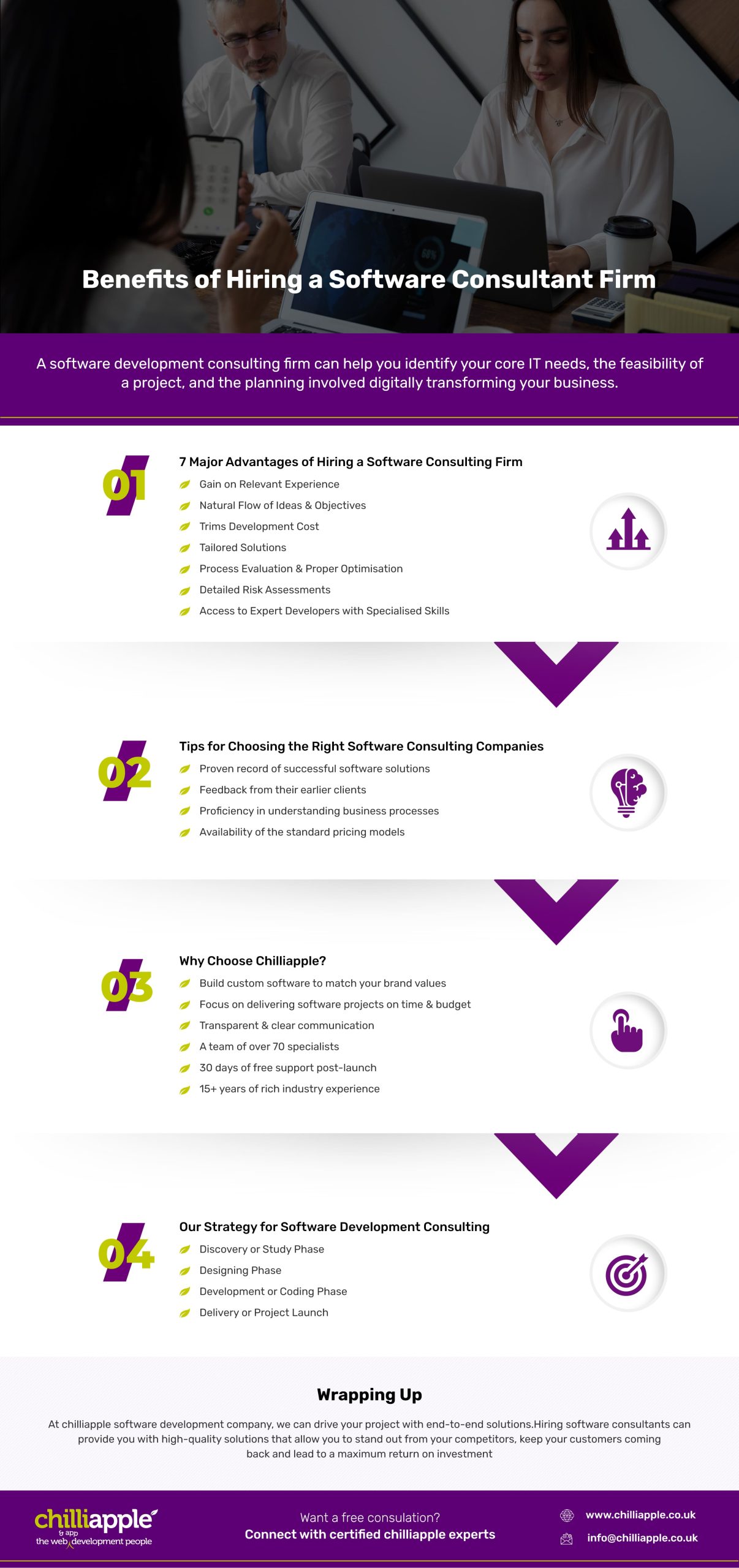 Wrapping Up
There are clearly numerous benefits of hiring a software consultant firm. At chilliapple software development company, we can drive your project with end-to-end solutions. Our team of seasoned new technology software consultants select the best tools for building your digital solutions.
We specialise in creating from scratch and customising third-party solutions for greater adaptability to your goals. Hiring software consultants can provide you with high-quality solutions that allow you to stand out from your competitors, keep your customers coming back and lead to a maximum return on investment.