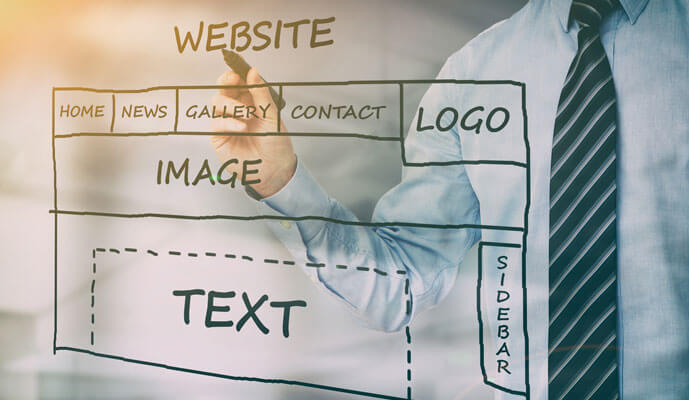 Every year, some technology trends are born in web design industry, some fade and some continue to prosper. It can be confusing when so many updates have been created about the anticipated trends. The sites we have today don't look like the sites we had in 2010; they're completely new.
Where Web Design Trends Are Heading
In 2017, people are using responsive sites, using UI & UX patterns that get instant results, and following design trends to create sites that perform well. In this post, we are going to check out web designing trends for 2017 – and see how you can use them to keep your website looking fresh.
These trends are meant to take your site to a new level of a creativity and give you ideas on how to improve the look and feel of your website.
Rise in Need for Responsive Sites
In 2017, users expect to see adaptive sites for every screen size, with Google now ranking these websites higher in search results.
A website with responsive design includes ease of navigation with a minimum amount of re-sizing and scrolling. The responsive design of a website can accommodate all type of visitors on a website, whether they are on a desktop, smartphone or tablet.
With a responsive website, you don't really have to go into the hassle of managing two websites. As one single website serves both desktops as well as mobile devices audience, it is more cost-effective and easy to maintain.
UX Frameworks to Innovate Web Design
In a website, the user interface design should always be interactive and natural with all the navigational elements making browsing experience enjoyable.
The implementation of UX in web design makes a website intuitive, saves time and allow users to make an action with simplicity and convenience. For example, Uber website works on the UX interface that allows a clear transition of booking in a single step, which is quite impressive too.
The UX has always added reality to branding elements of a website such as colours, shapes and fonts. All these should be consistent with UX interface and also help in improving website navigation.
Look Out for Typography
In web design, the term typography has been associated with two factors – macro and micro typography. Both types of typography make the act of reading effortless and optimise your website's user interface.
Micro Typography  
Using too many different fonts make a website text look unprofessional. It is important to have the right amount of characters on each line that improves the readability of a website text.
Macro Typography
It shouldn't always be your design that decides the size and width of the text; it should also be a matter of legibility. Many users will visit your site from different devices, so website text elements must work well in multiple sizes and dimensions to maintain readability on every device.
Emphasis on CSS Framework
A CSS framework provides a lot of options to use in HTML development, potentially making it faster and easier for developers to design a responsive website or web app.
The CSS framework not only gives you clean and symmetrical layouts but also takes away the frustration of common tasks like resets, so that you don't need to write programs from scratch every time.
CSS also helps in maintaining consistency on cross-browsers, means when a developer follows the CSS style guidelines, the resulting website should look the same in every browser.
Trends 2017 – Taking Web Design Processes to a New Level?
The web design trends are not just trends; these are design ideas for designers and those who run a business website. By partnering with a professional web design agency, websites can stay current with regular updates and emerging trends. It leads to the formation of a systematic approach – what they're seeking, and finally minimizing the risks associated with traditional web designing methods.
Bottom Line
Obviously, the credibility and design of a website has a direct relation to how likely people are going to make a visit to a site. That means you may lose customers if your site has a poor design. Hence, you must ensure that your website follows latest design trends, which is an important factor in the quality of the web design.