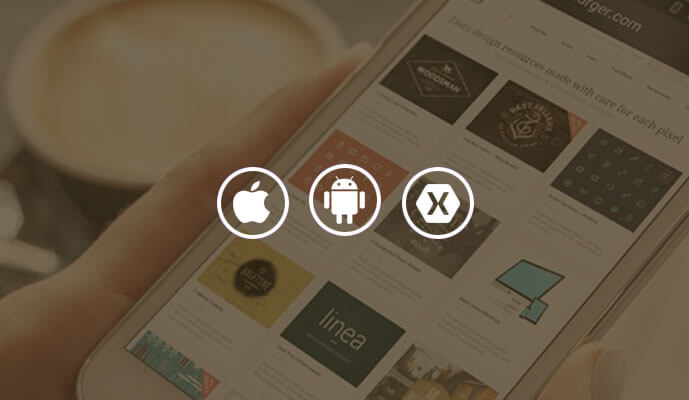 Mobile apps have gained a lot of popularity in the last few years. Businesses today are looking the app way to expand their reach and connect with their customers via interactive mobile apps. However, when it comes to getting a mobile app, many business owners often find themselves at the crossroads, unable to decide whether to go for a Native mobile app, or a mobile website.
Native Apps – An Overview
Native mobile apps are basically are the ones that are designed to run on specific mobile operating system. In other words, an app for iOS will run on iOS based devices only and Android apps will run on Android devices only. Native apps are basically developed using specific coding language such as Objective-C for iOS and Java for Android. Developed to run in specific environment, native apps offer greater performance and are more reliable than mobile websites. Further, mobile apps use phone's resources such as camera, GPS, address book and other internal features and are bound to interact better with the device and offer a richer user experience. Below are some other features of native apps.
Customer Experience
For your business to be successful, customer experience has to be the top most priority for you and native apps in this regard deliver a great customer experience. In this age of smartphones, mobile users expect a lot more than simply calling and messaging. Native apps use a mobile device's internal resources to deliver a great user experience in terms of user interactivity and user engagement.
Performance
No one would like an application that is sluggish or doesn't make the browsing experience enjoyable. The way an app performs on device plays a major role in deciding the fate of your mobile app and ultimately your business. Native apps are easily accessible, loads quickly and can be accessed offline, unlike web apps that rely on the data speed to deliver good performance. Hybrid apps too aren't that effective in performance as they are designed to run on multiple platforms and therefore doesn't effectively utilises the resources of a device.
Bugs Free
Native apps are coded carefully as they have to go through app store screening for their quality, performance and stability. Generally, a developer will test an app number of times before submitting it to an app store to ensure it meets the quality standards. Native apps, therefore, are bug-free and ensure a stable and high performing app rather than a buggy app that would crash.
Utilising Device's Resources
Native apps are more powerful in the sense that they efficiently use various resources of a device. From camera to GPS and address book to messaging, it can use the internal features of a device(after user's permission) to offer a great user experience. Further, it can also be designed to work offline and sync the data only when a user is connected to the internet. Web applications, on the contrary, always require a stable internet connection to run.
Web application although is a popular choice for being a cost-effective option, but if you weigh the benefits and ROI that native apps offer, web application doesn't really is a great choice. Web applications also are not attuned to use the smartphone features and the kind of experience they provide is somewhat inferior to the native apps.
Another major advantage of native mobile apps is that they are always present on the user's mobile and user don't have to remember the website address as with a web application.
A native mobile app is, therefore, a great option than a web application. Although it can be costly than a web application, however, considering the benefits it offers and ROI, it is by far the best choice.