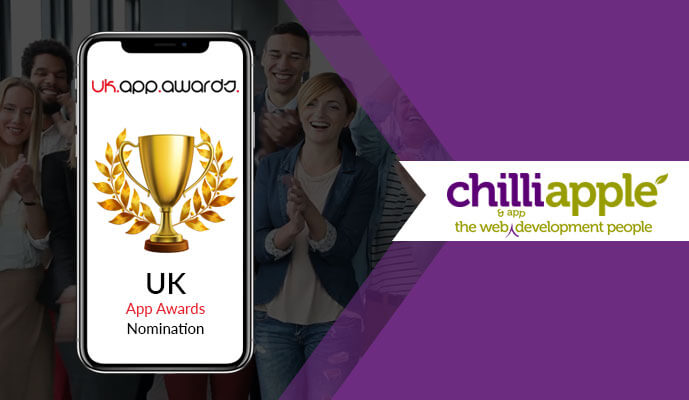 As a web and app development agency, we spend most of our time promoting and supporting our innovative and creative clients.
However, today we have some great news of our own to share. We're delighted to announce that ChilliApple has been shortlisted in four different categories in the UK App Awards! In addition, we've been nominated for the Medium UK App Agency of the Year award.
To say we're thrilled is an understatement – we've worked hard to provide our clients with creative, efficient and effective web and mobile app solutions to drive their businesses forward. So, to be recognised at such a high profile event is the cherry on the cake for us.
Our work has been shortlisted twice in the Health and Fitness category. For Bumpies, we created a Xamarin pregnancy app, with which users can view all their scans taken by Window to the Womb and also save weekly photos of their bump. This app provides a wonderful record for expectant mums as they await their new arrival, which is why it has also been shortlisted in the Video App of the Year category.
For fibodo – which stands for Find it, Book it, Do it – we built a booking management platform for sports and activity professionals. The native iOS and Android apps make it easy for customers to find and book an activity near them.
In the Fintech category, we've impressed with a personal financial manager (PFM) app, Finco. Built with Xamarin, the app allows users to optimise their finances with money management, product prompts and financial planning tools.
Finally, our property inventory report app for i-property report has been nominated in the B2B/Business category. As the world's first inventory report app with a multi-language tool, reports in 58 languages and generating reports in minutes. Inventory clerks can now do up to seven calls per day, as compared to three when they did it manually.
Appcelerator with a Titanium framework was used in the development process and bespoke coding enhance the core capabilities, which is a real technological breakthrough.
The winners will be announced on November 13th – wish us luck!