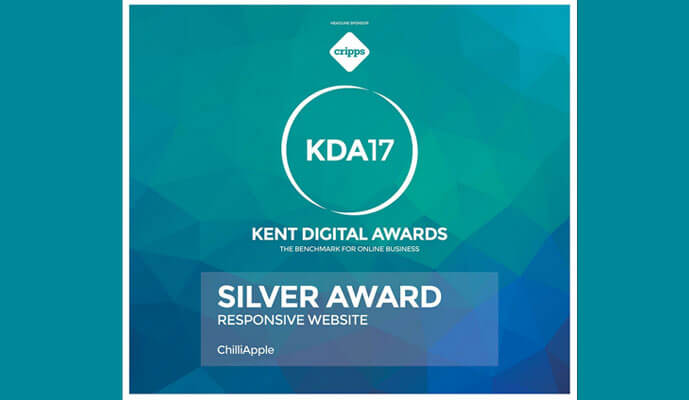 Chilliapple has been felicitated for its efforts in the digital media, in the third Kent Digital Award ceremony held at Ashford International Hotel, Kent on June 1, 2017, that recognises charities, schools and business across Kent for their dynamic contribution to the online media.
Chilliapple has been gradually progressing as an illustrious digital agency renowned for delivering unique solutions for the clients spread across the globe. As a renowned web and mobile app solutions provider, the company has been recognised by the clients for its out of the box solutions and customer-centric approach. This award is a testimony to the efforts and endeavours of the company in rendering best in the class solutions.
In the accolades across 14 categories comprising "Website," "Mobile App," "Responsive Websites" and "Use of Social Media for Business," Chiliapple has grabbed a silver under the "Responsive websites" category.
The ceremony was hosted by the former BBC broadcaster Robin Baley, who handed Gold, Silver and Bronze prizes to the worthy organisations.
Besides Robin Baley, many other distinguished guests graced the occasion with their presence and handed over the accolades to a host of worthy winners. The guest list included Mark Dance – Cabinet Minister for Economic Development at Kent County Council, Pete Kenyon from Headline Sponsor Cripps, Clare Reeves of Clare Reeves Voiceovers and Stuart Tanton of The Kent Foundation.
Set up in 2015, the sole motive of the Kent Digital Awards is to recognise the entities across the country for their noteworthy work in the digital solutions.
Head Judge and KDA17 Host Robin Bailey described the event as a "thrilling night."
"What a sensational celebration the Kent Digital Awards has been once again and thank you so much to Cripps for getting behind it in such a big way.
"More entries than ever and so much superb talent from all walks of life in one room, celebrating digital and celebrating Kent, absolutely fantastic."