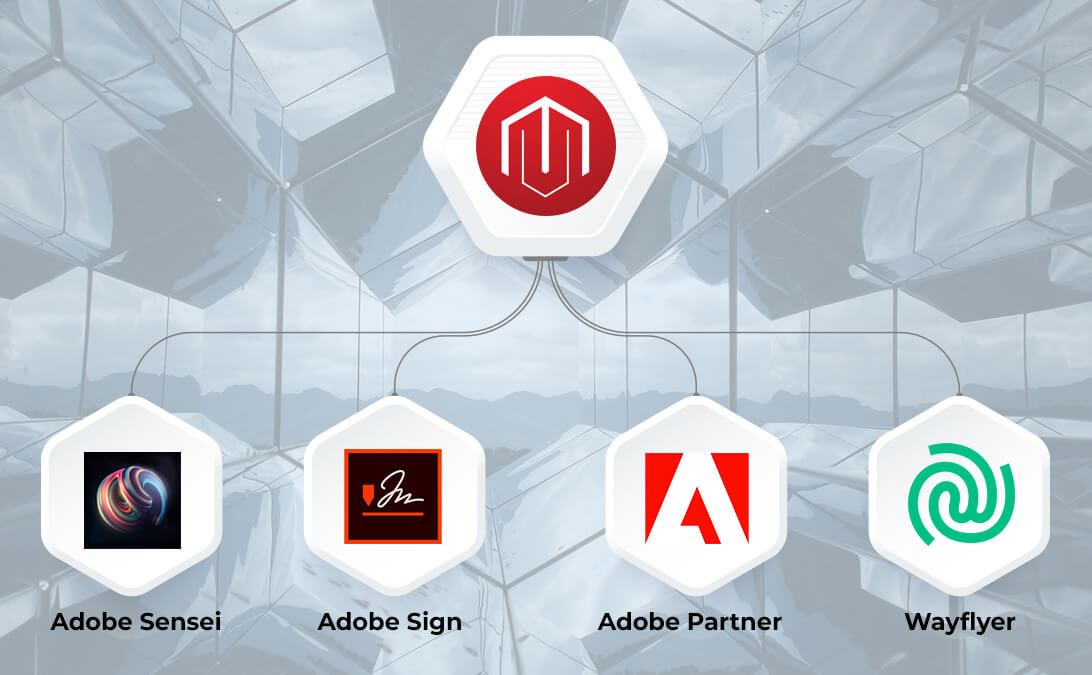 Adobe Commerce Cloud is a fully managed cloud-based version of the worldwide popular Magento e-commerce platform.
It is a highly flexible and scalable platform allowing B2B and B2C companies to enjoy a customised online environment across all contact points.
Furthermore, it is completely integrated with the rest of Adobe's tools. In this way, you can seamlessly integrate the Adobe Commerce Cloud with your store's Analytics, Advertising, and Marketing clouds to reap further benefits.
Why is Adobe Commerce so popular?
Besides offering a wealth of features, Adobe Commerce empowers your ecommerce business with data intelligence.  Moreover, it enables Adobe clients to leverage all interactions with their content by understanding how their customers behave and what they need.  Another positive reason why online merchants enjoy Adobe is its easy integration with third-party extensions that makes the operational aspects of running a service much smoother.
Being flexible and scalable to satisfy everyone's needs, Adobe Commerce is brimming with features. Simply explain your requirements to your Adobe commerce (Magento) developer, and your project will be fully personalized for your business.
Adobe Commerce (Magento) Usage 2021-22
Over 250,000 Adobe Commerce Magento Stores are live on the internet.
As of August 2021, Adobe Commerce Magento accounts for 1.1% market share of all the content management systems globally.
The UK is the second most Adobe Commerce powered nation with over 15,909 Magento websites.
There are more than 5000 downloads of Adobe Commerce every day.
Adobe Commerce handles £111 billion worth of transactions every year.
Adobe Commerce Cloud Features
Cleverly engineered to fulfill the needs of both B2B & B2C market segments, the Adobe Commerce Cloud provides users with an opportunity to optimise, personalise and manage the experience they provide across all customer touchpoints.
Cloud-Based Architecture
The most distinct aspect of the Adobe Commerce Cloud is its cloud nature. It empowers everyone to manage their ecommerce website anytime anywhere.  And as an Adobe Managed Service, it performs better, safeguards stronger, and responds quicker than Magento 2 commerce and open source. In addition, brands are experiencing a reduction in time to market.
Multichannel Experiences
Adobe made the first step towards the cross-channel/multichannel experience with Amazon's integration, which is fully controllable from the admin's dashboard. Even better is how Adobe Experience Manager helps Adobe Commerce Cloud adapt to external systems' content requirements.   Its Store Model, Data Model Components, and Unified API all contribute to a more robust multichannel e-commerce experience for your business.
Advanced Analytics
Adobe Commerce Cloud delivers commerce dashboards full of advanced analytics tools to monitor business metrics and make informed decisions.  This new feature helps to improve your marketing strategies, merchandise collection, and delivery indicators. The Artificial Intelligence within this tool also reports your business health and intelligent measures to improve it.
Adobe Commerce Cloud Benefits
Improved Speed to Market
Adobe's marketing clouds within the Adobe Commerce shortens companies' time to market by introducing various personalisation & optimisation features such as Google Advertising, Analytics, Magento Payments, Amazon Marketplace, etc.
Continuous Innovation
Adobe Commerce Cloud is notable for its extreme flexibility and timely improvements. Its huge ecosystem is supported by an army of over 1,50,000 trainer innovators. A continuous flow of innovations promises to provide you with an unrivalled, reliable experience.
Impactful Customer Engagements
Adobe is a trustworthy, well known company with products synonymous with high quality content creation. Its Magento acquisition raised questions, temporarily, in the market about Adobe's strategy but online merchants have quickly understood the benefits.  Online businesses can now establish stronger connections with their customers, ensuring every channel for content creation is utilised correctly.
Scalability & Adaptability
Adobe Commerce Cloud is designed to help businesses scale globally with maximum adaptability. Its multi-site architecture allows you to leverage the platform entirely, so you can enjoy serving a broad range of audiences from across the globe by incorporating multiple websites specifically designed to target a particular type of audience.
The New Features of Adobe Commerce Users
AI-Driven Live Search
Adobe understands that consumers want to find products quickly & easily.  As a result, it has enriched its Adobe Commerce tools with AI & Machine Learning technology – Adobe Sensei.  Adobe Commerce Merchants can now add AI-driven site search to their online storefronts and provide their customers with quick & personalised search results that become smarter over time, based on AI-powered analysis.
Merchants will now be able to do (Search + Merchandising) Searchandising. Using Sensei, they'll be notified about the products expected to gain high demand in the future so they can be ready to fulfil that demand.
Moreover, products with zero or negligible search results will also be notified to Merchants, so they can discard or adapt them and improve overall costs.
When will it be available?
The second half of 2021.
How to install it?
Adobe Commerce merchants will be able to integrate the 'AI-Driven Live Search' to their stores by downloading its extension from the Magento Marketplace.
Product Recommendations Capabilities
Epsilon's recent study suggests that 80% of consumers are more likely to purchase when treated with personalised experiences.  Adobe Commerce's new Product Recommendations feature will help B2B businesses understand purchasing behaviour and subsequently tailor the shopping journey to boost sales
When will it be available?
More than 300 Adobe Commerce powered sites are already benefitting from the Product Recommendations feature. However, the new B2B enhancements to Product Recommendations will be available to Adobe Commerce Merchants in Q2 2021.
How to install it?
It will require the help of a certified Adobe solutions partner agency to install the Product Recommendations into a PWA Studio-based storefront.
Soon after, a new preview feature in the Adobe Commerce Admin panel will allow the merchant to preview the recommendations for further reassurance that the suggestions are back up by intelligence.
Adobe Sign Integration
Signature requirements in B2B & B2C transactions often hinder a smooth purchase process. To enable merchants to quickly deploy digital signing, Adobe Commerce has announced its integration with Adobe Sign.  E-signatures have surged since COVID-19 has arrived. With businesses shifting towards digital platforms, Adobe Sign has witnessed a 200% user growth year on year
The Adobe Sign will streamline merchants' buying journey where they require customers to sign purchase agreements, terms & conditions, event waivers, warranty or service agreements, etc.  After simple configuration via the Adobe Commerce Admin, the Adobe Sign will provide a frictionless digitised experience by making e-signing a natural part of the checkout process.
When will it be available?
Adobe Sign will start rolling out for Adobe Commerce in the second half of 2021.
How to install it?
Adobe Sign will be available to integrate into your Adobe Commerce stores by downloading its extension from the Magento Marketplace.
Merchant Financing Solution from WayFlyer
As ecommerce continues to boom, merchants require instant capital to scale their business with the increasing demand.  To eliminate these finance & capital related challenges, Adobe is partnering with WayFlyer to provide finance solutions to Adobe Commerce merchants.  Merchants can request instant loans and purchase inventory to meet inflated demands at specific times of the year or for special events such as stock clearance as well as during successful marketing campaigns.   It is worth noting that Adobe may decide to restrict loans to Adobe Commerce merchants which would mean that Magento 1 merchants would need to upgrade and modernise their online user experience with the support of an  Adobe Solution Partner.
Summary
Undoubtedly, the ecommerce industry will continue to thrive as will the competition within it. Regular, timely innovations in Adobe Commerce Cloud will allow merchants to be reassured that their online offering is being maximised.
Adobe, alongside its Adobe Commerce platform, is a trusted brand that can be relied on to keep online businesses at the forefront of ecommerce technology to drive customer satisfaction and business performance