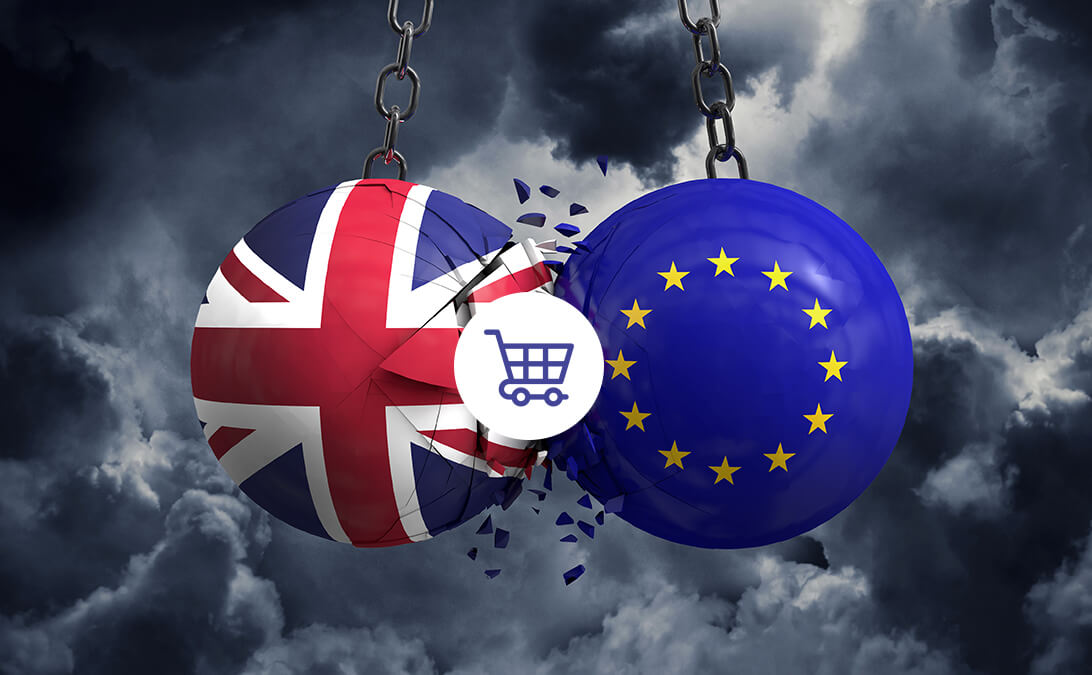 If you have an e-commerce business, you may be especially affected by Brexit and the impact on cloud computing services such business continuity, cloud storage and data sovereignty is still uncertain.
It is essential that e-commerce businesses connected to the UK market understand how Brexit is going to develop.  You should spend time with your web and app development agency to make adjustments to your online shop to reflect the changes as a result of being out of the EU.  There are just a few months left to get your site in order.  From 1st January 2021, e-commerce businesses must be ready.
Trade and Travel
Until 31st December 2020, cross-border trade between the UK and the EU will continue as normal.  After that date, it is hoped that the UK and the EU can come to a mutually beneficial trade agreement.
Travel regulations will stay the same until the end of 2020 so people can travel between the UK and the EU without restriction of movement.  It also means that until the end of the year e-commerce business owners can live either in the UK or the EU and may work and live where they want.
However, as of the start of 2021, this will change. E-commerce owners will need to consider changing their residence to a place where they can legally work and registering their business in a place where it can be a legal entity.
Impact on E-Commerce
A no deal Brexit will be detrimental to the e-commerce sector.  Many e-commerce businesses are small and medium-sized enterprises and operate efficiently because they don't have the cost of tariff barriers. A no deal Brexit could mean that trade tariffs are imposed.
Large e-commerce stores will also be impacted. The extra cost of trade tariffs is likely to be covered by increasing the price paid by their customers.  Shipping delays between the EU and the UK should also be expected.  If there is no solid deal, there may not be the legal framework available for trade to happen or trade happens but with added complications that come with working within a tenuous legal framework.
E-commerce stores should also be mindful of the potential implications of their hosting packages. Hosting prices may change as a consequence of the UK no longer being a part of the trade agreement.  There are many web hosting providers based in the EU and operating in the UK.  Their hosting services could be subject to tariffs as a result of supplying the UK.
All e-commerce stores will need to consider the importance of offering both sterling and euros before 2021 too. Clients may change their currency preferences when buying online should the value of the pound fluctuate as a result of Brexit.
Get Prepared for Brexit
The better prepared you are now, the less likely your e-commerce business will be adversely affected when Brexit hits.  Foreseeable bureaucratic challenges will be customs and sales tax. You can avoid these issues by setting up logistic centres in both the UK and the EU or by joining an existing fulfilment network.
If you are a small or medium-sized organization, you may feel this is too expensive to do but bear in mind that several e-commerce businesses have already moved much of their business to Germany.
It is important to consider both the supply and demand sides of your business before you decide whether investing in extra logistic centres is crucial to overcome the Brexit challenges.  Review from where you will source your raw materials and how that impacts importing and exporting, shipping and delivery.  Assess where the majority of your online orders come from and if an extra logistic centre will help.
There are many challenges ahead for e-commerce businesses. chilliapple can support you with any design or development requirements for your web or app to ensure your business does not suffer as a result of Brexit.  The clock is ticking and we are ready to help.