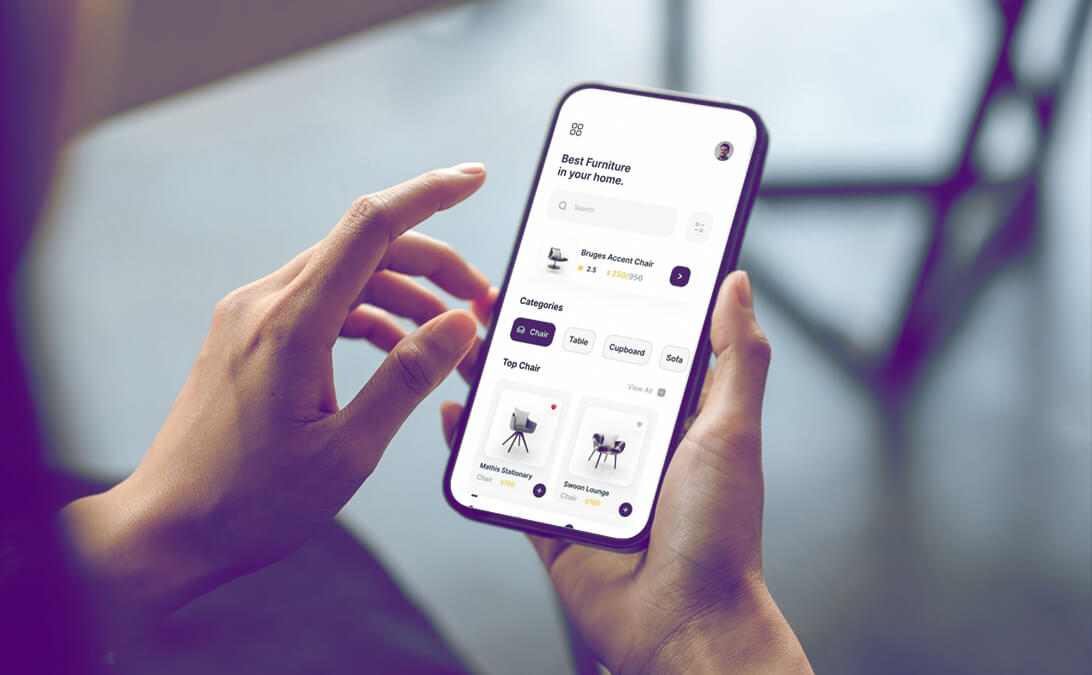 The eCommerce industry is experiencing an unprecedented boost as customers increasingly turn to mobile solutions to shop online. Are you an eCommerce business owner? If so, not having a mobile app could cost your company valuable customers. The demand for on-the-go shopping experiences has been met with highly optimised applications that offer unparalleled speed and convenience to consumers. This is why the eCommerce development industry is experiencing a monumental shift as solutions for mobile apps increasingly gain traction.
Mobile phones have become an integral part of day-to-day life, providing shoppers access to a wealth of products and services at their fingertips. mCommerce is rapidly changing the face of retail in the UK, with estimates such as from Statista showing that its contribution to sales will exceed £100 billion by 2024.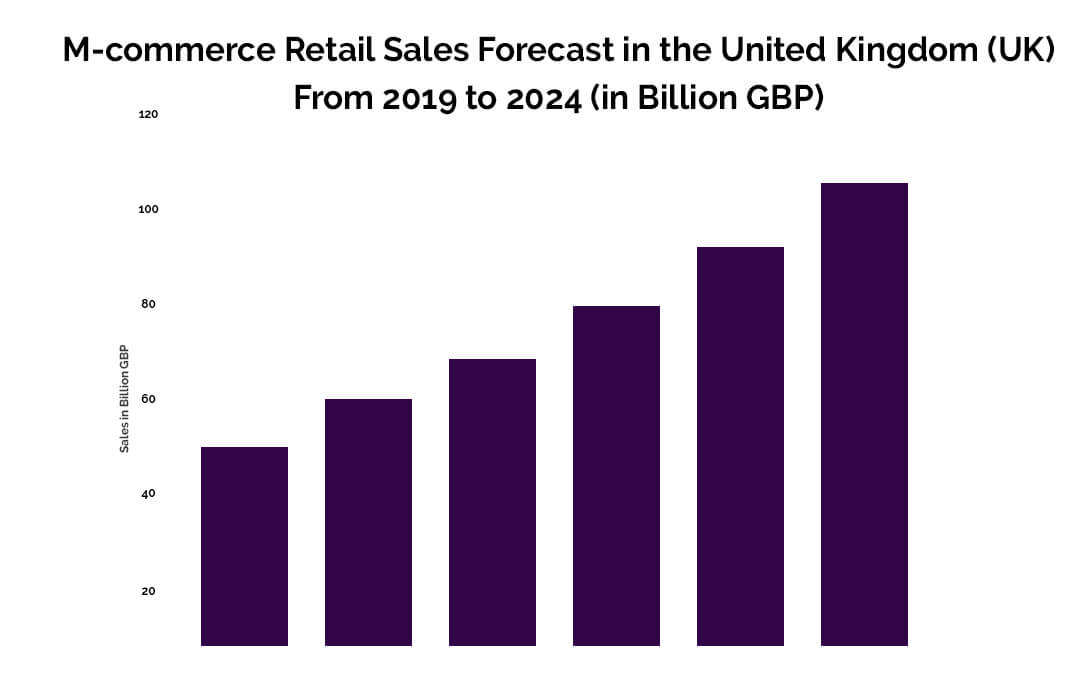 In 2019, mCommerce retail sales in the UK amounted to £50.36 billion and are projected to reach an impressive £105.28 billion by 2024, doubling over five years.
Whether you're selling white goods or apparel, widgets or services, there are a few ways that every online store can gain significant advantages from developing its unique eCommerce mobile app. This article details seven benefits of creating an eCommerce mobile app that can persuade your customers to shop online and help take your sales to the next level.
7 Key Benefits of Mobile eCommerce Apps
Building a mobile app for an eCommerce business can provide numerous benefits ultimately leading to more customers.
1. Higher Conversion Rates
Mobile eCommerce apps offer a powerful and user-friendly way for customers to buy from y0u. From push notifications and wish lists to product filters and quick checkouts, mobile apps provide an efficient shopping experience that encourages users to take action. Mobile apps provide a faster and more convenient way for customers to make purchases digitally and remotely, leading to higher conversion rates and increased revenue for an eCommerce store.
To maximise your success rate during the application development, consider split and production testing for optimisation. This tool will allow you to detect any problem areas that could hinder user experience so that they can be addressed prior to launch.
2. Brand Recognition
Creating a mobile commerce presence is essential for maximum brand recognition and customer engagement. Mobile apps allow users to be frequently reminded of your business, leading them to choose your brand over another during their next purchase. Furthermore, customers are likely to leave reviews on applications. These reviews can significantly enhance visibility online and support the brand values and uniqueness of your company's products or services, ultimately drawing attention from potential new clients.
To remain competitive, businesses must offer a mobile app with a user-friendly UI/UX design and seamless customer experience. Regular crowd tests prove paramount in refining your mobile application's overall performance to ensure customers keep returning.
3. Increased Customer Loyalty
With customers increasingly spending more time on their phones and devices, businesses must optimise their websites for mobile to provide users with the information they need without any hassle. Implementing effective loyalty programs and strategies such as personalised offers and push notifications via mobile apps or live chat/chatbots can help build strong relationships between your business and customers so that you can retain them over an extended period. This, in turn, will demonstrate brand value while helping establish lasting customer loyalty.
4. Personalised Shopping Experience
With an ever-changing customer landscape, businesses must find innovative ways to provide personalised experiences. Utilise unique data points such as past purchase history and likes or preferences of the customer to craft tailored product recommendations and marketing campaigns. Push notifications can be used strategically all along the shopping journey for maximum customer engagement, creating a connection beyond fundamental buyer/seller relationships. Customising interactions from start to finish is essential for exceptional service and encouraging repeat purchases among mobile app users can be supported with tailored loyalty programs.
5. Better Efficiency
Businesses of all sizes have increasingly adopted mobile apps to deliver customers a more convenient user experience. This also increases operational efficiency, as a well-designed mobile app with powerful features and an intuitive design ensures smoother order processing and allowing customer to make decisions faster thanks to push notifications. Ultimately, this helps boost sales while streamlining the entire process creating increased success as well as greater efficiency.
6. Improved Marketing Communications
Marketing plays a crucial role in attracting customers, retaining them, and building brand recognition for your business. Marketing tactics, such as content marketing, performance marketing, social media marketing, are the most preferred marketing strategies for mobile commerce.
By integrating eCommerce applications into these initiatives, you can extend customer reach in addition to existing marketing efforts such as content creation, performance activities, and social media outreach. Your eCommerce mobile app can assist you in generating more leads through PPC marketing campaigns and other marketing strategies since mobile devices account for most of the internet traffic.
7. Multiple Payment Options
Enable your customers to enjoy the convenience of seamless shopping with a variety of payment options available in-app. These can include third-party apps like Google Pay, Apple Pay, and PayPal, as well as traditional debit cards or eWallets for secure payments at any time from anywhere. And if app users save their details in an account, it's even faster with no more tedious form filling next time they purchase. With flexible payment options built into your app, more customers can have greater convenience.
Summing Up
Integrating a mobile eCommerce app into your online store can give you the competitive edge needed to succeed in today's digital world. Harness the power of innovative technology to unlock new opportunities with mobile apps for your eCommerce platform. As purchasing habits rapidly evolve and an ever-increasing number of consumers turn to their mobile devices when shopping, a mobile presence is essential for any successful digital enterprise. Not only will it improve the personalised experience for customers, it will also contribute directly towards increased revenue and average order value.
chilliapple has a team of experienced and skilled developers specialising in building mobile applications for every type of eCommerce store. Our engineers offer customised solutions for mobile apps tailored to each client's unique needs. chilliapple follows an agile process. This approach allows us to respond to client feedback quickly and make changes as needed, resulting in faster build times and better outcomes. If you are looking for a reliable, established, and customer-focused mobile app development agency to build mobile apps for eCommerce, chilliapple is ready to understand your business goals, product details and ambitions for superior shopping online. Contact our mobile app development experts today.