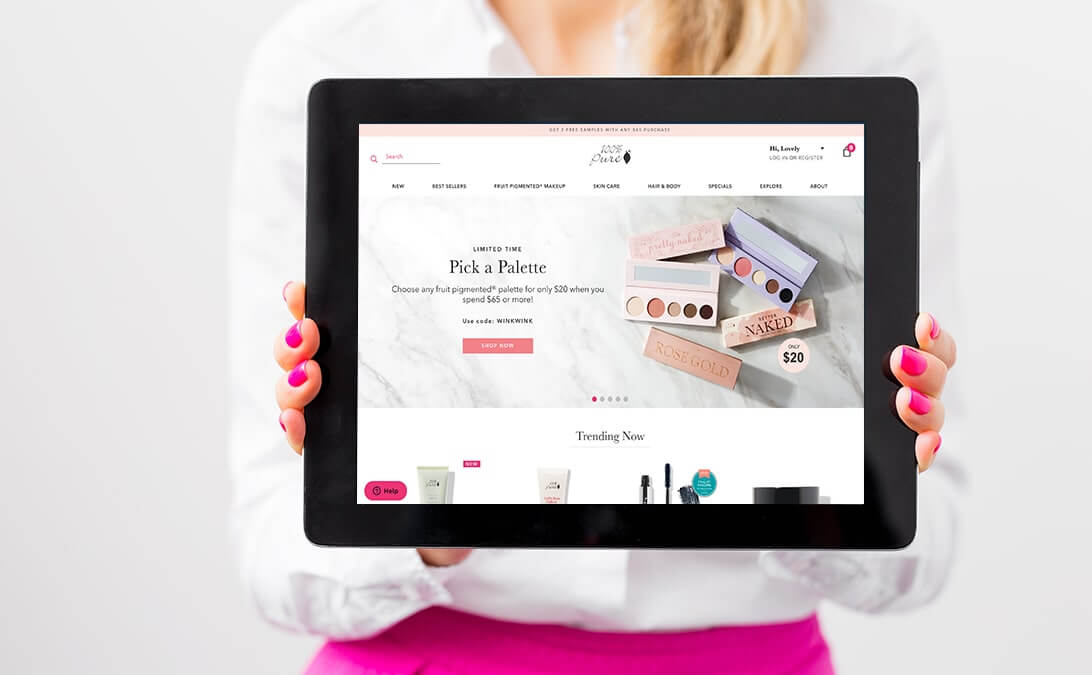 Health and beauty brands are reaching out to their customers to cocreate because they finally understand the importance of personalisation when it comes to brand switching and brand loyalty. eCommerce has disrupted the way in which people shop as products become more and more accessible online and never more so during the COVID-19 pandemic. But buying online for certain industries, like beauty and food, has presented challenges where people like to try, smell and touch products before they decide to purchase.
That's where personalisation comes in… Bespoke beauty products were trending in 2018 but AI has now kickstarted that trend online. Consumers want products that work for their skin tone, for their hair type, for their specific beauty needs and brands are accommodating this through customized products and services.
'Health and Beauty' is one of the fastest growing retail sectors in eCommerce, forecast to grow 21.1% over the next five years. Social media channels like Instagram and YouTube and their bloggers and influencers have accelerated this growth by appealing to buyers in a very personal way.
How online retailers are using personalisation
Technology is rapidly evolving the ability to personalise a shopper's experience by allowing people to shop differently for beauty and to virtually try on different looks by using mobile apps or an AR try on such as Modiface. And retailers have realised that, in order to stand out, they need to personalise their marketing and UX, supported by platforms such as Prestashop and Adobe Magento, to fit their customers' needs.
Of course, personalisation is nothing without data. Beauty brands and retailers use surveys, questionnaires and other data collection opportunities to build up a more realistic profile of their customer to then tailor products and services that speak to an individual rather than a broad segment. One example is the use of skincare consultations, virtual rather than physical, to provide relevant content and to ensure a very personalised experience online.
Based on understanding their customers' complexion and skincare needs, Clinique uses machine learning technology to identify what similar customers purchased to inform recommendations to potentially new customers. Sephora's Virtual Artist, available via their mobile app, allows customers to try on makeup trends tailored to their specific skin tone and face shape. Alongside personal tips and tailored tutorials, the app encourages visitors to try products on in person.
Reward, loyalty, and subscription schemes are extremely popular in the health and beauty industry and are offered by numerous companies like Feel Unique, Birchbox, Harry's and Beauty Pie, incentivising customers to repurchase. Even a traditional brand like Boots understands specific customer preferences, thanks to its long-running loyalty card programme and subsequent app, to personalise promotions to customers to increase take up.
Personalisation is evolving
Bespoke beauty products are available across all categories including make-up, fragrances, and skincare and, as a result, shoppers for established and new brands expect to be treated as individuals.
Trinny London offers a simple five step online form, alongside its Match2Me technology, to develop personalised products, based on a customers' hair, eye and skin colour.
Floris offers a bespoke scent experience, for £550, that starts online followed by a visit to its perfumery where clients create a perfume that is personal to them.
Penhaligon's has an online Fragrance Profiling experience which suggests the right fragrance for you based on your preferences and Scenterprises in New York creates your own personalised fragrance online.
Personalisation is not just for start-ups
Our more mature readers will know that marketing skincare by three customer segments – dry, oily, combination skin – has been around for many years but that broad approach to skincare advice has dramatically changed thanks to technology and data.
Dermalogica's Face Mapping, launched way back in 2014, understood that different areas of your face needed different care and a more bespoke skincare regime was introduced.
Olay may be over 60 years old but it has adapted its approach with Olay's Skin Advisor enabling you to share a selfie, get a reading of your skin's age, and then create a unique skincare routine. This web-based platform, powered by AI, has a built-in algorithm that becomes more intelligent each time a selfie is uploaded. It compares your selfie to those of thousands of other women of different ages to identify your skin's age and recommend skincare solutions to meet your specific needs. Through learning about women's specific skincare concerns, this platform also helps to inform Olay of areas for future product development.
Even celebrities are seeing the importance of personalisation. Rhianna's Fenty Beauty aims to cater for all skin tones and its website offers the chance to try a shade with its built-in camera function.
The future of personalised beauty
Personalisation in the beauty industry aims to reduce waste and increase customer loyalty and technology and artificial intelligence will help to improve product development and customer satisfaction. As consumers, we are becoming use to the trade-off of volunteering personal data and receiving a bespoke, personalised product or service. And eCommerce platforms are enabling that trade-off decision to be an easier one.
Customised shopping experiences from the likes of Adobe Magento and Prestashop can make the difference between a mediocre purchasing journey and an unbeatable one. chilliapple's highly trained and certified developers are here to help you on your road to eCommerce personalisation.