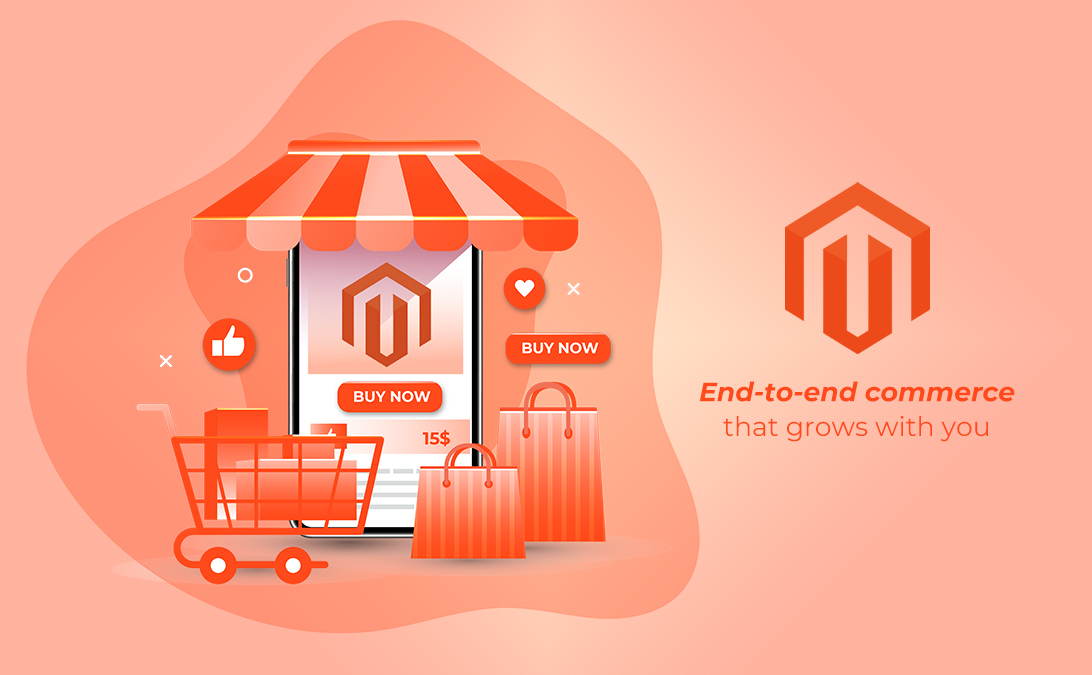 Magento, and the latest Magento 2, is one of the most popular open-source eCommerce CMS platforms in the World. In 2020, Magento was the third most migrated-to eCommerce platform and, with around 30% of all e-commerce sites built using this solution, it is clearly a favourite eCommerce software. In 2019 alone, Magento-based websites were responsible for selling $155 billion worth of products.
Before some history about Magento, let's first, bust a bit of jargon for those who are less familiar with technical terms.
Open source is when software is released with source code that users are allowed to review, enhance, or completely change as required. In fact, Magento's source code has been downloaded more than 2.5 million times already. eCommerce software allows commercial transactions to be carried out electronically. Essentially, goods and services can be sold online. CMS, or Content Management System, is an application that manages all content about a product or service in one place.
What is Magento and who owns it?
Magento was released in 2008 with limitless potential and is incredibly customisable compared to anything other eCommerce platforms on the market. It was acquired by eBay in 2011 and PayPal (owned by eBay) was subsequently integrated. In 2015, eBay split from PayPal and Magento became an independent company once again. In 2018, Adobe acquired Magento for an enormous $1.68 billion.
What is Magento used for and how does it work?
Magento is available as both a free download and as a hosted service. So, you can either download it from the official website and install it on your own server or you can choose a trusted partner to install and tailor it for you. The latter option obviously comes at a higher price.
Magento gives you everything you need – an all-in one eCommerce solution. As a result, you need to be realistic about using it. If you don't have web development experience either in-house or through a partner agency, you will probably struggle to implement and utilise it.
Even at its most basic, Magento is a robust system. When you need to integrate with back-office systems, third-party tools or introduce thousands of products, experienced developers are required who understand Magento and follow best practices.
Why use Magento rather than other eCommerce platforms?
If you can imagine it, it's probably possible with Magento. Like no other eCommerce platform, countless customisations can be created with Magento. Even if you can't find an extension that suits your needs, a Magento developer will be able to design it for you.
With Magento's open-source nature and regular updates(Magento 2), it is also constantly improved so you know that your site is always fit for the future growth and trends.
Other, lighter, less comprehensive solutions will suit very small businesses who are making their first steps to creating an online retail shop. If, on the other hand, you have an established business with the investment to grow, alongside the time to tailor an eCommerce platform to suit your needs, Magento is the perfect solution for your digital store.
Magento is an option for businesses of all shapes and sizes and in any industry. It is optimized for thousands of products processing millions of online traffic and sales. So, if you have big ambitions, Magento is for you. Typical Fortune 500 online businesses built on Magento include Coca-Cola, Ford, HP, Land Rover and Nike.
And then you have the peace of mind that it is widely used and well known and has an active plugin development community to solve issues and queries quickly.
What is Magento 2 and its advanced features?
Magento and Magento 2, the latest version, have heaps of features and can be used for any requirement that an ecommerce website might need. Your Magento backend and frontend will run smoothly and efficiently, with all its tools built as standard.
The free version of Magento has features that are sufficient for most businesses and the 'no price tag' doesn't mean an inferior website. Here are just some of the many features available with Magento Open Source:
App Marketplace Access
Architecture and Security
Basic Analytics and Reporting
Basic Site Search
Catalog Browsing
Catalog Management Tools
Customer Accounts
Flexible Couponing and Promotions
Full Page Caching System
Instant Purchase
Layout and Theming
Mobile Optimised Shopping
Support for Multiple Languages
Multiple Store Views
Order Management
Product Configurations
Google Analytics Integration
What are the added benefits of Magento Commerce?
Magento Commerce (now called Adobe Commerce) is the paid version and is designed for larger eCommerce companies who need to tailor their online store. Features on top of the free version include:
Access to Quick Design-Build Express Packages
Adobe Sensei AI-Powered Product Recommendations
Advanced Content Management
Advanced Site Search
Gift Cards
Integrated B2B Features
Magento Account Manager
Reward Points
Rules-Based Related Products
Rules-based Upsells & Cross-sells
Visual Merchandising
Its inventory management feature will ensure you know what to order in the future to meet demand, when to order your next shipment and how much more to get of each item. It can easily handle shipping charges and offers multiple payment gateway options to satisfy all types of customers.
It also has over 5,000 extensions available including built-in multilingual support and is optimised for mobiles and tablets and SEO. You can group customers into segments and bundle products to suit your client needs and you can manage promotions, campaigns, and customer contacts with its marketing tools. Orders are processed smoothly and quickly, and its customer service features mean you keep on top of queries and requests and ensure your clients remain loyal and happy.
It is ultimately recommended for online merchants that want to be user-friendly, scalable and feature rich.
How much does Magento cost?
The Community (Open Source) version of Magento 2 is free. Simply download it from the main website and install it on your web server. However, the free version doesn't offer the option of a unique user experience or a competitive edge.
There is a paid tier, based on your company's Gross Merchandise Value, available for large enterprises to set up Magento Commerce (now called Adobe Commerce) as a hosted service. Expect to pay from £12,000 up to £40,000 a year for a Magento Enterprise Edition depending on your chosen package. On top, you need to allow for the cost of hosting.
A further option is Adobe Magento Commerce Cloud. Again, this has tiered pricing, but it includes hosting. Extra peace of mind that your site will stay up and ruining even with a surge in traffic.
What are the benefits of using Magento for your online store?
User-friendly: Magento is a user -friendly solution for eCommerce websites both from the point of view of your customers and for businesses without sufficient technical expertise to code their own unique online store. The Magento backend and admin area of the platform is designed for users with limited knowledge or experience, so the basic build of your eCommerce store should be easy.
Scalability: Whether you have ten or 100,000 products, Magento 2 is completely scalable to fit your business growth. It can immediately accommodate steady or dramatic increases in demand for your products and services.
Feature rich: Magento can be as big as you need it to be in terms of features to satisfy both your operations and customers. There really isn't anything it can't do for you, as long as you keep an eye on the complexity of what is built.
Versality: You or your developer can build and customise 'on the fly'. Its content management interface is easy to use, and basic functions can be quickly manipulated
Mobile friendly: Magento sites are developed responsively so can be seamlessly viewed on smartphones, tablets, and other mobile devices. This is perfect for the 'always-on, on the move' generation.
Search Engine Optimisation: Magento SEO has been built with search engines in mind and so organic traffic is maximised. There is also the option of implementing custom SEO if you have access to the knowledge to make it happen.
Upsells and cross-sells: Already built-in, Magento can prompt to browse related products to enhance user experience and sales.
Community: There is a solid backbone of support from official certified developers who are part of a growing Magento community across the World and from other Magento built businesses.
Customised security: Magento gives you options to customise multiple levels of security permissions. PCI Data Security, CAPTCHA-equipped login screens and secondary password prompts ensure extra defences against unwanted breaches.
What are the drawbacks of using the Magento eCommerce platform?
Hosting: The fact that the platform is complex and scalable means you will need to host a Magento store on its own dedicated server, the cloud, or a VPS (Virtual Private Server). So, you need to be ready to pay a server cost to get started and an ongoing monthly cost for maintenance. Plus, don't forget domain registration, SSL security certificates and hosting plans. Or ask your development agency to take care of hosting for you.
Time-consuming: Development is usually longer if you need to modify features unless you hire a certified Magento developer. Expect your project to take longer than other simpler online eCommerce platform builds. Magento is a complex platform implementation with over 20,000 files and 200 database tables that require technical skills. A certified Magento development agency is a must to develop your project quickly.
Costs: Magento is more expensive compared to SaaS platforms like Shopify and technical support can be more expensive. The platform is complex and so expect to need experienced Magento developers to help you design and build, support, maintain, integrate, and extend. Be mindful that some Magento web and app development agencies can overcharge. Make sure you understand what a fair hourly rate is.
When should you choose not to use Magento?
Before choosing Magento you need to consider if the platform is right for your business. First decide if eCommerce is your focus. If your website is essentially a blog with a micro shop attached to it for example, you probably don't need all the functionality that Magento offers. Other simpler eCommerce solutions are right for you.
Then think about your business needs and products. Do you need all the features that Magento gives? Do you need business analytics, integration with payment gateways, email providers, social media channels and sales and marketing solutions such as Salesforce? Perhaps you don't need complex ordering and inventory management tools. Then again, Magento is the wrong choice.
Next, think about funding. Do you have sufficient budget to afford Magento and its ongoing maintenance? It might be advisable to trim back your requirements and choose an eCommerce platform that is less rich and sophisticated. You will need ongoing technical developer support to keep Magento safe and secure so again consider if your budget can stretch to ongoing costs from an experienced Magento developer.
Perhaps your online shop doesn't need to be very flexible and customisable. If you don't require a bespoke online experience for your customers and a complex backend, choose a cheaper platform.
Then consider if security is essential. Perhaps your business doesn't collect personal or sensitive financial data to trade. If you don't need to ensure your online shop is kept safe from cyber-attacks and hacks, then Magento is not for you.
Still not sure if Magento eCommerce is right for your business?
chilliapple has been an official Magento Partner agency from the very beginning of Magento's launch. Its Magento developers are certified and have years of experience designing, building, modifying, and supporting large and small businesses built on Magento. Our specialists will happily spend time talking through the platform with you and whether it is right, or not, for your business ambitions. We can provide free initial advice and prepare a quote based on your requirements.
Established since 2008, with many loyal, happy clients, chilliapple can help you navigate your way through a premium eCommerce platform so that your online business, built on Magento, is future proofed and always ready for growth.
And remember, chilliapple is different. Our no-nonsense approach to delivering on time, on spec and on budget means you get what you need at a fair price with no time-wasting or unnecessary jargon. All our project and account managers and web developers work for us. We never, ever out-source talent. Full stop.