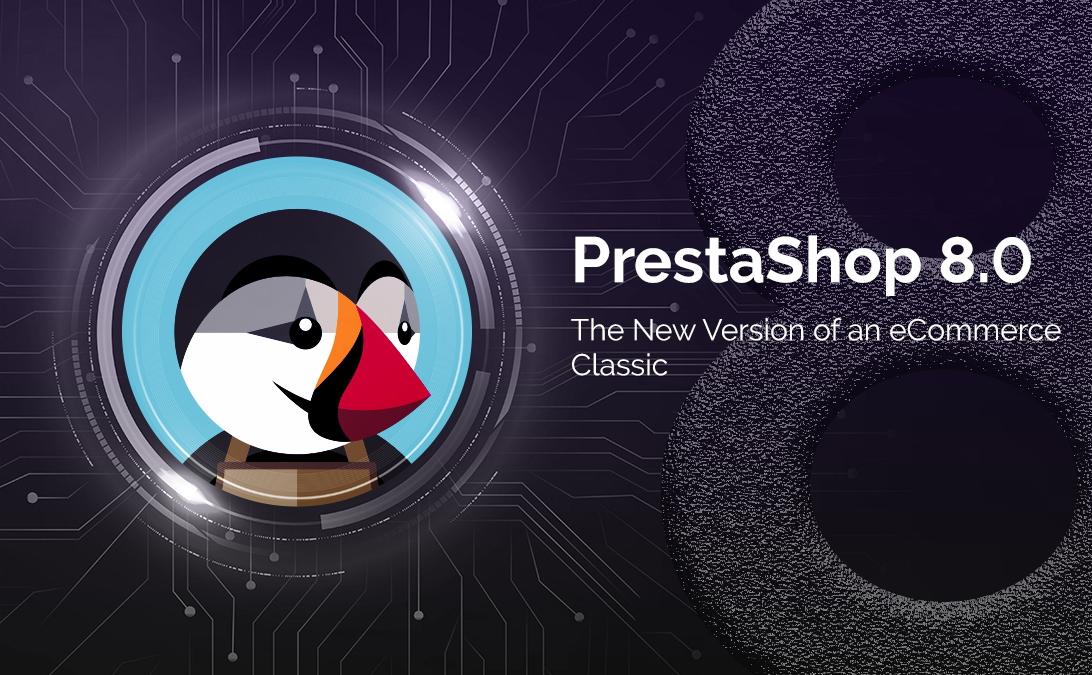 PrestaShop is a popular eCommerce platform, with over 30,000 businesses worldwide using it in 60 different languages.

PrestaShop provides incredible functionality with its out-of-the-box features, making it one of the best eCommerce platforms. It works on PHP, a well-known scripting language used globally to create robust website applications.
PrestaShop is easy to use and provides customers with a robust, dynamic store interface. Furthermore, it delivers a comprehensive set of features for free.
Its vast community has thousands of PrestaShop developers to support the platform.
What's new in PrestaShop 8.0?
Released in October 2022, five years after the last major version PrestaShop 1.7, PrestaShop 8.0 is the most recent version.

It is a significant update that includes many new features and enhancements aimed at making it easier to use, more secure, and better performance than ever before. If you're looking for a robust eCommerce platform that can grow with your business, upgrading Prestashop 1.7 to PrestaShop 8.0 is your solution.
With over 170 bug fixes, this latest update is compatible with PHP 8.1 and brings significant performance improvements to page templates and updates to various libraries, including Symfony 4.4.
PrestaShop 8 features that make it worth upgrading
PHP versions 8.0 and 8.1

PrestaShop 8 provides support for PHP versions 8 and 8.1. This is one of the most crucial elements of the version 8 upgrade as each new PHP version offers improved performance and a plethora of new features.

We advocate using the most recent PHP version available wherever possible as security is always a concern, and PHP 8.1 ensures security updates until November 2024.

Symfony 4.4

Symfony 4.4 is the latest version of the powerful yet flexible PHP framework designed to make web development faster and easier. It features improved performance, added security, and more robust development support.

PrestaShop 1.7 was the revolution that initiated the shift to Symfony, followed by versions 2.8 and 3.4. Symfony 4.4 is now accessible in PrestaShop 8.

Developers today increasingly rely on Symfony to build complex applications quickly and easily; they can now take advantage of Symfony 4.4's improved workflow options. Expect improvements to the Symfony framework as new PrestaShop versions are released.

Security

Some solutions may need to be updated as a result of the new password policy management feature in PrestaShop 8. Users may now see the strength of their passwords as they create them. In addition, Administrators can now fine-tune the shop's password policies, ranging from simple to complex. And store administrators can now view the user's history and disconnect the user sessions remotely.

This assures store owners and end users that transactions are handled in a secure environment with high protection from external intrusion or hackers. In addition, its simplified checkout system reduces the risk of credit card fraud or other malicious activities, further strengthening overall security for store owners and customers. By utilizing Prestashop 8's advanced security features, individuals can be sure that their data will remain safe while transacting.

Themes

The themes use jQuery UI tooltips, which may need to be updated to use bootstrap's tooltips. Empty state messages are now displayed on pages such as order history and addresses inside the block. To support the new password policy, the Classic theme has been updated. The password policies' modifications directly affect the features and security level of the employees and the customer accounts. So, it's an essential aspect of the new PrestaShop version.
How to Upgrade to the Prestashop 8.0?
We recommend upgrading all versions prior to Prestashop 1.7 to 8.0 as it introduces exciting new features and enhancements to performance, security, and user experience.
5 Things to do Before Upgrading to PrestaShop 8.0
Every PrestaShop upgrade requires careful planning and consideration. Before deciding to upgrade to the latest version of PrestaShop, all users must consider a few fundamental steps. Following these five key steps will help ensure a successful transition.
Backing up your site is paramount. You should back up the site and its database to ensure that if any issues occur during the upgrade process, it is easy for these issues to be rectified quickly.

Consider what time of day you will initiate the change-over process and how this might interrupt or coincide with regular website traffic patterns; doing this too late or too early in the day can cause disruption.

It is essential to specify how new functionality will be used in order for the successful integration of any new features and ensure proper training and instruction documents are in place so that employees are aware of any changes they may face when using the platform after the update.

Prepare detailed instructions on how a rollback could be achieved in case something goes wrong.

As a precautionary measure, don't forget to switch to the maintenance mode before you initiate the upgrade process. Maintenance mode ensures zero technical glitches for the web visitors & leads to a smooth transition.
5 Things to do after Upgrading to PrestaShop 8.0
Upgrading to the latest version of PrestaShop is exciting, but with such a significant transition, it's essential to take caution. To ensure your Live server is running effectively after an upgrade, there are five things you should check or do.
Review all installed modules and ensure they are compatible with the new version before attempting to install them.

Perform a core theme check and note any potential compatibility issues.

Uninstall all deprecated modules pre-upgrade.

Reconfigure security settings for the new PrestaShop version.

It is advised that you test emailing services using contacting us form, etc., especially if several third-party plugins are installed.
With these steps in mind, you can be certain that your Live server will seamlessly transition to the latest version of Prestashop.
Are you looking for help upgrading to PrestaShop 8.0?
Our team of developers and project managers have been building and supporting the development of eCommerce stores since 2008. To say we're excited about PrestaShop 8.0 would be an understatement, and it's everything that we love.
We understand that upgrades like these can be daunting to a web store owner. That's why we offer PrestaShop development and support from just £50/hour. Most clients prefer to sign up for a monthly maintenance package that offers peace of mind and regular version updates.

If you're looking for a web development company you can trust to move your website to PrestaShop 8.0 with zero data loss and minimum downtime, contact us today, as we'd love to help!