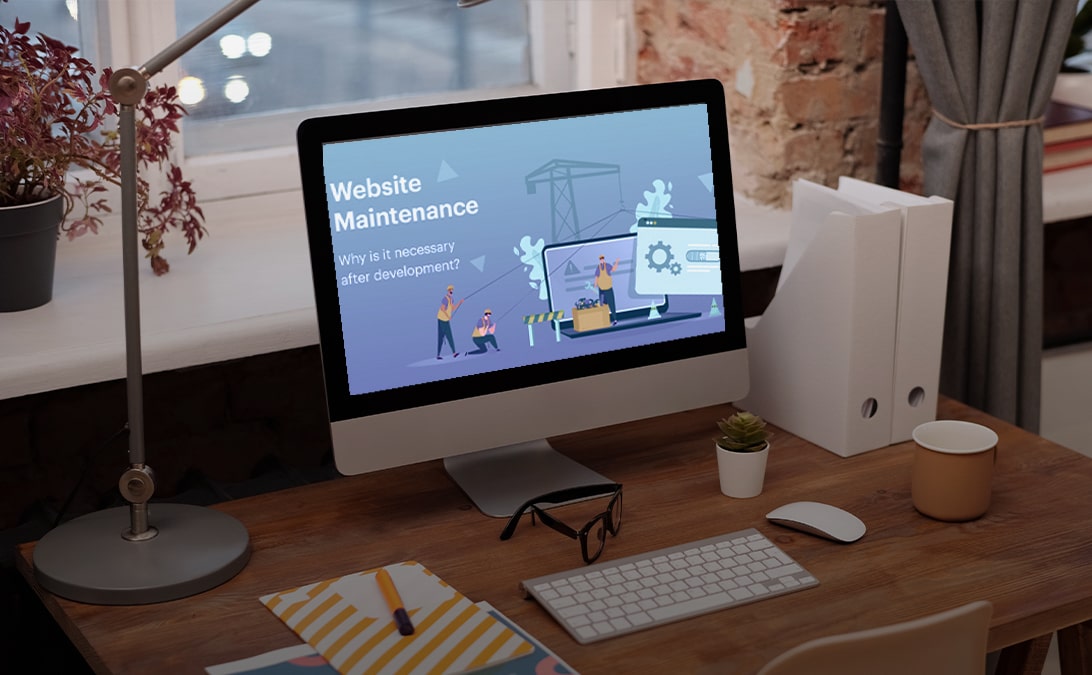 A website is the digital version of your shop, office or warehouse. It is visited by search engines as well as prospects, customers, mystery shoppers, media and competitors.
So it stands to reason that if your website isn't working as it should, or has content that is out of date, your visitors are less likely to trust your brand, with the consequence that your reputation will be adversely affected and your sales will drop.
First impressions count, and website design of the landing page is crucial, but the way your website functions and how well it keeps personal data safe are paramount. Regular, robust website maintenance helps to prevent errors and bugs and keeps your online store secure and highly functioning.
This blog helps to explain website maintenance and why it is critical for online sales.
What is Website Maintenance?
Website maintenance, in its broadest sense, is the discipline of regularly monitoring your website for issues and errors and ensuring that every part of your website is up to date and working well for visitors. And regularity is important as it ensures your online shop is reliable, secure with fresh content which not only better satisfies your customers but also improves your Search Engine Optimisation and search engine rankings to encourage traffic growth.
Whatever the size of your business, your target audience will have certain expectations of your website are their experience will affect how much they trust your brand and the products or services you sell. Ongoing website maintenance will ensure you attract new customers and keep existing ones.
Website Maintenance Tasks
Weekly Website Maintenance
A weekly maintenance checklist to keep your website in good condition is likely to include the following actions:
Check the load time of your website pages and whether there are any issues.
Ensure that your website data is safe by backing it up.
Check for software updates and themes and plugins expiration.
Complete forms to make sure they are working as they should.
Delete spam comments from your website pages and posts.
Fix any broken links to keep your website up to date.
Check for 404 errors on your website and address them.
Ensure website hosting is working well.
Monthly Website Maintenance
Web maintenance per month requires the following actions:
Review your website's speed,
Ensure your website is secure and check the SSL certificate
Assess your website Google Analytics to see if any trends have dramatically changed
Keep your blog page updated for the best user experience.
Consider updating graphics and images if looking tired or contain out of date content.
Check advertising and marketing on the website to ensure they are current and accurate.
Quarterly Website Maintenance
For regular maintenance each quarter, you should also consider the following actions to improve your website design, user experience, security and eCommerce efficiency.
Check all content and improve where necessary.
Update graphics and images.
Update meta descriptions and titles to keep your website optimised.
Make sure your website back ups are functioning well.
Review popups and fix if not perming and they should.
Visit your website on the most popular browsers and devices and address any issues.
Uptime logs should be at least 99.9.% so investigate further if lower than this.
Make sure your website is mobile-enabled.
Annual Website Maintenance
Even yearly, there are some web maintenance tasks to complete to ensure your website is running smoothly.
Consider updating your website's design.
Review the copyright information as well as anything that has an expiry date or is date related.
Renew the domain name.
How Website Maintenance Impacts Sales
A highly functioning website is crucial for your business and its build and launch is not enough. You have to commit to ongoing maintenance to ensure it continues to support your brand and generate income.
Here are the key reasons why website maintenance impacts sales.
Your Website is Your Online Brand Representative
In 2020, a McKinsey study on global consumer behaviour across 45 countries confirmed that consumers are switching brands at unprecedented rates, with a preference for "trusted" brands.
And the importance of being able to easily shop online, using an app or website that reflects the brand they know and trust, is paramount. Website visitors who struggle to navigate easily or who experience errors, lags, broken links, security concerns or a web design that fails to mirror the offline brand, will quickly abandon their visit and go elsewhere.
Regular website maintenance will ensure your website persuades visitors to stay and buy.
Website Performance
eCommerce websites are designed and built specifically to keep visitors in the purchase journey and encourage them to buy. Any glitches, error messages, out of date security walls and inaccurate product or price information, will raise concerns amongst shoppers about the trustworthiness of the online store and its use of personal data.
Website maintenance to ensure your online shop performs at all time is essential to maximise your sales.
In Operation 24 Hours a Day
Consumers don't only purchase goods online from Monday to Friday during office hours. They expect online store to be open and fully functioning anytime anywhere. So website maintenance is essential to ensure a website can be accessed and used 24/7 and on any device, whether a potential shopper is sitting at home or on the move.
Search Engine Optimisation
Google and other search engines will be aware if your website or webpages are not accessible and you will be penalised as a result. So it is imperative to keep all your page, that are available to be crawled by search engines, up to date and working well. Website maintenance will ensure that your target audience are reassured when they see good results for your website when whilst searching for your products or services.
Types of Website Maintenance Services
Below are the ten standard website maintenance services that you can expect to be offered within a website maintenance package.
1. Vulnerability Scan
Security is the key reason that businesses carry out a regular website maintenance. Vulnerability scan monitors for misconfigurations or vulnerable third-party open-source dependencies that pose cybersecurity threats. Regularly checking and scanning for vulnerabilities, whether you are a large or small business, will ensure your website is water tight against hackers and attackers. Also check your SSL Certificate is up to date.
2. Fix and Repair
Any error, bug or broken link, whether internal or external to your website, should be identified and fixed. Broken links and 404 errors will reduce your search engine rankings and turn off your clients. There are plenty of broken link checker tools available to perform continuous assessments.
3. Browser Compatibility Testing
Keeping your website functioning properly in the most common browsers, such as Internet Explorer, Google Chrome, Mozilla Firefox and Safari, is a must. Compatibility with less popular browsers should also be considered. Browser compatibility means that your website can be 'translated' effectively so that it can be accessed by a user and is fully functional. Websites may behave perfectly in one browser but still have issues and errors in others.
4. Software Updates
Your website relies on software to work so, whether you are using the likes of WordPress, Magento or PrestaShop, your website maintenance should check if any elements need updating.
This could include the Content Management System, its plugin updates and themes.
5. Website Backups
A website backup takes a copy of data from your website that can be used to reconstruct that data should it need to. Your website's data or content includes web pages, images, files, and databases and the backup can help you restore your website in case something goes wrong. The backup health of your website would also be checked on a weekly basis with website maintenance packages and your database backups should be restored at least once every six months.
6. Site Speed Check
There are many website speed test tools, as well as website speed tests for mobile, readily available. Website speed is more than just a possible nuisance to your audience. Slow websites will mean a reduced SEO and lower search rankings, fewer clicks, less leads, and ultimately a drop in customers. By taking the time to test and improve your site speed, you're also investing in the overall health of your website.
7. Search Engine Optimisation (SEO)
Website maintenance to improve SEO will ensure you identify any issues which are affecting the rankings of your site. SEO is the process of improving the quality and quantity of traffic to a website or a web page that comes from a search engine. SEO targets free traffic rather than direct traffic or paid traffic so in the longer term is a cost effective approach to driving new and repeat business.
8. Analytics
The Google Analytics dashboard helps you understand key things about your website. The overall performance and trends of your digital marketing and website (total visitors, page views and conversion rate) and performance of your pages (visitors, bounce rate and conversion rate per page) to give you clues about the health of your site and what needs to be fixed.
9. Functionality
Number nine of the top ten website maintenance services is to check all the important functions of your website are running smoothly and as expected. Review forms, the buying journey, account access and more and make sure there are no glitches that act as a barrier to purchase.
10. Website Content
Website maintenance services number ten is related to your website content. Fresh and updated content on websites is loved by both users and search engines. Websites where content is regularly reviewed and corrected and where target keywords are frequently optimised and made as a relevant as possible for users will benefit compared with sites with no website maintenance plan in place.
Website Maintenance Costs
Size and Shape
A website maintenance costs can vary depending on the type and size of a site. Here are a few examples of typical costs to consider:
Personal blog – A personal website will have low maintenance costs from £5 to £25 per month.
SME Sites – Small to medium businesses need to factor in website maintenance costs of around £100 to £3500 on a monthly basis.
eCommerce Sites – A large digital brand, depending on the complexity of its eCommerce site, may have maintenance costs of £1500 and £2500 per month.
Additional website maintenance costs
There are plenty of other maintenance costs to bear in mind when you begin budgeting to ensure your site is in tip top condition at all times:
1. Domain name renewal
Your domain name, or your website's address, needs to be renewed on a monthly or annual basis. Domain names costs vary and the importance of keeping an eye on renewal is that a third party or competitor could buy your domain name if it becomes available.
2. Secure Sockets Layer (SSL) certificate
Sites that have an active SSL certificate have HTTPS, instead of HTTP, in their URL and a padlock image next to the URL in most browsers. Your SSL Certificate enables your site to receive and transfer sensitive information securely.
Typical costs range from £10 to £1500 per year depending on the encryption features included.
3. Website hosting
You can either host your website yourself or hire a hosting agency. The least expensive option is to share a server with several others. Typical costs for this options are £25 to £120 per year. Website builders like WordPress or Wix include this and charge between £60 and £180 each year. Or you might prefer to have a Virtual Private Server that allows you to share a server but have some dedicated space to yourself. VPSs are likely to cost £240 to £600 annually. The most costly option is to have a dedicated server but will set you back between £1200 and £24000 per year.
Invest in a Website Maintenance Service
It is clear that having a robust site maintenance plan in place is essential for any size of business. Regular maintenance can positively impact your sales and the extent of your investment will depend on the complexity of your site.
chilliapple's website maintenance support packages suit all budgets and ambitions with a focus ultimately on keeping your site up to date and continually optimised. Let's see how we can help you.