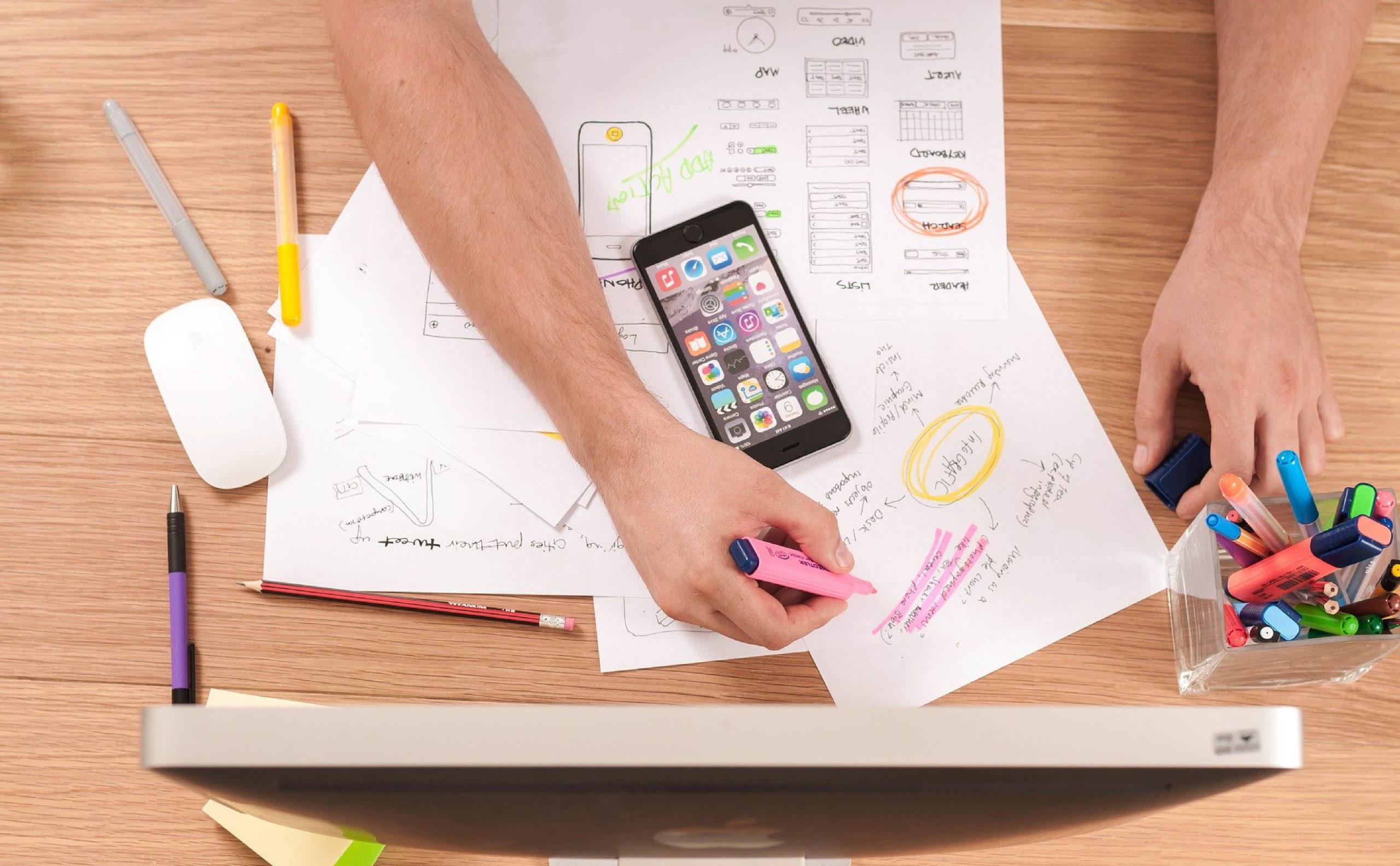 Mobile apps are big business. The big screen is dying. The demand for mobile app development is growing dramatically and, as a result, the cost of creating an app is rising. This article will help you to answer the popular question of 'how much to build an app'.
First, let's bust some jargon and find out how popular mobile apps are across the globe.
A mobile application, also called app, web app, online app, iPhone app or smartphone app, is a type of application software designed to run on a mobile device, such as a smartphone or tablet computer. Apps are generally small, individual software units with relatively limited function.
Forbes reported that there are around 8.9 million mobile apps on the planet and, for users in the West, are available to download from Google Play and Apple's App Store.
According to The State of Mobile in 2022 by App Annie, people are spending an average of 4.8 hours a day on their mobile phones and apps were downloaded 230 billion times in 2021. Not only that, but consumers also spent £125bn on apps that year.
Apps across the World tend to fall into the categories of gaming, productivity, lifestyle and entertainment, mCommerce or utility apps and some sub-sets, such as in health and well-being, food delivery and home entertainment, have seen a huge growth during the COVID-19 pandemic.  Businesses have scrambled to launch new or improved apps and the type of app continues to have a large impact on the cost of creating a mobile app.
Different types of apps
Among the most popular types of apps are gaming apps which account for one-third of all app downloads and three quarters of all consumer spending. The modern-day equivalent of computer video games, the likes of Candy Crush Saga, Roblox and Pokémon Go guarantee their popularity by being easy to use with a gradual increase in difficulty but also because of their impressive graphics, fast load times and engaging gameplay. Gaming app Roblox generated more than $2.74 million per day as of June 2020.
Productivity apps
Productivity apps focus on collaboration and project management and became essential during lockdown as, not matter where any individual is based, they can remain in contact with the rest of the team and provide updates and information as required. Apps such as Trello and Basecamp would be used by your chosen app development agency or app developer to ensure the project team stay connected and the project meets the agreed specifications and timelines. The cost of creating an app for business will be managed more effectively with the use of a productivity app.
Lifestyle and entertainment apps
Lifestyle and entertainment apps have kept us all going during lockdown. Netflix, Amazon Prime Video, Strava, Spotify, Tinder to name but a few. They all enable us to enjoy our leisure time. A highly competitive market, lifestyle apps are used daily to help users find the next song, restaurant, partner, or destination. Breaking into this category with a new app is tough. You'll need a new fresh idea that your competitors haven't thought about and that your users can't live without. And probably a big development and marketing budget to boot! How much to build an app is very much dependent on its sophistication and uniqueness.
Mobile Commerce apps
Mobile Commerce apps enable monetary transactions to be completed using a mobile device. Just think of all the apps we now use on a regular basis. Mobile money transfers, electronic tickets and boarding passes, digital content, mobile banking, contactless payments, location-based services, and loyalty cards have allowed new and existing industries and services to grow. They can all be categorised into three types, namely mobile shopping, mobile banking, and mobile payments and have become a necessity for eCommerce retailers.
Utility apps
The final category is utility apps. These mobile apps are used without consumers thinking about them as apps. So, calculator, flashlight, Find my device, Google, Safari, for example. Others include barcode scanners, which came into their own during the pandemic, and health apps which are becoming more important and popular to track health and wellbeing. Many utility apps are automatically available on new smartphones and are free.
App development cost
Native vs hybrid apps
There are two types of apps – native and hybrid apps. Native apps run on the operating system that they were made for, while hybrid apps can be used across different devices. Native iOS or Android applications will require more money upfront because it takes longer to make them. Hybrid development, which uses HTML5 and JavaScript as its programming languages just like web apps, can be done in less time and at a lower cost and require less maintenance.
So, what else do you need to know about native and hybrid apps and how that might determine the cost of creating an app?
Android apps, available from Google Play, are written in Java whereas iPhone apps, downloaded from the App Store, are written in Objective-C or Swift. A native app is built with the device in mind and can therefore interact with its features, such as the microphone, camera, GPS, and device storage. It is faster and more reliable for the user. The downside from a cost perspective is cost. A bigger budget is required in terms of development and maintenance if you want to build your app for multiple platforms (iPhones and Android).
Hybrid applications can be accessed via a web browser and downloaded from app stores. They are essentially web pages wrapped in a mobile app using WebView with access to the built-in capabilities of a device. They are built using cross-platform frameworks like React and Xamarin. The potential downside is that the speed of the hybrid app depends entirely on the speed of the user's browser which ultimately means hybrid apps are slower than native apps.
Outsourcing to a mobile app development company
Outsourcing is a smart way to save time, money, and resources on developing an app that can be tailored to suit your needs. And it's not all about saving money – there are other reasons too! You will have more time for other tasks and can focus on your day-to-day business whilst your app is being developed to your precise specifications. You also won't need to worry about finding someone with the necessary skillset as your project can be delivered by a team experienced in particular coding, app types and even specific industries or app categories. And your app will be developed in line with best practices in design and development including thorough testing and debugging.
Mobile app development process
The actual development process is complex to ensure the final product is safe, secure, robust and user friendly. The app development cost breakdown can therefore be influenced by the time required to follow this essential process. The process can be explained simply with the following 10 stages with the assumption that market and customer research has been carried out prior to the first step to ensure the mobile app will be sufficiently different to maximise its success:
1.) Building the wireframe
2.) Defining the back-end structure and any server-side logic
3.) Understanding how to manage users of the app
4.) Mapping out the user experience
5.) Data integration approaches to allow users to access and share information
6.) How data will be stored and synchronized
7.) Prototyping and building the user interface (possible QA/ testing)
8.) Refining the user interface
9.) Testing the application in real-world settings
10.) Deployment of the mobile app
So, answering the question of 'how much does it cost to develop an app' is not a simple one.  There are many factors to determine the cost of creating an app and the time it takes to design and build a mobile app. Not only do you need to consider the type of app – native or hybrid – and the complexity of the build, but the experience of the development team is also another consideration.
Professional app developers with years of experience in creating both native and hybrid apps will build quicker and using code that is robust and previously tested. App engineers who work solely for one development agency will have the benefit of constant investment in their own personal development and will be more up to speed with the latest updates and software versions than self-employed developers.
Depending on the agency model, the hourly rate of an experienced developer can vary. chilliapple charges from £50 per hour for its development work. Higher prices are simply unfair. Our certified, highly experienced mobile app development team work only for chilliapple. We never outsource. Full stop.