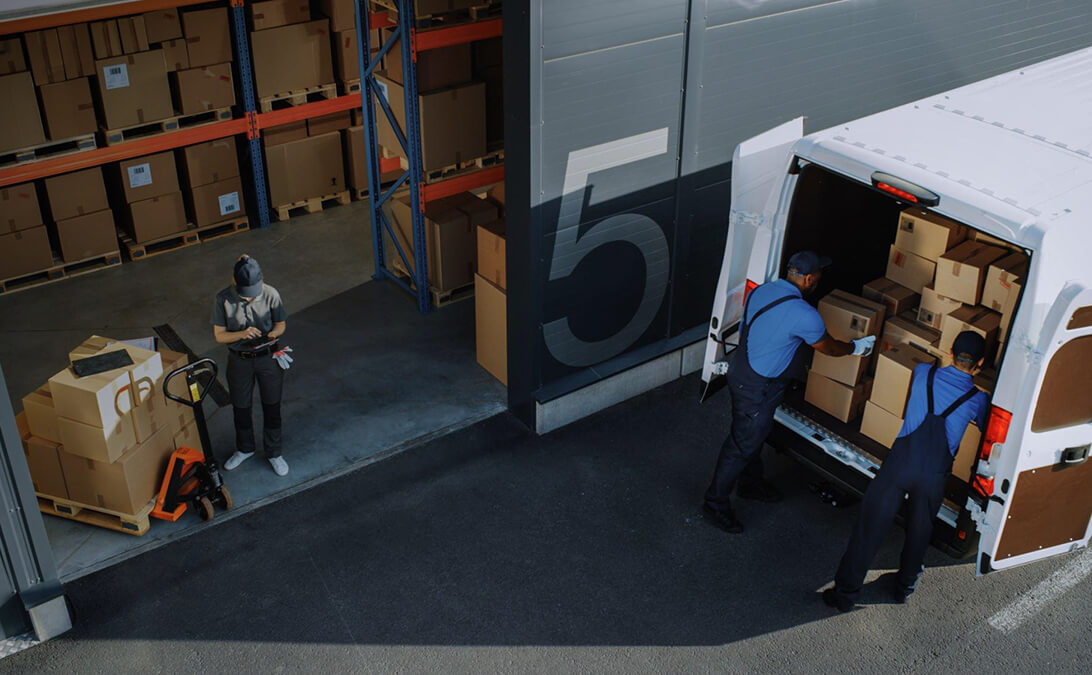 Are you planning to launch a wholesale business? Do you need an efficient platform for building a B2B eCommerce website? While there are several B2B commerce management solutions available, such as Shopify, Prestashop, and WooCommerce, none can match the unique characteristics of Magento Adobe Commerce.
In this article, we'll explore what makes Magento the perfect e-commerce platform for B2B commerce.
What makes Magento a preferred choice for wholesale B2B commerce?
Business to business, or B2B, refers to the business activity between wholesalers, retailers, and manufacturers. Running a B2B business involves more significant challenges when compared to business-to-consumer (B2C) commerce, such as audience engagement, complex orders, and optimising websites for inbound marketing. The dynamics for B2B businesses are rapidly changing across the entire supply chain. It is driven by buyers who expect B2C like experiences.
Why choose Adobe Commerce? Adobe Commerce, previously known as Magento, can sell to both businesses and consumers on a single platform, making it an excellent choice for B2B businesses. Magento is considered as one of the most popular wholesale commerce management solutions for B2B businesses. Magento delivers great e-commerce features that can help your business grow in the current eCommerce marketplace with both its open-source and commerce versions. The Magento store additionally provides some of the best B2B marketplace extensions, enabling B2B companies to enhance or add functionality to their stores.
Key Benefits of Magento
Being a leading B2B commerce management solution, Magento offers multiple advantages to wholesale companies. These benefits include:
Offer better functionalities for e-commerce business growth

Enhanced scalability for growing B2B business

Flexible customisation possibilities 

An active community of Magento support developers

Professional themes and designs

Multi-store and multi-warehouse functionalities

Intuitive and easy-to-use user interface

Easy data handling

Magento B2B marketplace extension

Fast page loading and implementation

Magento Commerce Cloud for High-end security

Account control and catalogue permissions

Purchasing workflow

Magento Business Intelligence for Advanced Analytics  

B2B-focused reporting
Who Should Utilise Magento Commerce?
Magento can be the ideal platform for you if you're seeking for an effective and efficient e-commerce solution. This platform can enable tremendous expansion, particularly for wholesale B2B businesses that address large volumes of transactions on a daily basis.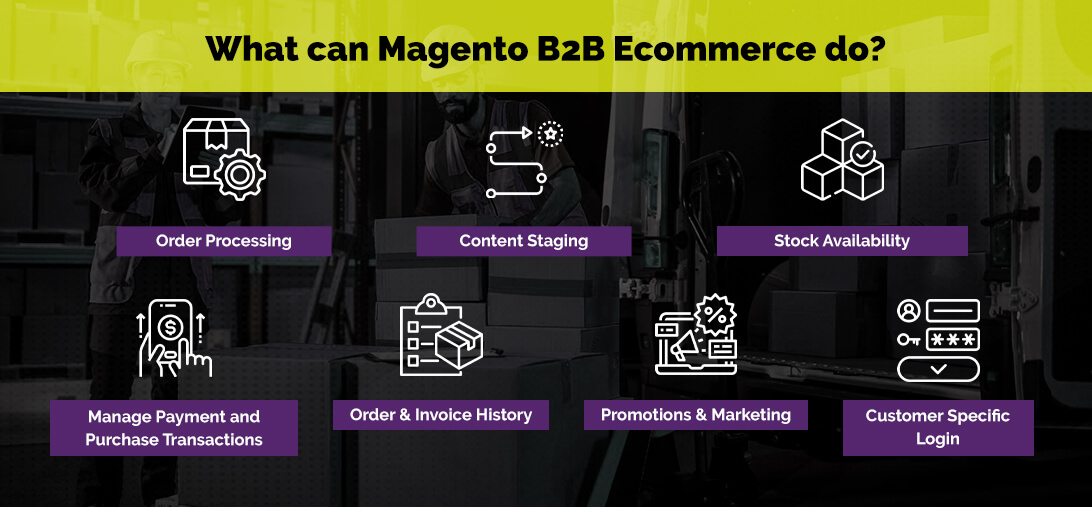 What can Magento B2B e-commerce do?
A B2B e-commerce solution can boost sales, marketing, and account management services via an eCommerce platform that is protected by a customer-specific username and password.
The order processing system offers customers convenient ways to place their orders. They can do this by browsing the product catalogue or using high-speed ordering. Customers can easily complete their purchase order by simply entering the product code and desired quantity.
By utilising Magento's content staging feature, it becomes possible to create multiple versions of content. This feature is particularly useful for B2B websites, which have the freedom to generate iterations of content that suit their needs. 
Magento commerce can enhance customer experience by providing real-time updates based on the availability of your stock. It allows your Magento Developer to set indicators based on high/low stock levels. 
Manage Payment and Purchase Transactions
Magento enables you to manage all of your payment and purchase transactions while providing the capability to allocate credit limits to trustworthy buyers. Furthermore, by utilising connectors, you can seamlessly synchronize credit limits with your ERP or CRM system.
By accessing the Order & Invoice History feature, customers can view their entire purchase history, including history and new orders. Additionally, customers can access their invoices, credit notes, and statements in PDF format. 
When a customer orders a product on promotion, the price should be automatically modified to reflect the promotional price. It is crucial to monitor the effectiveness of promotions and special offers you provide. Furthermore, Magento B2B supports a robust quotation system.
A personalised Magento website login system is a great approach to providing each customer with a wide range of features. This grants them access to features such as their individual pricing, past order records, available products, and special deals and ultimately improves customer loyalty.
How can chilliapple help you?
chilliapple has been an e-commerce solutions specialist even before Magento gained its dominance as a platform. Our focus has always been on delivering B2B eCommerce solutions with a seamless shopping experience that are built on the Magento platform. 
As a leading Magento Agency, chilliapple can assist you in launching your B2B e-commerce website on the newest version of Magento 2. If you're considering shifting your existing store to Magento or launching a new online store, get in touch with our team of expert Magento professionals. Reach out to our experts today to implement Magento Enterprise and build a seamless B2B e-commerce website for your business.
To Wrap Up
Magento is a robust platform that offers exceptional wholesale B2B commerce management solutions. This platform is thoughtfully crafted to cater to the unique needs of B2B operations. It provides multiple features that simplify the online management of your business. 
What makes Magento stand out is its commitment to B2B commerce. It caters to the specific requirements of wholesale B2B businesses and distinguishes itself from other platforms that may be more suited for B2C operations. With Magento, you can effortlessly and effectively manage orders and inventory. Magento leverages the entire Magento portfolio and helps buyers seamlessly meet their demands. And what's more, you can even take advantage of its effective marketing tools that enhance your business performance and sales conversions.