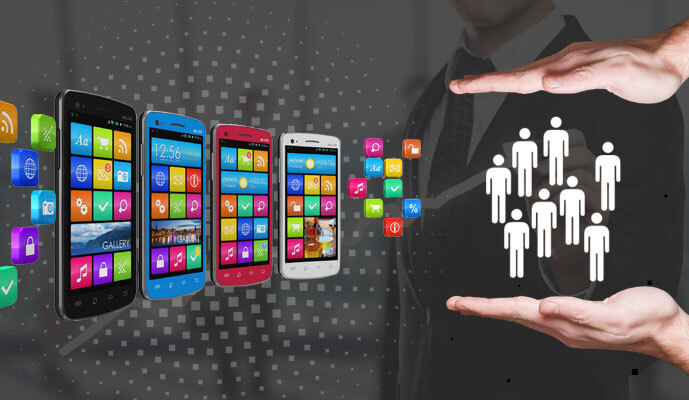 The marketplace today is blooming with all kinds of businesses varying in sizes, across multiple industries. These business units either big, medium or small have grown manifold in last few years. Introduction of online stores and websites few years ago, completely changed the way business was being operated. It widened the businesses' reach beyond the physical boundaries of a nation. Now, Mobile apps are going to be the next big thing that will give a new direction to a business. However, many store owners are still sceptical about investing in mobile app for they believe that it is either too expensive or their traditional website is enough for the online customers. So, without further ado, let's see why does a business need mobile apps.
Well, the prime motive for a business is to earn profit by the means of trade of either products or services. And to undertake trade you need customers. Today, every individual owns a mobile and the trend of mobile search is alleviating at a lightning pace. Mobile app in this scenario help you engage with the customers and keep them connected with your business. You can send notifications to the users and can attain crucial information regarding the customer's preferences.
An effective business app can aid your business by efficiently exhibiting your products and services. Apps offer a one-stop access to a business. You can increase your business listing by updating the app. Further, you can also, send offers, sales and other promo activities using app notifications.
Great Return On Investment (ROI):
The cost involved in the app development is what that concerns many small business. Although, it can be a bit expensive affair but isn't something that can not be afforded. Considering the great return on investment it offers, it is worth a shot.
Expand your Customer Base:
App offers many advantages over a mobile website, the biggest one being its reach among the customers. Being in direct connect with the customers it enables a faster interaction as well as a better customer retention. Besides, the app also gives the benefit of the verbal marketing, by the customers. Provide a better services, satisfy the customer and the customers will refer your business to others.
In this cut-throat competition, evry business is adopting different and better means to the woo the customers. While the moves are targeted at increasing their business and yield higher profits, the store owners are also considering the ease and comfort for the customers. Mobile apps in this regards not only remove the barrier of communication but also ensures a convenient and enjoyable experience for the customer.
However, if you still feel that getting an app can be a costly affair then you can cut down the cost by beginning with a basic app with most basic features. A basic app will cost much less and if it really suits your purpose and you see an increase in the customer base, you can switch on to a fill featured app.
You can also get a full-featured app if you do some homework and prepare the app content and app designing your self before going for an upgrade. Thereafter, you can hire a designer who will upgrade the app and will charge only for the upgrade task.