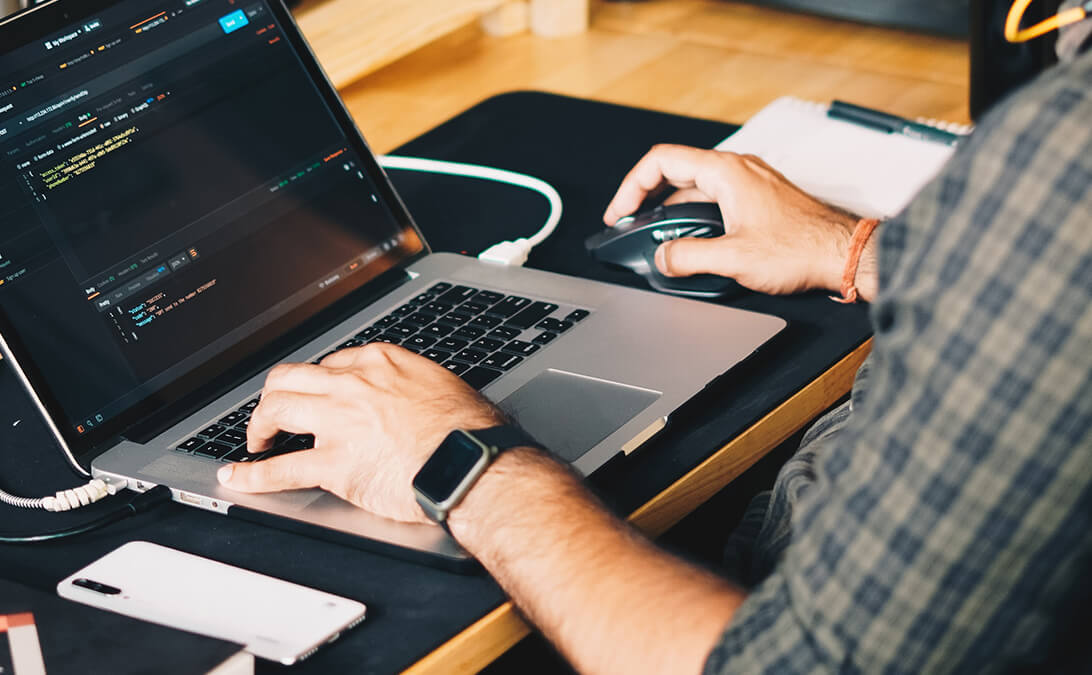 The demand for apps
In the year 2022, we have headed into the most mobile-first environment across the world that we have ever experienced. According to App Annie, mobile usage, and particularly apps, will surpass all previous records as a result of a transformed economy reliant on digital socialisation, hybrid work and entertainment from the palm of your hand. The COVID-19 pandemic has changed our app usage habits forever. Highlights of the recent report State of Mobile 2022 includes
Up to 4.8 hours per day spent on mobile apps.
20% more money spent in 2021 on mobile apps with over $320,000 spent every minute.
435,000 apps downloaded per minute.
Mobile ad spend expected to be $350 billion in 2022, compared with $295 billion in 2021.
App development considerations
Developing an app requires a huge investment of time, money and effort for any business, whether you're a small company or a multinational corporation. Naturally, you want your choices to result in a strong return on that investment.
There are mobile apps for almost every service or to solve a myriad of problems and in any industry – be it healthcare, insurance, retail, property or finance.
And as a result of the COVID-19 pandemic, there is now The Great Resignation to contend with where businesses are struggling as a result of a shortage of IT staff including skilled developers who are dropping out of the market.
The number one solution is to outsource mobile development to trusted agencies. Outsourcing companies offer a lot of attractive advantages, along with a few possible downsides that should be carefully considered when you choose an outsource app development model.
Pros of outsourcing mobile app development
A mobile app development outsourcing model means you can focus on the core of your businesses whilst your project is delivered by professionals. Outsourcing to an established, reliable software web and app development company can mean you share a number of risks associated with security, innovation, gathering a dedicated team for your project, and setting up efficient software development processes.
Dedicated resources for your project
Even if you have a strong in-house IT team, they are unlikely to be able to drop everything to work exclusively on your new app. By outsourcing the task to a team of specialist app developers, you'll get your app on time and within budget, without compromising on your day-to-day tech support.
Guaranteed expertise
Your IT department may have expertise that suits your day-to-day business needs, but a specialist mobile app development model from an outsourced company will ensure you benefit from up-to-the-minute knowledge of the latest app technology. By outsourcing to an expert web app development agency, you can have confidence that only the most relevant, efficient and budget-friendly solutions will go into your app.
Saving time
You may need to hire a big team to work full-time on your app for months – or your project may have more modest requirements. Either way, by outsourcing you will not need to spend time on hiring, training, and retaining employees. You will get a ready-made team, or one or more developers, that have completed many mobile app development projects requiring a similar tech stack to your project, worked with many businesses needing a simple or complex app, and can therefore hit the ground running and deliver more quickly than internal developers who will have less experience of application development.
Saving money
The first question when considering an outsourcing company is always 'How much does it cost?" Developers from outside the UK, such as India, are highly experienced and their hourly rate will cost you significantly less without compromising quality. And that's just for starters: if you outsource app development to an offshore business, it also removes your in-house expenses like office rent, recruitment costs and equipment. The outsourcing model where you hire superior technical expertise can be extremely cost effective.
Best development practices
Established app development companies tend to follow an agile methodology and instil robust project management to ensure the product delivered is on time, on spec and on budget. By outsourcing app development, clients benefit from the best practices when it comes to software development, as well as a complete client-focused mindset from the team and superior quality assurance.
Professional development
A mobile application developer in a software development company will be provided with professional tools for continuous advancement to keep them sufficiently engaged, motivated and up to speed with the latest technology. If you choose an outsource mobile app development model, the dedicated team is loyal to the company because of the continuous learning opportunities and career prospects that are available to them.
Safe and secure
Outsourcing mobile app development is a perfect solution to building a reliable mobile application that conforms to industry compliance regulations. Established app development companies apply robust strategies to developing secure mobile applications including security by design, testing for security and on-time incident management.
Consistent innovation
Reliable development companies have ongoing experience working with disruptive technologies across a variety of industries, projects and clients. They have a wider talent pool with more diverse expertise which you can access when outsourcing to them.
Before adopting cutting-edge technology for your app, development companies will work with you on the feasibility study and a proof of concept. They will help you make a decision on what will bring value to your clients and your business.
Cons of outsourcing app development
Risk of poor communication
If your expectations for the app don't line up with your software company, that can lead to disappointment in the final product. Highly experienced application development teams, will give crystal clear communication at every stage of the process and use tried and tested project tools such as Trello and Basecamp to keep on top of project timelines and and the feedback cycle.
Time zone differences
Offshore destinations usually mean different time zones between the client and the app developers and so both need to find a convenient time to hold meetings and discuss important problems. It is important to ensure there are measures in place to mitigate any time delay. A model of a mobile development team that is managed within the client's time zone is the perfect solution.

Offshore or local?
To outsource development, you also need to consider the location. Do you prefer to onshore, nearshore or offshore? First, the definitions of each:
Onshore – Outsourcing to someone in your country
Nearshore – Outsourcing in a similar time zone and/or culture
Offshore – Outsourcing to a remote country
Onshoring and nearshoring minimise the risk of communication issues and cultural differences, while offshoring often brings you the most cost-effective specialists.
Whatever you prefer, you should choose a partner to rely on, with values and expertise that suit your needs. Location then becomes a secondary consideration.
Benefits of a local dedicated team
Easier communication process
Dialogue is the main benefit of working with a local partner. If you are working with a local team in the same time zone then it is more convenient as they can speak the same language and can meet you, more cost effectively, in person.
Local economy support
You are obviously contributing to your local economy if you hire from a local software development company rather than overseas.
Local insights
A local development team will have insights into the needs and behaviours of your local customers for effective functionality and app design.
Personal checks
Hiring a local partner for your mobile development is not confined to desk research and Skype or Zoom interviews. You can meet the team members you are hiring in person, check the chemistry between you and really understand their skill set.
Benefits of an offshore team
Lower costs
Lower cost of living means that offshore partners, such as in India, with highly talented application development teams will charge a lower cost per hour than locally.
Talent
The talent pool within a mobile application development offshore team is likely to be broader, higher quality and more advanced as they will have been exposed to many different technologies and frameworks. Your project, whether it be for iOS development or Android app, can benefit from expertise and experience in the likes of chatbots, machine learning, artificial intelligence, big data etc.
Support and maintenance
Local companies like to develop your software project from scratch but offshore talent also like to help you with an ongoing project or to maintain your app once it has launched. If you have a tight timeline or don't have the necessary specialists in your team, an offshore developer can keep your project on schedule.

5 easy steps to outsourcing mobile app development in 2022
By outsourcing app projects, you can shorten the time to market, decrease project costs, and improve the quality of your final app software product. Over half of all IT companies have outsourced software development at least once. Here's how to outsource mobile application development in 5 easy steps.
Step 1 – Specify your requirements
Think about your business goals and what you want to achieve with the app. Understand your clients, how they will interact with the app and what their aims and expectations are. Then consider the specific requirements of your app and the top level technical requirements you need to achieve including whether you need the app to be available on Android, iOS or both.
Step 2 – Estimate resources
Assess your budget, your timescales and your current skill set, team size and project management capabilities against the scope of work for your project.
If you're limited on both time and money, a ready made out-of-the-box solution may be your best option, whereas if you need a more complex app to answer specific industry or clients' needs and perhaps require help with project management, companies tend to choose a dedicated team model instead.
Step 3 – Choose a partner
Short list – Make a list of the agreed selection criteria and search for potential partners on this basis. Decide what's important for your business and project.
Client reviews – Check their client reviews on TrustPilot et al. And make sure the reviews on the partner's website are genuine.
Technical know how – Explore their technical expertise paying particular attention to their business partners, certification, projects, tech stack, experience in your industry, awards and history.
Development process – Get a clear understanding of how the partner works, the tools they use, their feedback process and project management approach.
References – Ask for references from clients, both current and previous ones. If they are proud of their work, this will be an easy ask.
Step 4 – Choose a service model
Consider if you need to hire a dedicated team that is exclusive to you to fill a skill gap you have in-house or the development company to work with you during a particular project.
Step 5 – Choose a payment model
Does a fixed price model suit you best or an hourly rate or pay-as-you-go model? The right option will depend on your experience, budget and scope of work. Make sure you understand the terms of payment before you commit. It is common for a project to start only after a 50% up front payment has been made.
Want to outsource mobile app development?
Professional app developers, who live and breathe mobile, with years of experience in creating apps will build quicker and use code that is robust and previously tested. App engineers who work solely for one development agency will have the benefit of constant investment in their own personal development and will be more up to speed with the latest updates and software versions than in-house developers.
Depending on the agency model, the hourly rate to hire an experienced developer can vary. chilliapple charges from £50 per hour for its development work. Higher prices are simply unfair. Our certified, highly experienced app development team work only for chilliapple. We never outsource. Full stop.