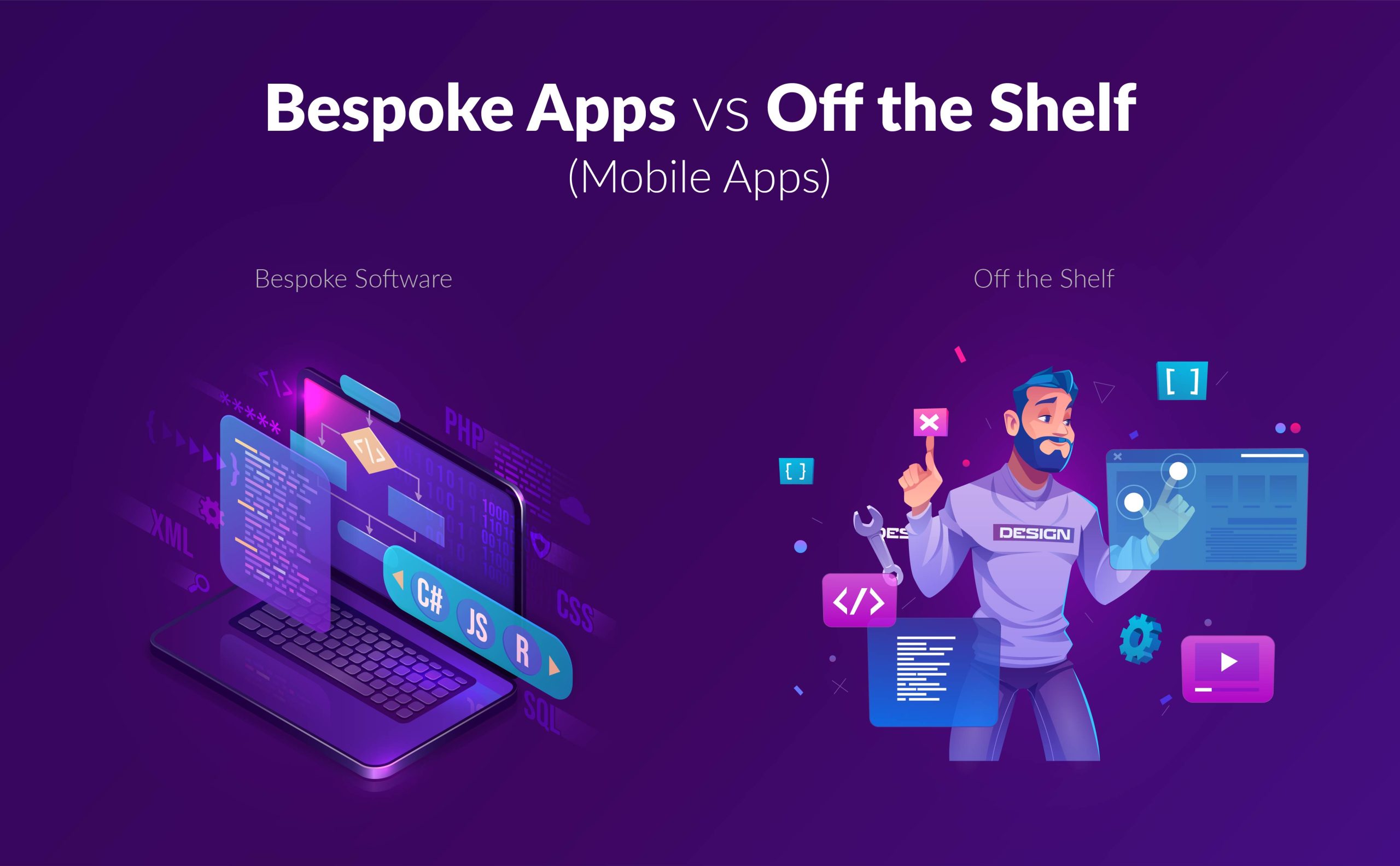 With people spending an average of 4.8 hours a day on their mobile phones and downloading applications 230 billion times in 2021, it's no surprise that mobile applications are capable of driving exceptional business growth. Not only that, but consumers also spend £125bn on apps with the trend continuing to increase.
A mobile app has become one of the top priorities for businesses who want to continue to be successful.
The dilemma though is often whether it is better to develop bespoke apps or opt for off the shelf apps. There are advantages and disadvantages of each so this blog will help to explain the differences and why a custom app might be better for your business.
Defining off the shelf and bespoke apps
Let's start with what we mean by bespoke apps and off the shelf mobile apps.
What are off the shelf apps?
Smaller, more simple business tasks where the requirement is very specific, such as managing calendars or tracking tasks, are often solved with an off-the-shelf product. It is essentially a pre-packaged solution that comes with standard features and functions, which you can start using right away.
You can make a few customisations to these apps, but you don't necessarily have to build these apps from scratch.
However, although off-the-shelf apps may seem more appealing initially, many consider them as a short-term solution to a long-term problem.
What are bespoke mobile apps?
More complex business objectives requiring more data collection, in-depth analysis and particular features, such as improving employee engagement, or streamlining the delivery service, are better answered with a bespoke mobile app.
If you need a mobile app specifically designed to suit your business goals, you should opt for custom mobile app development.
The pros and cons
Pros and cons of off the shelf apps
The pros
Off-the-shelf mobile apps are, as the name implies, pre-built and easy to deploy and use.
This type of mobile app is cost-effective for simple, standard requirements with a reduced time to market.
They are initially cheaper to deploy with a one-off upfront cost or a fixed monthly licence fee.
Most off the shelf apps have been tried and tested by many other brands with product reviews to reassure you and help you decide if they fit your business needs.
The cons
Some applications may not match your specific business processes and so your workflows may need to be modified accordingly.
You may have compatibility and integration issues with any existing applications.
As these applications cater to standard needs, your unique business requirements are unlikely to be addressed.
Off the shelf mobile apps can be very restrictive when integrating with other applications.
The licence fees can over time wipe out the initial cost advantage.
Security may be compromised when using off-the-shelf mobile apps.
Pros and cons of bespoke mobile apps
The pros
Bespoke mobile app development provides more flexibility in terms of features and functions.
Bespoke apps can be designed and developed to answer your business problem.
These applications are built to provide improved user experience to your customers.
They can be adapted to changing market and consumer needs.
There are less integration issues and compatibility flaws.
Bespoke mobile apps can help support a competitive advantage as they are aligned to your business vision and strategy.
The cons
Custom mobile app development is more expensive.
Custom apps are built from scratch with a longer time to market.
The key differences
The most significant difference is that off the shelf software is ready made and designed for a specific requirement and built for the majority, compared with a bespoke app that allows businesses to build a solution to solve a specific need or frustration. Such requirements may vary from improving customer engagement and purchases, streamlining internal processes or enhancing departmental collaboration.
Although off the shelf apps may seem more appealing due to their initial lower cost, many businesses consider them as a short-term solution, to test the water to solve a long-term problem. Bespoke mobile apps on the other hand are custom built to meet the exact needs of a brand and to future proof the business, and can adapt to meet the changing needs and strategy in the company.

Why is Custom Mobile App Development better for your business?
When evaluating whether custom app development or off the shelf apps are best for your business, there are five factors you should consider: cost, flexibility, support, security, customisation.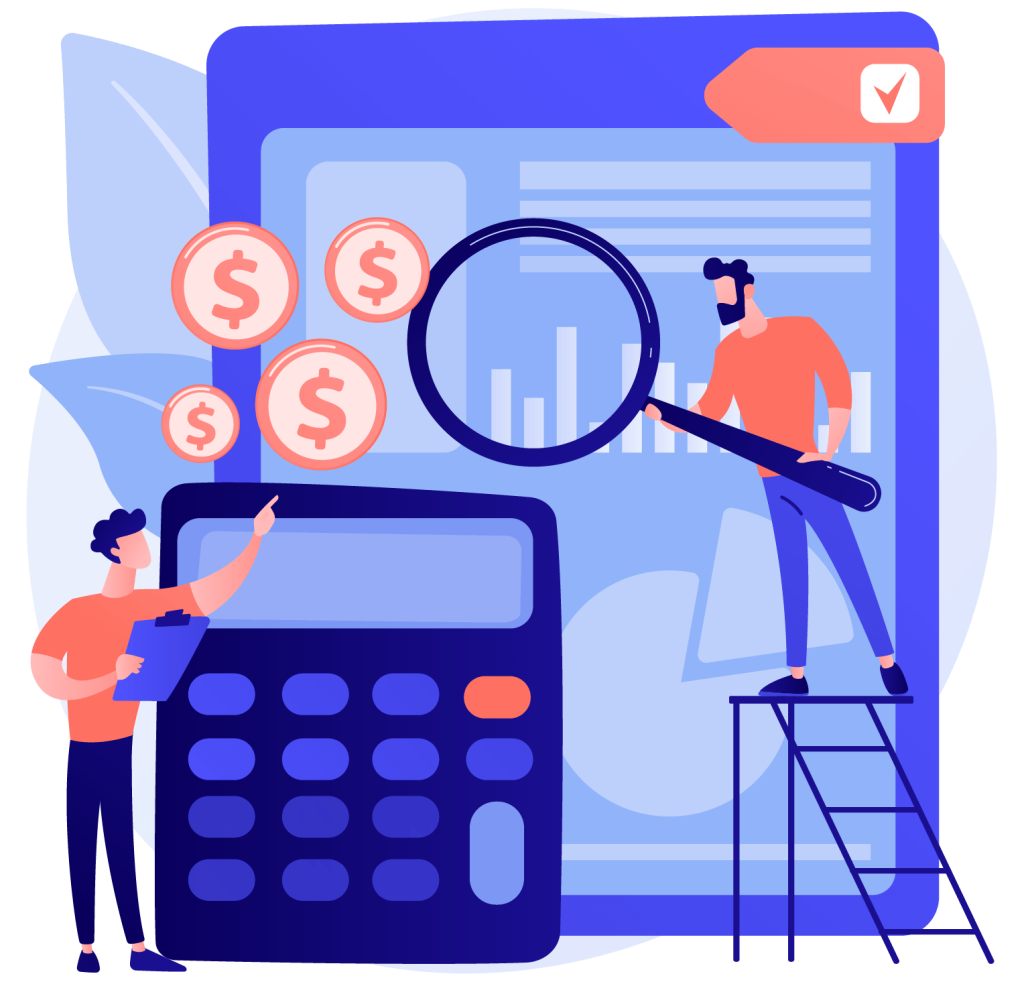 Cost
Cost is a key consideration when choosing your app development route. A list of requirements is essential to help you make the right decision for your app solutions.
Pre-built functionality is initially cheaper to deploy but, as time progresses, additional costs can accumulate. Extra development costs, monthly licence fees and additional licensing fees for more users, can mean the total cost of your app is higher than planned. In addition, a limit on available budget may mean having to restrict user numbers which could be disruptive for your business.
Bespoke app development is likely to have a larger initial investment but there are no big ongoing licence fees. Your app can be distributed to as many users as required and you own the IP. This means that you own your app, including its source code, designs and content.
Our recent blog on the cost of creating an app will help you understand all the elements that influence the price tag of mobile app development.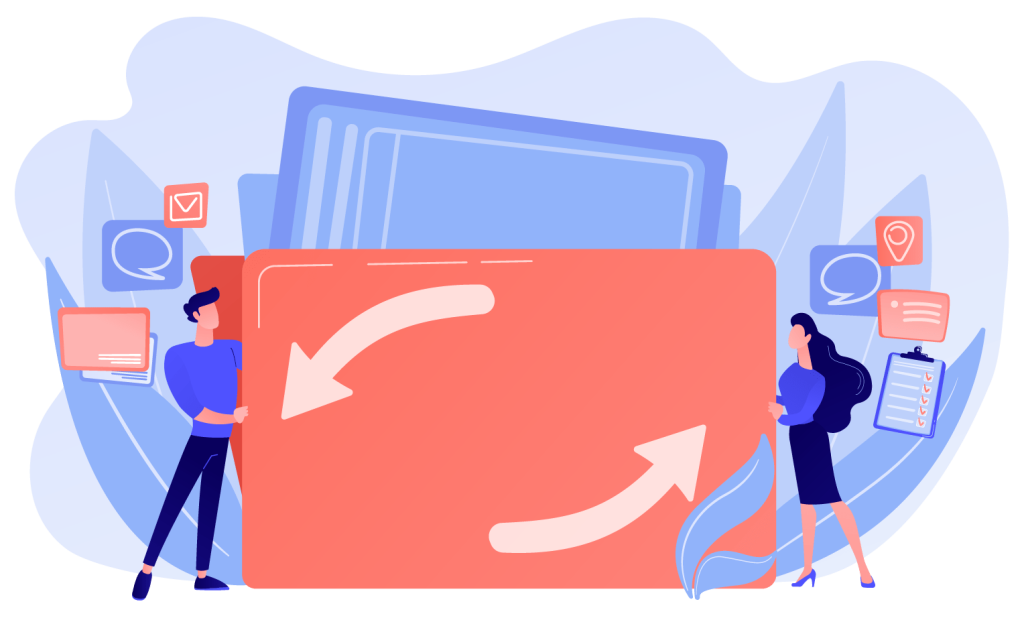 Flexibility
In any company, mobile app flexibility is absolutely essential. Having a mobile app that is flexible allows you to create unique features and functionality, adapt the app for when customers' needs change and scale the mobile app when your business grows, without affecting the overall user experience (UX) that your users expect. You also need to consider how much control you'd like to have over the design, usability, back-end, data capture requirements and content of the app.
Ready made applications are quick to install software for companies needing an instant solution to a current business problem. They come pre-built with limited, non-negotiable features but will have plenty of live users and therefore proven test cases for multiple existing companies and industries.
Custom-made apps will take time to develop, but they can solve both existing and future business needs. Companies have full control over their app's features and full ownership of the application's content, design and functions from start to finish. They can also be fully integrated with existing internal systems, and scaled up or down according to business growth or downsizing.
Our recent blog detailing the top mobile technologies used to develop apps is a good read before you brief an app development agency about your mobile apps.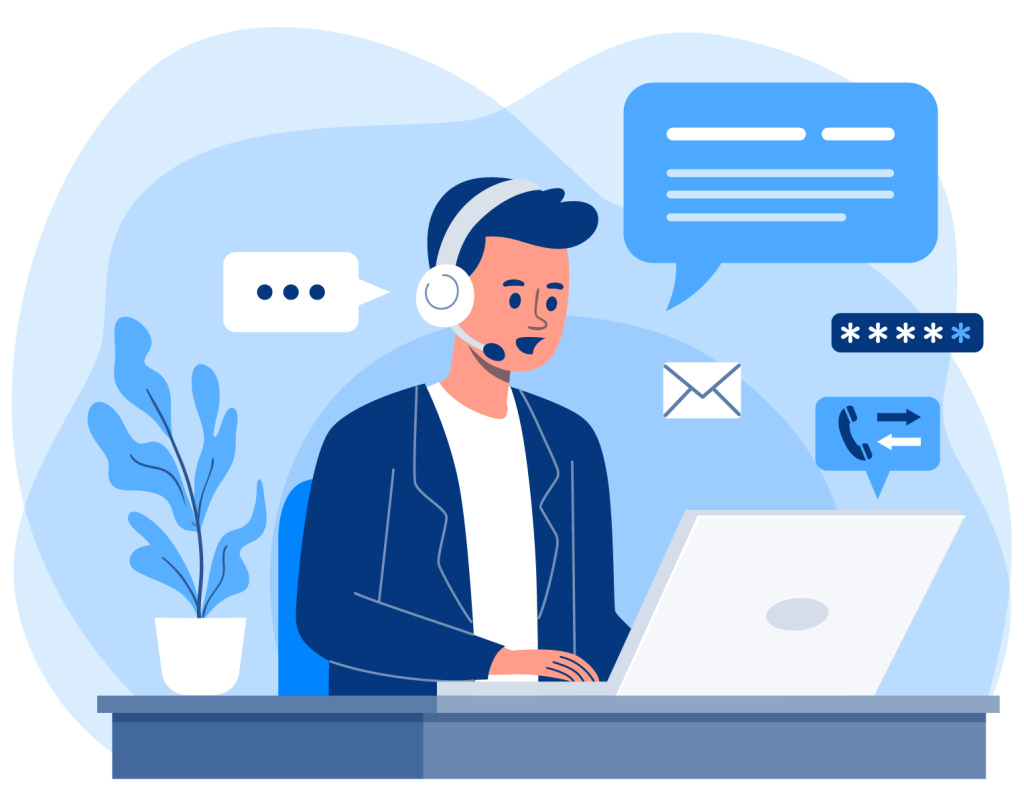 Support
Support and guidance during and after an app development project is complete is essential for all businesses, large or small.
Ready made applications are created by app development companies that have thoroughly tested the product with many other brands, however they may not provide development support solutions when it comes to integrating the app into your own systems.
Bespoke apps are created by mobile app development agencies who will have extensive experience in integrating applications for a variety of clients and can provide you with the guidance you need to make your app function correctly. They will create a unique product tailored exactly to your requirements that puts you above your competitors when it comes to customer experience.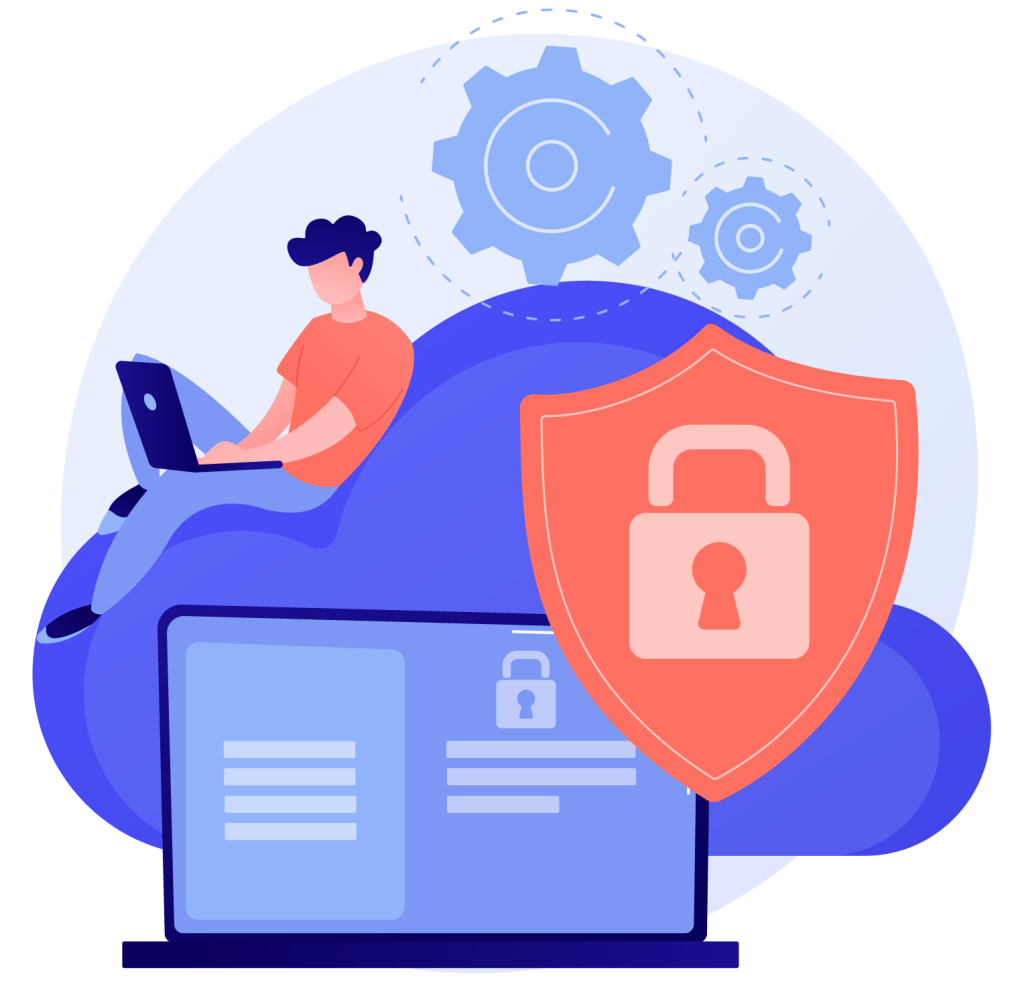 Security
Maintaining a secure mobile app environment is undoubtedly one of the key deliverables that you should demand of your mobile app development partner. Breaches and hacks are increasing dramatically in the modern digital world we all live in.
With a custom mobile app, you can determine the technology solution that best suits your security needs so that each user can feel reassured in the knowledge that their personal information, whilst using the app and after sharing their data, is safe.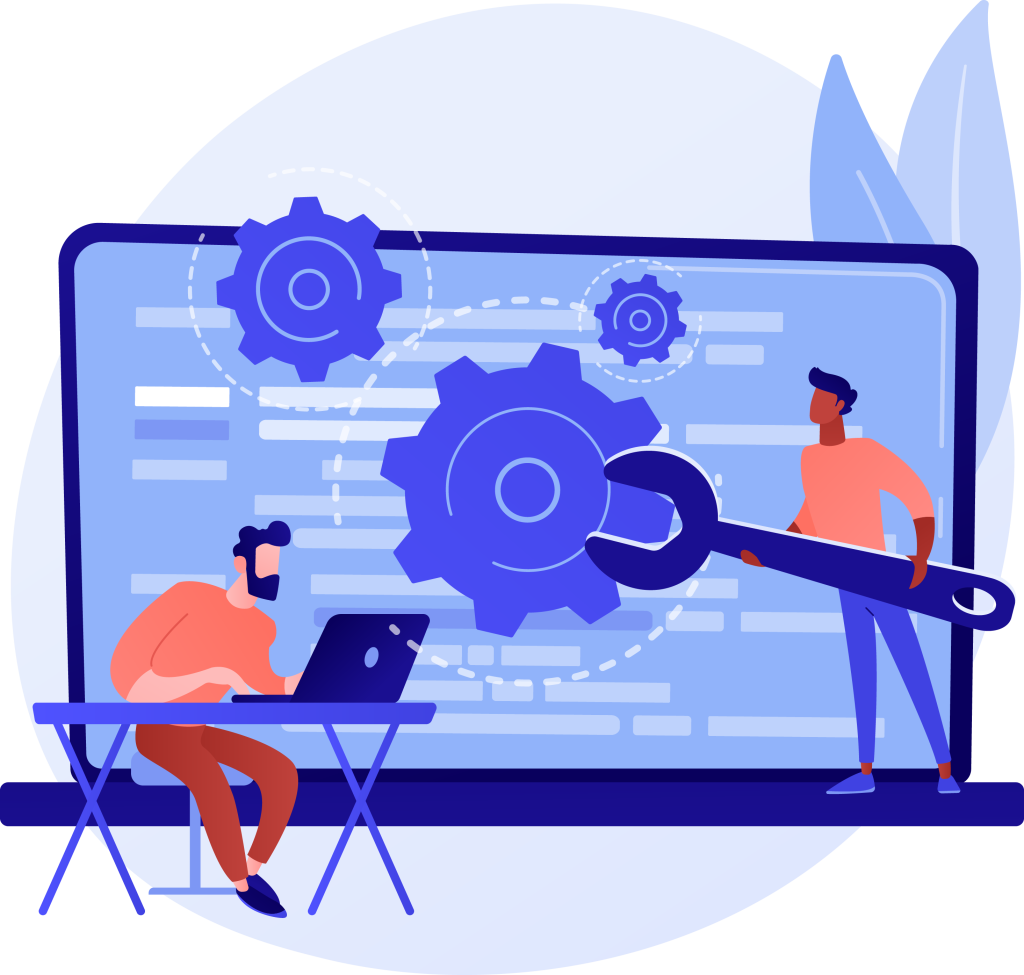 Customisation
Off the shelf apps are built on a third party's source code. This means limited customisation and functionality as the solution is designed to suit standard requirements rather than your unique needs.
Custom mobile app development means that your app is created to meet your business idea and to solve your specific challenges. It recognises the user experience requirements of your customers and can be easily updated and amended should your business need to adapt, or even pivot, to accommodate market movements.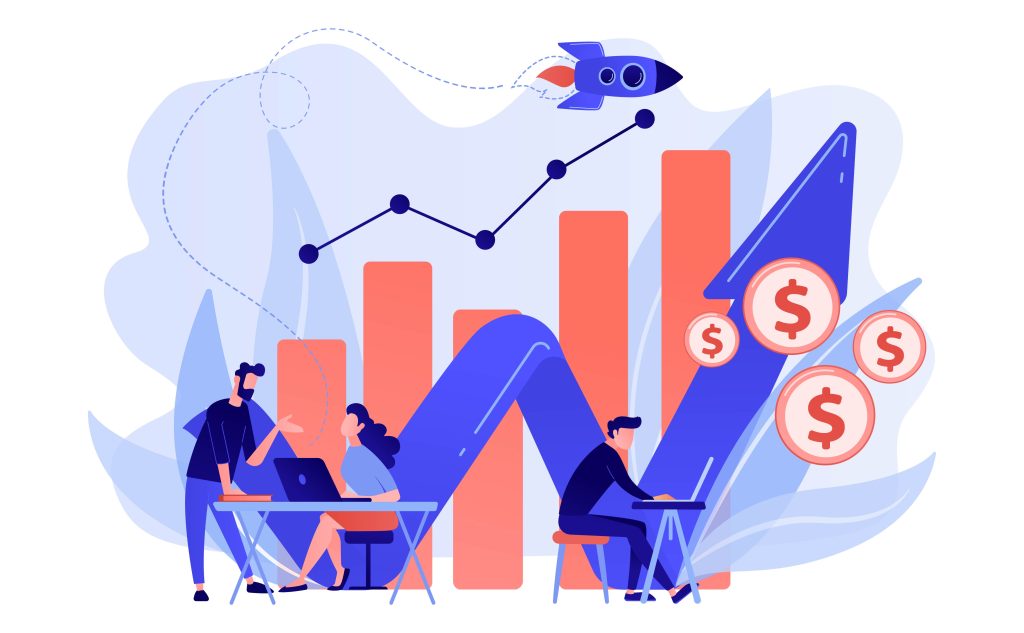 Scalability
When developing an app, a key consideration is its longevity. The most successful mobile applications are ones that adapt to changing market needs and behaviours. Be aware that a pre-made product can prove difficult to change and so may not be suitable for the future.
Mobile app development is an investment that should answer both your current and future business needs, which non-custom software solutions typically can't do. This could mean you'll be looking for an alternative mobile app option again in just a few years time. To avoid this, some digital businesses begin with a custom made minimum viable product and, as external factors such as business or industry objectives and user behaviours evolve, your mobile app can expand and adjust accordingly.
Need more advice?
chilliapple specialises in creating bespoke apps that deliver something unique for our clients and are future-proofed. We understand the importance of developing flexible, reliable and cost-efficient solutions. Our customers trust us to guide them through the development process to ensure their project is on time, on spec and on budget.
Our developers are experienced and certified and only work for us. We never outsource. Give us a call to discuss the various solutions that are available to deliver your next project.