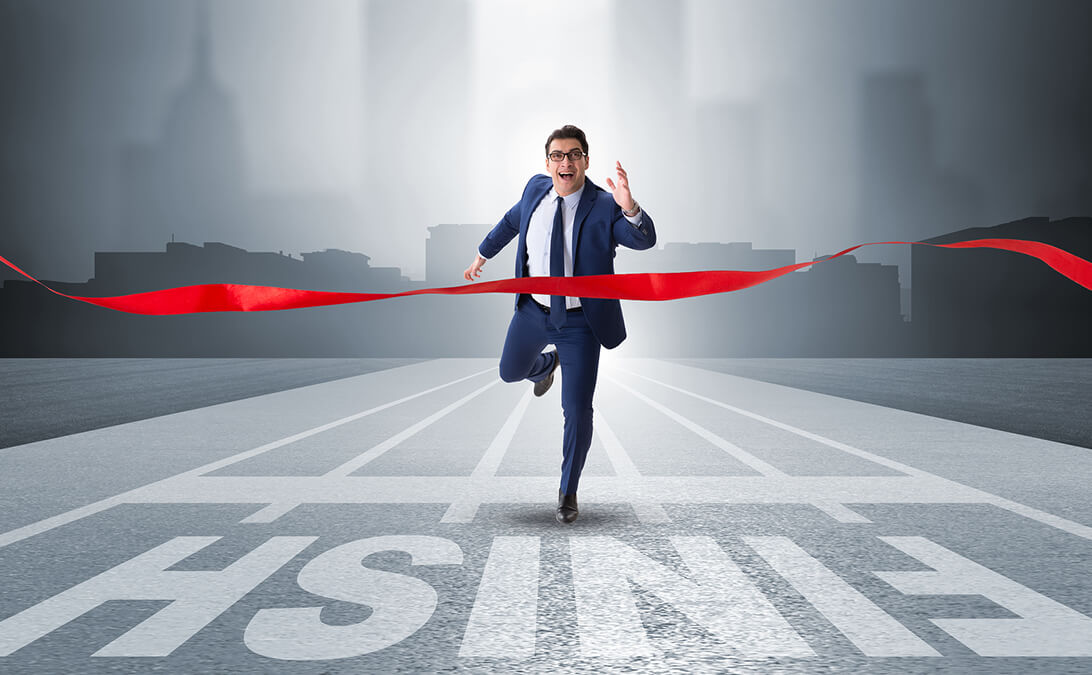 Chief Technology Officers face challenges in technology, management and strategy that continuously evolve to bring new opportunities and risks. The requirement to develop robust and resilient strategies in the face of disruptive trends and talent scarcity means that CTOs need flexible reliable solutions. An IT outsourcing partner can share many of the risks, grow engineering capabilities, provide the necessary tech expertise and relieve staff management pressures.
CTOs who choose to outsource software development are in good company. WhatsApp, Alibaba, Slack and Skype all chose dedicated developers in other time zones to help them create the platforms we know today.
IT outsourcing partners understand the current and future challenges faced by modern CTOs whether they work within large enterprises, established software houses or growing start-ups. It is therefore no wonder that the global IT outsourcing market size will grow by USD 98 billion during 2020-2024 according to Technavio, the market research and advisory company. Such partners can help IT teams adapt to changing industry trends, accelerate product development and attract the best talent. There are four common challenges that CTOs face but IT outsourcing can provide the answers.
The Four Challenges CTOs Face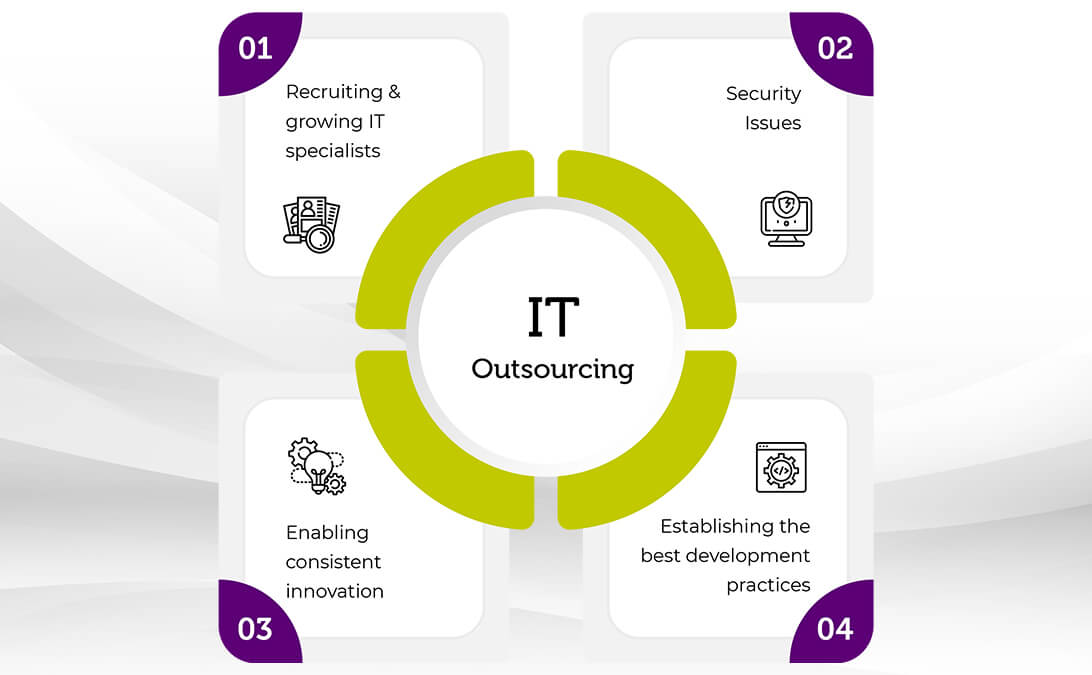 Recruiting & Growing IT Specialists
In the UK alone, the IT sector was expected to see 800,000 unfilled jobs by 2020, according to a study by Computer Weekly.
Heads of development teams are struggling to hire the right talent when they need to launch new software development project initiatives or quickly ramp up a team with the necessary skill sets. The search for talent, hiring, onboarding and training can often take too much effort, time and resources. According to YouGov, 21% of British businesses in particular, have software development challenges that they outsource.
In addition, CTOs or Chief Digital Officers find it challenging to provide software developers with professional development tools for continuous advancement to keep them sufficiently engaged and motivated. Employees expect to be offered learning opportunities and career prospects or businesses risk high turnover rates as employees look elsewhere for more fulfilling job opportunities that meet their expectations.
The solution is to delegate recruitment and HR responsibilities to a dedicated development agency
When a CTO has software development challenges and needs to create or quickly extend a team with the necessary skills, IT outsourcing allows access to the best talent. It is easier to hire skilled software engineers in India, for example, than in more developed economies like the USA or the UK.
Thankfully, the majority of specialist software development companies must ensure their developers are constantly trained and skilled in the latest software. In fact, IT outsourcing allows Chief Technology Officers to transfer many risks associated with recruiting and retaining employees to the agency leaving them to focus on their core business and manage their products and technology.
Security Issues
The issue of security is among the top concerns of CTOs. As the industry security requirements are constantly changing, re-evaluating security measures is a day-to-day task to ensure products are operating smoothly and compliant with necessary security controls and policies.
Moreover, when it comes to data security, software development managers have to ensure confidentiality and integrity of information assets while maintaining agility, transparency and easy data access for its users. There is a fine balance between cybersecurity and accessibility.
Unfortunately, this problem is exacerbated by the shortage of sufficient cyber skills in the tech market such that many organisations now face security skills shortages in areas such as cloud security, threat intelligence, network security and application security.
The solution to avoid security issues is to partner with an experienced dedicated development agency
Software development agencies can help Chief Digital Officers develop reliable software products that conform to industry compliance regulations. Established IT companies apply robust strategies to developing secure applications including security by design, testing for cybersecurity and on-time incident management. IT outsourcing companies follow the best security practices in software development that help ensure the security and reliability of software.
When it comes to data protection, dedicated development agencies have effective information security measures in place which comply with international standards, laws and regulations. They undertake ongoing internal audits and develop and test thorough information security policies that ensure secure log-on procedures, password management, network security and information asset management for its users.
Enabling Consistent Innovation
The main role of a CTO is to drive consistent innovation. The challenge is to keep abreast of evolving technology development trends but only adopt new tech when it is right for the business. Emerging technology and digital transformation needs are disrupting all industries and the CTO needs to consider if adoption is the right decision and if the existing system has become too hard to maintain and scale and as a consequence whether to keep or replace it. Adopting new technology brings with it the need for expertise which is often rare and expensive. Subsequently, the lack of expertise in emerging technologies adds complexity, extends the time to market and drives costs.
However, choosing not to modernize the tech stack ultimately leads to systems which become inefficient and then there is the issue of finding or keeping software developers who are prepared to work with outdated technology.
The solution is to leverage dedicated development teams to force smart innovation and deliver digital transformation
Reliable software development agencies have experience working with disruptive technologies across a variety of industries. They have a wider talent pool with more diverse expertise and they can advise a CTO on a technology stack that would help them drive innovative solutions without harming their business and technical metrics.
Before adopting cutting-edge technology, a web and app development agency will work with you on the feasibility study and a proof of concept. They will help you make a decision on what will bring value to your customers and your organisation. They will help you avoid additional costs, long delivery time, technical debt, talent shortage and a high defect density which are always associated with switching to new unknown technologies.
Establishing the Best Development Practices
One of the most difficult tasks of a CTO is to set up work processes in such a way that everyone can do their job more efficiently without wasting time on tasks that could be simplified or automated.
This starts with choosing a strategy for software architecture design and infrastructure and ends with testing, conducting code reviews and setting up continuous integration.
The solution is to tap into industry best practices with a dedicated development agency
IT outsourcing agencies deliver multiple projects continuously and understand the challenges faced by CTOs. An experienced partner has a pool of experts in a wide array of fields and technologies that a CTO can rely on to help set up effective software development processes.
When it comes to software architecture design initiatives, dedicated developers can offer a full architecture and infrastructure decision-making cycle, including analysis of online business needs and requirements, conducting discovery phase and building prototypes ensuring the most suitable architecture for the client.
An IT outsourcing agency can also advise on the best practices to improve software testing and increase the quality of software products. Moreover, they can help them determine the needs for automation and provide the best implementation of automation testing, continuous integration and peer code reviews.
So Why Hire Dedicated Developers?
The "Two-pizza rule" rule used by Jeff Bezos, the Amazon owner, is one way to assess if a CTO needs to outsource. In essence, the development team is too large if they can't be fed with two pizzas. So, it's better not to hire continuously but to apply a dedicated model to perform better in creating Minimal Viable Products, scaling your business, being more effective and gaining higher Return on Investment.
IT outsourcing is a solution to the biggest challenges facing Chief Technology Officers
An established, reliable software web and app development agency can share a number of risks associated with security, innovation, gathering a dedicated team for your service or product development project, and setting up efficient software development processes.
Do you face any of these challenges or have business goals that require specific technology to improve online performance or leverage digital transformation? Contact chilliapple and see how we can help you with future projects.