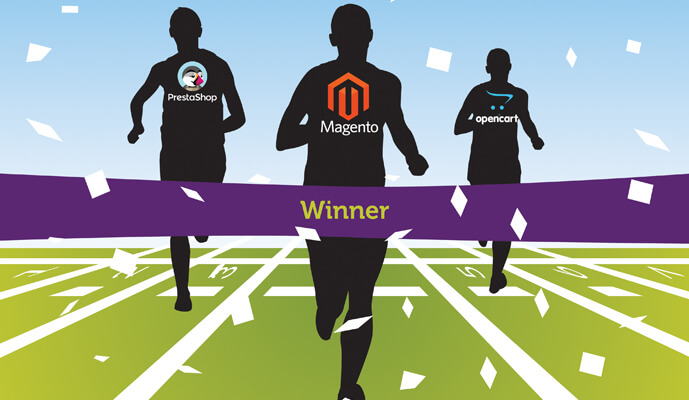 Buying and selling goods and services over the internet, or eCommerce, as a strategy that all businesses have to offer. In whatever industry and whether B2B, B2C or C2C, intelligent platforms are readily available to suit all eCommerce budgets and business lifecycles. There are low budget, quick to launch, options for micro businesses but three of the open source platforms available for the more sophisticated and complex online brands have become some of the most popular ones.
Below, we will compare Prestashop vs Magento vs Opencart to understand the online store features that each offers and then we will assess which among these is the best. Let's see which of these can win the race and be crowned as the best eCommerce platform!
PrestaShop
PrestaShop was founded in 2007 with a mission to provide world-class eCommerce software through open source innovation. Today more than 320,000 eCommerce stores run on PrestaShop technology. The company provides software that enables users to have an online store at the lowest cost possible. The PrestaShop open source community includes 1,000,000 merchants, developers and web agencies from around the world.
You can use Prestashop to sell any type of product, accept online payments, manage deliveries, and keep track of the inventory. You can also view the metrics of your online store. The platform is a multilingual, multi-currency solution used throughout the world.
Also, PrestaShop provides a comprehensive store of apps and themes to enhance your site's features and customise its appearance.
PrestaShop Features
The list of built-in features is extremely extensive but here are the major ones that PrestaShop offers:
Unlimited listings
Inventory management
Simple export and import of data in CSV format
SEO friendly
Large selection of payment options
Precise shipping estimation
Creation of custom promotions
Customer email automation
Advanced navigation and search
Visitors, sales and order statistics
Multiple store management
Multiple languages and currencies
Customizable checkout process
Cart abandonment notifications
Compatibility with many add-ons and third-party integrations
PrestaShop Cons
Nothing is perfect and that is the case with all eCommerce platforms. PrestaShop has certain downsides that need to be balanced against its advantages:
Additional Costs
PrestaShop itself is free but web hosting and domain registration costs still need to be paid. There are plenty of hosting choices to suit a range of budgets so it is possible to minimise this particular spend. The cost of additional customisation solutions is also one to watch.
Developer Skills
To properly manage a PrestaShop business, a store administrator must possess certain developer knowledge, or master these technical skills quickly.
Module Incompatibility
Modules can be incompatible with each other. Since PrestaShop add-ons or extensions can be created by many different developers, some of them may interfere with each other's functionality. Luckily, a substitute extension can be found easily.
Magento
Magento is a platform owned by Adobe that specialises in eCommerce websites. It comes with built-in PHP, a well known language which means it is easily picked up by developers and so the technical skills required to build in Magento are common-place amongst the development community. It was released in 2008 by Varien and originally developed on a Zend Framework.
Magento has been gaining world wide recognition for its ability to build online stores in just about any specification. It offers highly customisable user-friendly shopping experiences, unlimited design options, powerful SEO resources and unlimited plugins and integrations.
Every feature you can think of was probably built already and is available on Magento Commerce. And if not, then it is very likely that an experienced and certified Magento developer can create a store performance your customers are dreaming of!
Magento Features
There are some standard features of Magento:
Product management
Category management
Inventory management
Client account
Customer service
Order Management
Payments
Search technology and SEO friendly
Multi-lingual and multi-currency
Promotional and marketing tools
Analysis and reporting
Magento Cons
Complexity
With its flexibility and custom features comes a degree of complexity. So an experienced Magento developer or someone proficient in PHP is needed to deliver what you really need.
Costs
Building a Magento business requires more time and skill than simpler platforms which tends to mean higher development costs.
The Magento open source community edition is free but the Adobe Commerce option requires an additional annual fee.
Time
Magento requires more time in the initial build to customise the other options because of its complexity. However, an eCommerce agency can use plugins and third-party extensions to tailor new features in less time.
Hosting
Magento needs more space and so a dedicated hosting service may be the best solution rather than a shared server.
OpenCart
OpenCart was founded by Daniel Kerr after he registered the newly expired domain when the original developer, Christopher Mann, was unable to keep up the project. It is an open-source e commerce platform, specially designed for online businesses, structured by PHP programming language. The platform provides an online store with customisable website design themes and an easy-to-use dashboard interface. Currently, there are 466,168 live websites using OpenCart.
It is rich in resources such as extensions, add-on products and plugins that can easily be added to support new functions. OpenCart supports many languages and currencies and is generally cheaper to host thanks to its light weight, and so will tend to work better for a small to medium sized store. It is generally easier to program, but has a smaller community to support it.
OpenCart is, in summary, a complete eCommerce solution for you to launch your online store, add/manage your products, let your customers use a shopping cart to buy them, and then process their orders. Basically, it delivers all the standard online store functionality you might need.
As OpenCart is open source it means that everything about the main script is free, and that you're also allowed to modify the platform however you see fit. You also get lifetime free support and free software updates.
OpenCart is a solution better suited to a business that has some web experience and knows their way around basic website setup and development tasks. That being said, it is quite simple to learn, and the interfaces are very friendly. It is a good platform to get started with but probably not perfect for scale.
OpenCart Features
Here are OpenCart's standard features:
Unlimited categories
Unlimited products and manufacturers
Sells digital products
Multi currency supported
Multilingual
Product reviews and product ratings
Can be extended with design templates
More than 20 payment gateways
More than 8 shipping methods
PCI compliant
Multiple tax rates
Shipping calculations
Discount coupon system
Backup and restore tools
Printable invoices
Sales reports
OpenCart Cons
SEO Issues
When you build a platform with OpenCart, one of its biggest problems is the creation of duplicate pages with several different URLs. This creates a problem for SEO which has to be rectified with canonisation at a coding level to prevent a dilution of link equity.
Conflict of Installations
The module installation process with OpenCart is very similar to WordPress. Although it is easy to get started, extensions, add-ons, modules, and plugins don't always like to work together. In some instances, conflicts may mean that the user experience is compromised.
Inventory Import Difficulties
Amending the SQL database of the initial set of goods or services becomes difficult without using a premium service. It is necessary to maintain a separate inventory database alongside the online version to prevent data loss. There is no permission, without a plugin, to update the information that is uploaded. The process involves removing the old information to add new data to it.
Slow Checkout
Unless additional plugins are installed, the checkout experience with OpenCart is slower than with other platforms. For that reason, it is usually recommended for small sites with limited inventory.
Too Lightweight
OpenCart is a lightweight system, so it doesn't bog down your website with a lot of content but it may make your performance suffer. Even if you have a strong hosting platform, its basic features mean it is not scalability.

Interested in seeing how these stats have changed over time? Here's the same infographic done in 2017
Wrap Up
Deciding which shopping cart is the best is still a subject of discussion among the industry experts. Magento, for us, emerges as the winner with the many advanced features it offers and limited disadvantages which can all be mitigated. However, your decision should be guided by the needs of your business, your budget and aspirations rather than the popularity of an eCommerce platform. Whether you compare PrestaShop vs Magento vs OpenCart or another platform out there, chilliapple's eCommerce experts can help guide you.