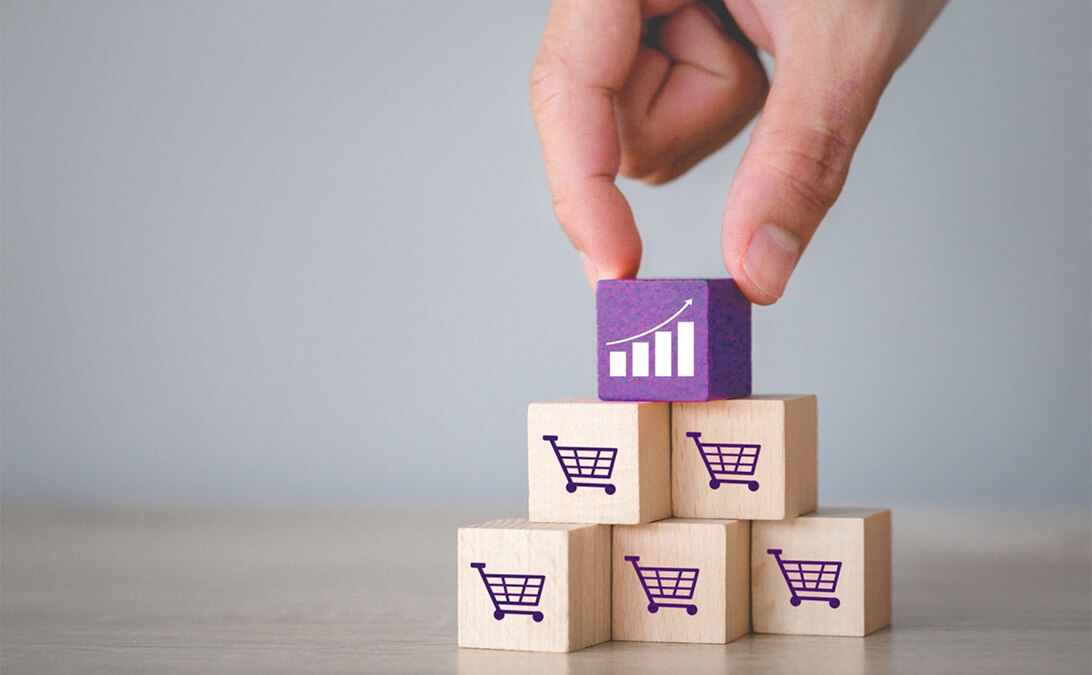 In the UK, business-to-business (B2B) is a prominent industry and B2B transactions are an important part of the economy. Close to 40% of companies in the UK obtain all or most of their income from B2B activity, equating to £1.7 trillion (44%) of the country's total business turnover and £21.78 billion in corporate taxes.
The estimated value of eCommerce B2B sales in the UK is currently £159.3 billion and is projected to grow to more than £188 billion by 2024.
Estimated B2B eCommerce revenue of physical goods in the UK between 2017 and 2021, with a prediction of its trends up to 2025.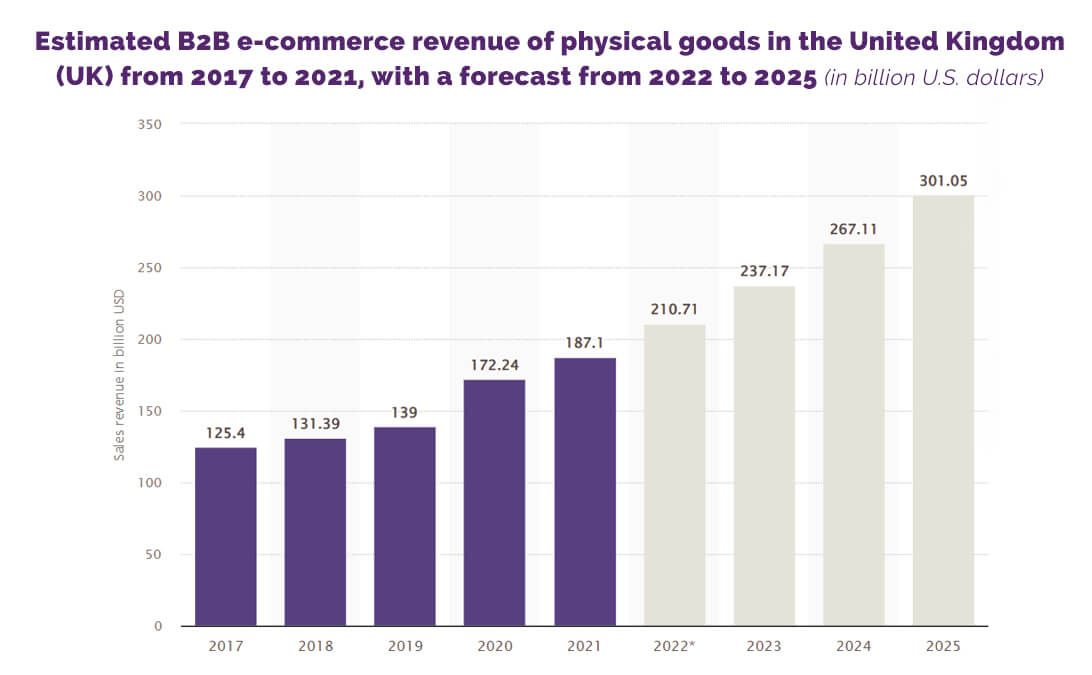 This graph highlights the growth of the B2B eCommerce market. The B2B industry continues to grow dramatically as a result of eCommerce functionality.
In this article, chilliapple, a UK based web development agency, will analyse B2B and explain why it is ideally suited to eCommerce and how we can persuade potential customers to buy from you.
What is B2B?
Business-to-Business (B2B) commerce involves a company transacting with another, such as manufacturers selling to wholesalers or retailers procuring products from wholesalers. This type of commerce is distinct from B2C, which stands for Business to Consumer. Contrasting this with Business-to-Consumer (B2C) commerce, B2B involves interactions between businesses instead of individual consumers.
Organisations engaging in business-to-business (B2B) typically transact within the supply chain, which may involve obtaining raw materials, like building supplies. It is also advantageous for service companies that can provide services to other businesses requiring such solutions instead of focusing their digital marketing efforts on individuals. This means B2B benefits service companies. Through the B2B process, enterprises can capitalise on online platforms and bolster their revenues.

How B2B Varies from B2C?
B2B differs from B2C as it concentrates on sales between businesses, often focusing on the procurement of raw materials, services, and manufactured components that are not typically made available to customers.
Industries tend to specialise in either B2B or B2C, but unlike a B2C company, B2B organisations don't always need a physical shop. While the former can operate with just eCommerce, the latter typically requires a physical store. Take a payroll company, for example. Its role is to provide services to other businesses, something which can be managed through mobile apps for eCommerce business.
On the other hand, the B2C focus is typically centred around retail outlets such as shopping malls. Another significant difference between the two is that B2B businesses emphasise on creating long-term partnerships, whereas B2C operations focus on growing a solid customer base.
Factors that Gravitate Shoppers toward Digital B2B
Numerous shoppers gravitate towards digital B2B, not only because of the number of services provided but also due to various other factors. Here are some reasons:
Ease of Buying, Researching and Comparing
In January 2020, Net Solutions conducted a study regarding the current state of B2B eCommerce. Their research indicated that B2B entities borrowed practices from the B2C sector to replicate their growth patterns.
According to a survey conducted by Forrester Research, almost 74% of B2B buyers carry out online research before buying products. In response to this trend, many B2B firms are shifting their operations to the Internet, where their clientele now is. Furthermore, customers want access to information regarding the various products they can select from to obtain the most suitable solutions for their business needs.
A staggering 91% of B2B consumers now utilise mobile devices for product search and an incredible 25% to make purchases. For this reason, B2B companies must provide mobile-friendly storefronts and websites to make it easier for customers to access and place orders. Subsequently, a company needs to review its business model to ensure it offers a user-friendly shopping experience to its customers.
In the past, businesses were restricted to utilising cash, cheque, or credit cards to pay for services and products. Although credit cards have advantages in regard to constructing business credit, they can also be rigid and difficult to manage. Many new customers now prefer other options to pay for B2B products.
The availability of the Internet has broadened the range of payment methods available for eCommerce transactions. In addition to the conventional options such as bank transfers and credit cards, customers can now also use digital currencies such as PayPal and Apple Wallet.
Younger Buyers Want a Personalised Experience
A 2015 Google study revealed that 46% of B2B researchers aged 18-34 established Gen X and Gen Y as key players in B2B eCommerce. These two generations, commonly known as millennials, prove to be a significant source of influence and authority when making business decisions, as they actively seek information on products and services to assess their worth.
Millennials, when shopping online, crave an enriching customer experience. Therefore, they invest considerable effort into researching the products that best suit their office or digital workspace. Thus, the ideal storefront must be navigable from any device, offer rapid checkout, and provide an effective method of storing records.
Engaging in B2B Activities can be Promising for your Business
With these points in mind, let us analyse how B2B activities and software can boost your business and website customer top eCommerce agency uk experience.
B2B Opens up a Market to New Clients
By expanding into a B2B online store, you can vastly increase your potential buyer base compared to only offering B2C. If you are beginning a business, you can use B2B to connect to clients you would not have been able to reach with just B2C. Even if it does not provide access to the same range of customers, B2B still offers a broader market.
B2B Builds Your Marketing Funnel
In the B2B world, making the right connection with potential buyers is vital. Building strong, trusting relationships will yield reliable income. To do so, lead generation should be utilised to cultivate potential buyers. With eCommerce marketing, customised websites can be built to form a unique marketing funnel. As relationships form, they become repeating cycles that ensure the buyer's needs are met continuously.
Maximising Results by Avoiding Common Challenges
There are certain risks and challenges to consider to make the most of a B2B enterprise. To begin, forming relationships is key, making your business stand out to prospective customers. B2B companies generally serve a limited customer base and sell a high volume of goods. However, individual sales may need to be addressed.
Establishing a B2B venture also requires specific knowledge, so adequate research should be conducted. Moreover, web design is critical to success since most B2B online business depends heavily on their online presence. Ensuring the web development, order tracking, and customer service are all in top condition should be a top priority.
To Sum Up
It is 2023, and global B2B has plenty of room to grow. B2B is gaining more attention. Thanks to the evolving technology, you have many opportunities to gain more prominence in the market. Our B2B eCommerce team at chilliapple will help you to achieve improved conversion rate and online transactions, greater awareness and a more efficient sales process. We specialise in providing a range of expertise that supports your business goals, can upscale your business model, including eCommerce mobile apps, social media marketing campaigns and comprehensive digital marketing strategies, all to ultimately drive more customers and more sales.
Trust chilliapple, a UK based eCommerce agency, to support you with web and app design and software development for B2B growth. Contact our experts for reliable, highly experienced eCommerce services today.