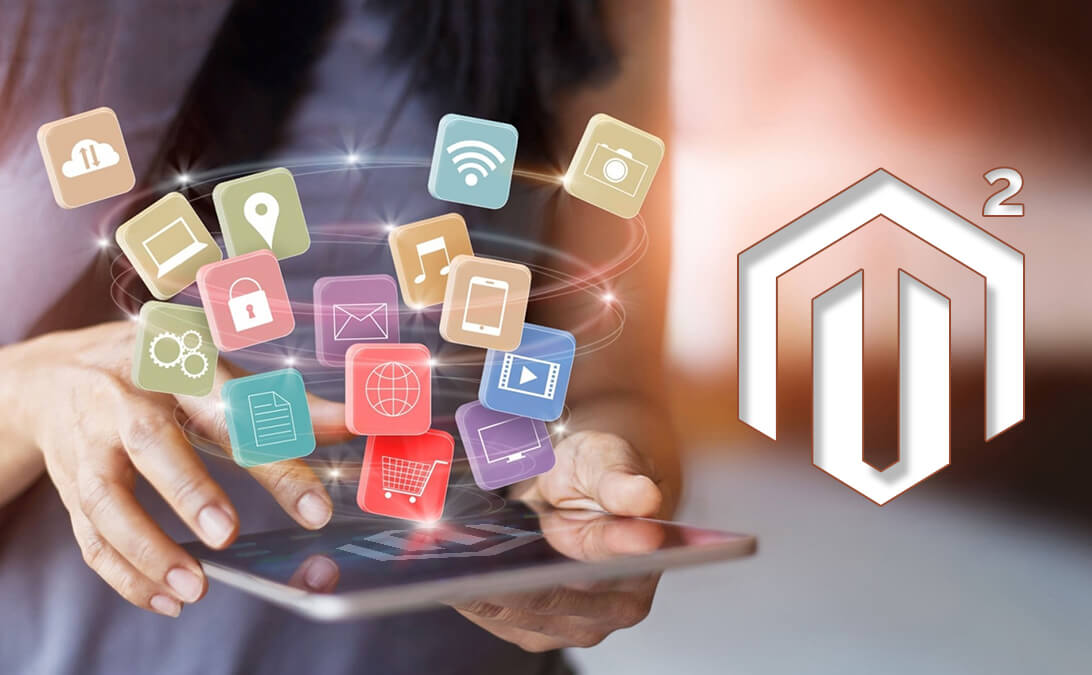 In order to thrive in today's commercial environment, Magento eCommerce stores must attract prospective customers, who frequently use mobile devices, to shop. Several solutions, such as designing a responsive website, building a native app, and creating a Progressive Web App, PWA, in Magento 2, are available to appeal to mobile users. To find out what this technology can provide and how to integrate it into an existing Magento store, let's delve deeper.
What is a Progressive Web App (PWA)?
Google developers created the innovative notion of Progressive Web Applications (PWAs) in 2015. These applications offer a website experience that behaves like a mobile app without having the user download the software from an app store. These web apps can be quickly located using a search engine and immediately accessed through a browser. eCommerce businesses benefit from Progressive Web App development, as they do not need to create multiple native apps for various mobile operating systems.
Web applications with progressive capabilities, such as HTML, CSS, and JavaScript, offer users a native app-like experience. This includes a splash page upon opening the app, a full-screen display, push notifications, and a home screen icon for mobile devices.
For a web application to be considered a true PWA, it must deliver three essential experiences:
Fast: Quick response to user interactions
Reliable: Be dependable even under poor network conditions
Engaging: Captivate users with a smooth app-like experience.
Features of Progressive Web Apps
Progressive Web Apps technology provides speed, reliability, and an improved user experience. With the advent of Progressive Web Apps, a range of user benefits can be offered:
Accessing the website without an Internet connection.
App installation through the browser rather than dedicated app stores.
Receive notifications via the Internet.
Difference between PWAs and Native Apps
PWAs strive to blur the distinction between native apps and the mobile web, such that PWA solutions emulate a native app and bring the usefulness of native mobile apps to the mobile browser.
Native apps are only compatible with either iOS or Android systems, while Progressive Web Apps are powered by mobile browsers, enabling them to be supported by both iOS and Android.
Downloading a native app requires access to an app store, whereas a Progressive Web App can be installed just by adding it to your home screen.
Users can get the latest version of the native apps through the app store; however, refreshing is necessary to receive updates to the Progressive Web App.
A Progressive Web App requires no device storage, unlike a native app.
Why Integrate Progressive Web App in Magento 2?
Magento 2 PWA Studio has been the source of great interest amongst Magento users due to the integration of Progressive Web Apps. Here are three reasons why you should ask your eCommerce agency to integrate PWA in Magento 2:
Offering optimal user experience on mobile devices 
Progressive Web App eliminates the need to download. Additionally, users can access the app offline and synchronise actions in the background with a reliable network connection. These features help bring the experience to a new level.
Cost-effective alternative to native app development
PWAs are more cost-efficient than native apps since they require only one codebase to run on all platforms. In comparison, native apps require double the time and effort for development and upkeep.
Magento 2 websites leveraging Progressive Web App development are far more than just a trend; PWA technology represents the future of apps. Numerous Magento store owners that have implemented this technology reported enhanced mobile user satisfaction. This trend is set to continue growing in the future.

How to Integrate Progressive Web App in Magento 2?
Install Magento 2 PWA Extensions
This is an effortless approach to integrate PWA features into an existing Magento website. Several Magento 2 PWA extensions, varying from free to paid, are readily available from extension providers and development agencies. In essence, you can ask your Adobe Magento agency to incorporate core Progressive Web App features like notifications and home screen access by installing PWA extensions.
Leverage Magento PWA development services
When tackling complicated PWA development tasks, it is wise to entrust the task to experienced Magento developers, as the cost of doing so is far less than the cost of errors one might make without the expertise of professionals.
Utilising Progressive Web Application development services optimises user engagement, unifying the advantages of web and mobile applications and creating a streamlined user experience.
Magento PWA development services include:
Custom PWA development services
UX & UI design & optimisation
Upgrade & migration
Take Advantage of the Magento 2 PWA Studio
Magento has recently released the Magento PWA Studio project, a comprehensive set of developer tools to build, deploy, and manage a complete Magento 2 PWA store. This provides a more comprehensive solution than Magento 2 extensions or themes. It is the most viable option to replace an existing Magento 2 store with a full-featured PWA storefront.
Convert Your Site Using Magento 2 PWA Theme
One of the most advanced PWA integration solution to turn your Magento 2 store into a PWA is the Magento 2 PWA Theme. Installing PWA themes allows you to integrate a range of basic to essential PWA features like background sync, fast load speed, and offline mode. And by personalising the new PWA storefront you can match your Magento website unique look and feel.
Final Words
Studies suggest that Progressive Web Apps may eventually replace native apps. The potential of Progressive Web App development is extensive, and its use is likely to continue to increase. That is why Magento 2 websites should seize the opportunity and implement PWAs for a future-proof online store.
If you're hoping to transform your Magento 2 shop into a PWA-powered store, do not hesitate to reach out to us at chilliapple. You can benefit from our years of experience working in both Magento and Progressive Web Apps and we can support you to integrate PWA to create a robust and performance-enhanced Magento 2 website.