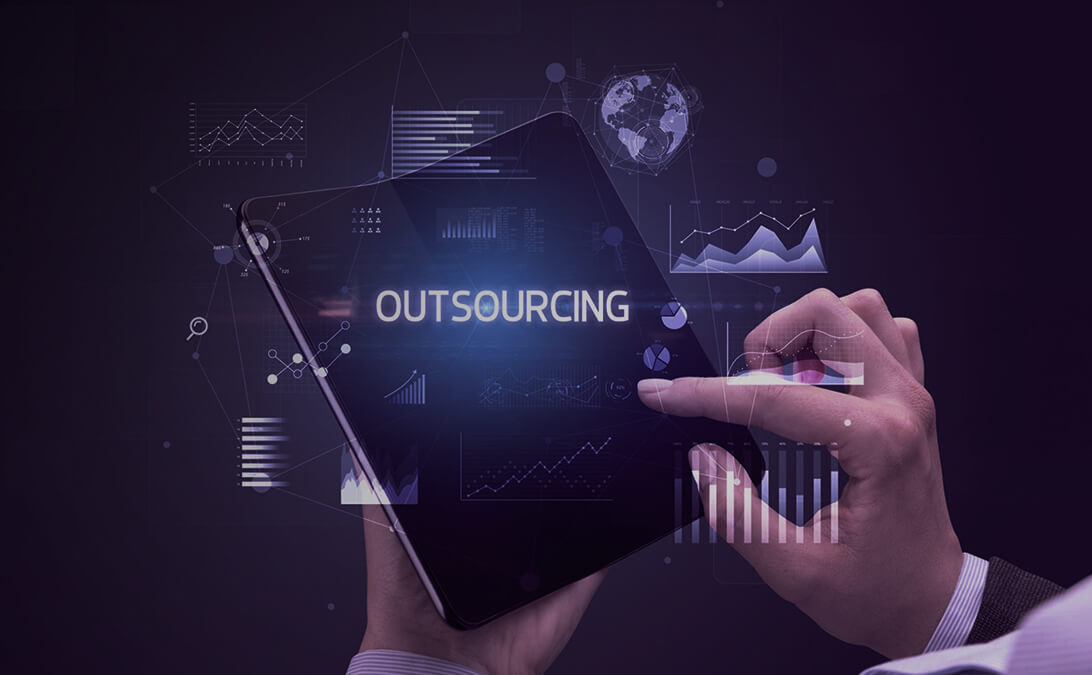 If you require a custom app to be developed for mobile phones, tablets, and other devices, then you should consider hiring a mobile app development company rather than attempting to do the work internally. There are numerous advantages to hiring an app developer in the UK.
For more information on these benefits and to learn more about the top mobile app development technologies used to develop apps, read on.
Benefits of Outsourcing Mobile App Development
As a mobile app development company, we at chilliapple believe that outsourcing mobile app development is advantageous for the following reasons:
It Can Save You Costs
Building an in-house team to tackle app development can be rather costly. By outsourcing your mobile app development to a mobile app development company, you can save yourself a lot of money that would otherwise have been spent on salaries and development costs.
Outsourcing gives you the freedom and benefit of tapping into the significant expertise already available through skilled mobile app developers who work for the app development company. This can reduce labour costs and overall expenses.
It Can Save You Time
By leveraging the experience and skills of a specialised mobile app development team instead of trying to build one in-house, you can save yourself a lot of time and trouble. If you hire an app developer in the UK, you can significantly reduce the amount of development time required.
The teams you hire already have well-established workflows, mobile app development frameworks, asset libraries, up-to-date mobile app development technologies know-how, and more, allowing for much quicker app development timelines and more rapid deployment.
It Provides Access to Specialised Talent
Outsourcing your mobile application development needs gives you access to a much wider pool of talent than you would otherwise have. Gaining access to highly specialised skills through an outsourced company gives you an edge that you otherwise would not have been able to get and will ensure that your team benefits from the latest knowledge and industry developments.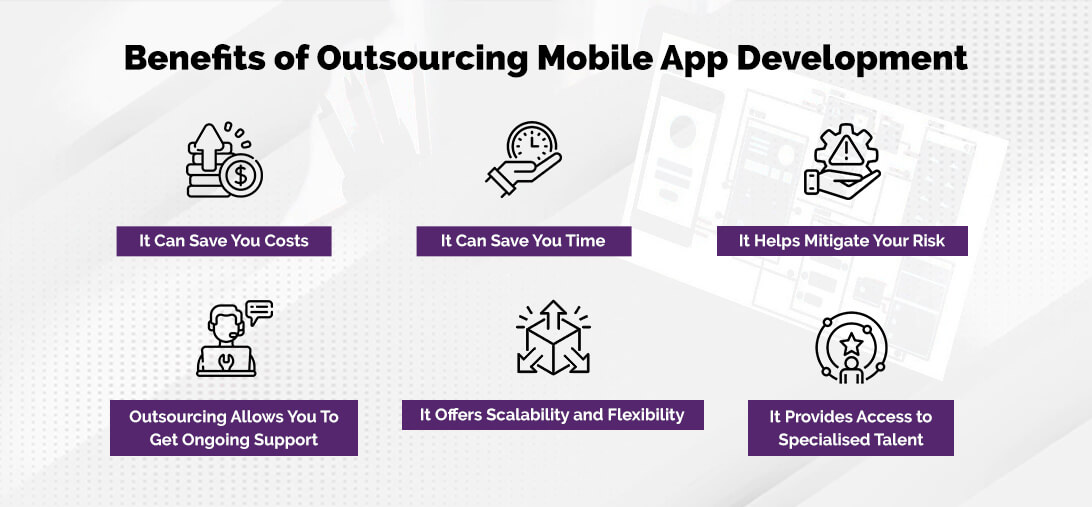 It Offers Scalability and Flexibility
By outsourcing your mobile development needs, you provide your app with scalability options. It can be easy to adjust the size of the development team depending on the project requirements at hand. This allows for greater flexibility, which can be extremely useful in a world of tight deadlines and shifting demands.
It Helps Mitigate Your Risk
By outsourcing, you can reduce the level of risk associated with developing mobile applications. Using an established outsourcing company, such as a mobile app development company, can help ensure the project's success, especially if the company has a proven track record with experienced project managers, well-established quality assurance processes, and various other measures already in place to minimise costly mistakes and failure risks.
Outsourcing Allows You To Get Ongoing Support
By hiring an app development agency in the UK, you can receive ongoing support and maintenance services for your mobile app to ensure its security and updates. Such support will also ensure that the mobile application development remains in line with the latest operating systems and their updated requirements. Outsourcing mobile app development services can save your company a significant amount of time and effort that would otherwise be spent on internal work.
Select the Right Mobile App Development Partner
There are several key steps that you need to take that will help you on the right path towards choosing the right app development partner for your project. Here are the things you need to consider:
The mobile app project requirements
The level of mobile development experience required
The types of skills required
The mobile application development technical capabilities
Pricing of the mobile development
Quality of the mobile app development services
Previous client testimonials
Communication skills
Project management capabilities
Cultural fit
Trustworthiness
Quality control and testing of your mobile app
Post-launch support of your mobile app
Which Technology is Best for Mobile App Development?
Choosing the best technology for your mobile development comes down to careful consideration of various factors, such as the project's requirements, the target audience, scalability needs, the budget, and the mobile development team's expertise.
Here are the top mobile app development technologies and programming languages used to develop a mobile app:
Native development generally leads to the best performance and allows excellent access to device features. However, this requires separate development efforts for each platform, which can be more costly and time-consuming.

The iOS primary language is Swift or Objective-C.
The Android platforms primary language is Java or Kotlin.

Cross-platform app development frameworks, however, offer the ability to reuse code but with some performance trade-offs.

React Native is a JavaScript-based language used for both iOS and Android apps.
Flutter uses the Dart programming languages for web and mobile apps including iOS and Android apps.
Xamarin uses C# and .NET to allow developers to build a mobile app across platforms.

There are also progressive web apps (PWAs), which are platform-independent. However, these have limitations in terms of accessing device features. Among the examples of PWAs are:
Hybrid app development is made possible through PWAs, which wrap them in native containers to enable mobile apps to run on multiple platforms. Examples are:

Apache Cordova – formerly known as PhoneGap
Ionic
Final Words for Outsourcing the Development of Mobile Applications
It would be wrong to dismiss the trend of outsourcing as just that – a trend. Outsourcing the development of mobile apps is a well established practice with plenty of successful case studies and long term partnerships. When correctly integrated with an in-house team, it can save costs and improve profitability. The cost of Android or iOS mobile app development varies according to its complexity, features, and the location of the development provider.
For many businesses, outsourcing their application development to an experienced company is a smart move that can be rewarding as it offers a variety of major benefits. Moreover, working with an experienced and established mobile app development services agency to bring dream mobile apps to life can sometimes be the only way to achieve success.
If you're looking to hire the development skills for mobile apps in the UK, we have expertise in all the latest mobile technologies and programming languages. To get more information on what we offer as a mobile app development services agency, contact us at chilliapple today.